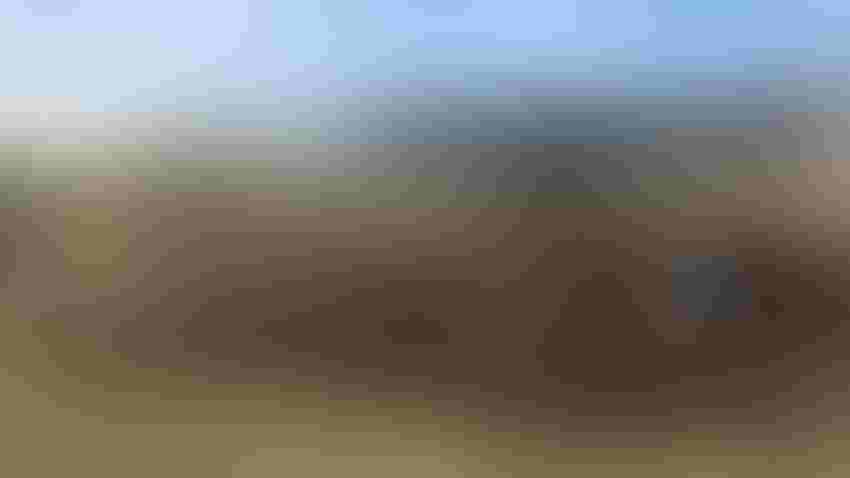 COMFORT: Kansas State University researchers are conducting a multiyear study to quantify the benefits of providing shade in cattle feeding situations, like this one at the K-State Stocker Research Unit, Manhattan, Kan.
Jennifer M. Latzke
The weather outside might be cold right now. But a little bit of preparation today can help you manage heat stress in your cattle when the weather warms up.
AJ Tarpoff, Kansas State University beef Extension veterinarian, said heat stress costs more than $370 million a year to the cattle industry — that can be quantified. That's not just in mortality figures, but also in increased cost of production. Tarpoff reminds cattle producers that cattle that are heat-stressed reduce their feed intake and increase the energy they need to maintain themselves.
"Feed is expensive," he said, speaking at the 2022 K-State Stocker Field Day in September. "Energy is expensive. When we're looking at feed costs and the cost of gain in the backgrounding and feedlot industries, every time we deliver feed, it's been hauled several times before we put it in front of that animal, and for them to be able to convert that into edible protein. Well, if they're using that energy not to produce edible protein, but just being able to maintain and cool themselves down, that's a leak in the system." And that leak costs money and opportunity for cattle producers.
Cattle cooling
Cattle will regulate themselves if they can, Tarpoff said. They seek shade, they use breezes and their respiration to blow off as much heat as they can, and they'll even dip themselves in their water source. But sometimes that's not enough — and there are ways cattle producers can help cattle cool down.
Ensuring healthy lungs with good animal health protocols, for example, helps cattle respirate efficiently when they're hot. Changing the timing of feeding so that the cow's rumen isn't building up heat in the middle of the day, Tarpoff said. For example, the peak heat of digestion is usually four to six hours after they're fed.
Don't forget, he added, that when cattle are heat-stressed and off their feed, they'll return to a full bunk and eat themselves into a bout of acidosis. He recommends feeding easily digestible co-products to reduce the workload of that rumen and reduce the amount of heat produced by the animal's digestion.
Shade research
Tarpoff and a team at K-State have conducted a multiyear trial researching how shade structures in pens can help cattle in high heat events. The trial coincided with Dale Blasi's work into limit-feeding strategies.
"We're trying to improve cattle comfort," Tarpoff said. Improve that and you'll improve the feeding efficiency of animals and therefore a more efficient use of the nutrients we're feeding, he added.
The replicated trial used black-hided heifers sourced from the Midwest, and they were divided into four different treatments, accounting for two different feeding rations and shade availability.
Just looking at the data for the added shade structures in the pens, those groups, regardless of their ration, saw an increase in average daily gain of about 7% and an increase in feed efficiency, he said. That's even during the summer months of peak heat — July, August and September.
Shade also helped with the cattle's water consumption. On those pens without shade, consumption per animal was about 12 gallons of water per day, versus the pens on a limit-feed ration and with shade at just under 10 gallons of water consumed per day.
"If we just look at the impact of shade, regardless of the way you feed, it's about a little over a gallon of water per head per day saved," he said. He ran the numbers, and just in water savings alone, shade can save about $1,100 in costs.
Use shade correctly
If you're considering implementing shade structures in your cattle pens, Tarpoff had some advice to deploy them correctly and to their best potential.
Make sure they are properly constructed to not only withstand wear and tear from cattle, but also so that they don't impede airflow that's critical to cattle dissipating their heat load.

The basic size recommendation is at least 20 to 30 square feet of shade, per head, per pen. Remember, cattle will bunch up if there's too little shade, which reduces their ability to use breezes to cool themselves as well.

The orientation of the shade structure is key. The structures used in the study were square-shaped and movable with loaders. But if you're putting in permanent shade structures, consider the movement of the sun, so that the shade moves across the pen during the day.
To watch Tarpoff's full presentation at the 2022 KSU Stocker Field Day, visit youtube.com/shadeforcattle.
Subscribe to receive top agriculture news
Be informed daily with these free e-newsletters
You May Also Like
---