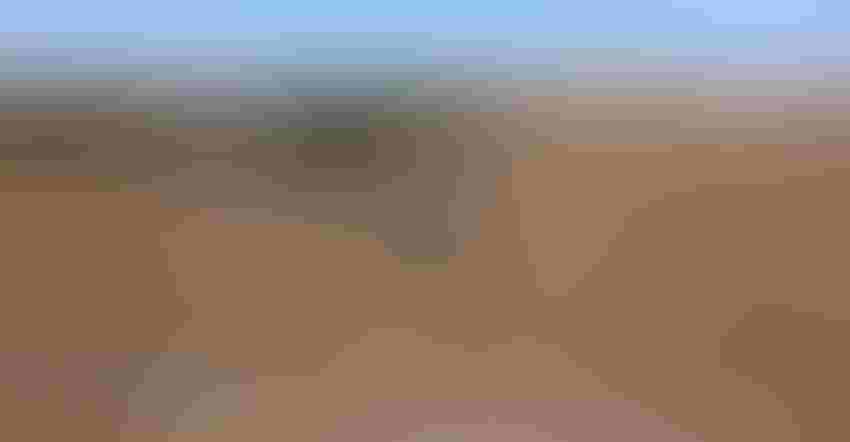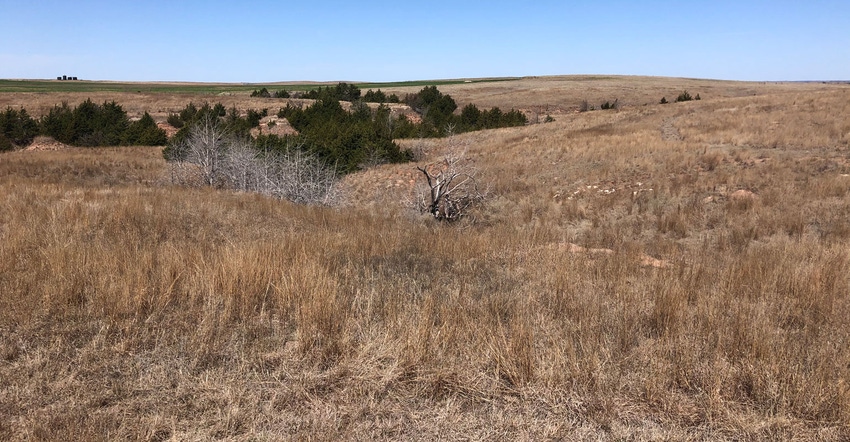 GYPSUM HILLS RENEWED: Today, the range is recovering from the Anderson Creek fire of 2016, mostly because the fire burned hot enough to control invasive eastern red cedars that had plagued ranchers. But some holdout cedars remain and still need control.
Courtesy of Russell Blew
Spring in the Gypsum Hills of Kansas is a time of renewal and new life. But for ranchers who experienced the Anderson Creek fire over nine devastating days in March 2016, spring also brings back lessons from the past.
March 22 marked the five-year anniversary of the ignition of the Anderson Creek fire, which burned 620 square miles of rangeland in Comanche and Barber counties in Kansas and Woods County, Okla. The wildfire burned incredibly hot and fast due to high wind and the highly flammable eastern red cedars that smothered the grasslands.
Five years ago, ranchers faced the devastation with resolve. They rebuilt burned structures and miles of fences. They weathered the loss of hundreds of cattle and calves. At the time, the fire was anything but a blessing.
But looking back after five years, some ranchers, like Russell Blew of Medicine Lodge, Kan., can see that the fire may have been just that for the rangeland.
"I struggled to use the term 'blessing' the day after the fire because of the loss of livestock and so much property damage," Blew says. "Those were the downsides to the fire. But if there was any blessing of the fire, it is that it hit the reset button."
Invasive species
Blew and other ranchers in the Gyp Hills have battled the invasive eastern red cedar for generations. Before the fire, much of the rangeland in the region had not undergone prescribed burning for 60 or more years, Blew says. Without fire as a control, the trees took over.
"The Anderson Creek fire gave us that opportunity, that reclamation-type fire," Blew says.
Unchecked, eastern red cedars can take up valuable water and soil resources from grass. Blew says he saw just how much those cedars were affecting the range only 72 hours after the fire burned through in 2016. Where fire had turned cedars to ashes, ranchers could see springs finally running that hadn't been seen in generations.
Takeaways from recovery
Today, ranchers in the Gyp Hills are turning the tragedy of the Anderson Creek fire into opportunity to reclaim ranchland. Prescribed burns, which before the fire had been unheard of, are now more widely used by area ranchers as methods to control invasive species.
But there's still work to be done, Blew says. Eastern red cedar is a surprisingly persistent invader if it is allowed a toehold.
"Five years out, there are areas where a holdout — a single cedar —didn't burn, and you now see second and third generations of cedars sprouting up around that single tree," Blew says. You'll also see red cedars sprouting from burned cedar carcasses that are ideal bird perches, he adds. It's why Blew and other ranchers in the region practice a "seed-free, tree-free" philosophy of eastern red cedar control.
Joshua Adelhardt, supervisory district conservationist with the Natural Resources Conservation Service in Pratt, Kan., says ranchers are keeping up with prescribed burning. The agency is doing more work with ranchers to educate about how prescribed burning can reduce fuel loads on the range, and reduce the risk of another massive wildfire like the Anderson Creek fire in the future.
More mechanical methods of control are also used, including mulching cedar carcasses for an ideal grass seedbed and soil erosion control.
Blew says ranchers like him also use prescribed grazing plans as another method of managing the range.
"We graze in a manner that will stockpile enough fuel to have an effective prescribed fire," he says. It sounds counterintuitive, but you need enough fuel to burn hot enough to reduce red cedars to ash. Adelhardt says the difference from the blackened ground of 2016 to today's green and growing range is amazing. "It just goes to show just how resilient the native grasses are," he says.
Hard lessons from the ashes
Beyond the range reclamation, there are the harder memories of the destruction that stick with ranchers today. Many cattle died five years ago because there were no readily identified evacuation routes or places for them to go in case of a range fire. It swept through so hot and so fast that ranchers just couldn't move stock in time.
Today, though, Blew says their ranch, like so many others, has emergency plans in place for wildfire.
"Your first obligations are to your cattle, and so we have a fire plan," Blew says. "If we have cattle grazing in Cell A or Cell Z, then we know we're going to move them through this cell and move on to pens, or have a regimented plan in place." Before cattle are turned out, Blew has identified the nearby crop fields or catch pens that can serve as a fire refuge area for those head.
March 2016 was a spring that many in the Gyp Hills will never forget. But ranchers learned from the ashes the fire left behind and have found a brighter future ahead.  
NRCS funds available to stop woody plant encroachment
NRCS' Kansas Great Plains Grassland Initiative recently expanded opportunities for producers to qualify for Environmental Quality Incentives Program funds to control woody plant encroachment through early prevention. Core grasslands that now qualify include the Kansas Flint Hills, Gypsum Hills and Smoky Hills regions.
Applications for funds are available at local NRCS offices and are due July 2. Landscapes with less than 10% coverage of woody plant species will be prioritized for funding.  
Subscribe to receive top agriculture news
Be informed daily with these free e-newsletters
You May Also Like
---