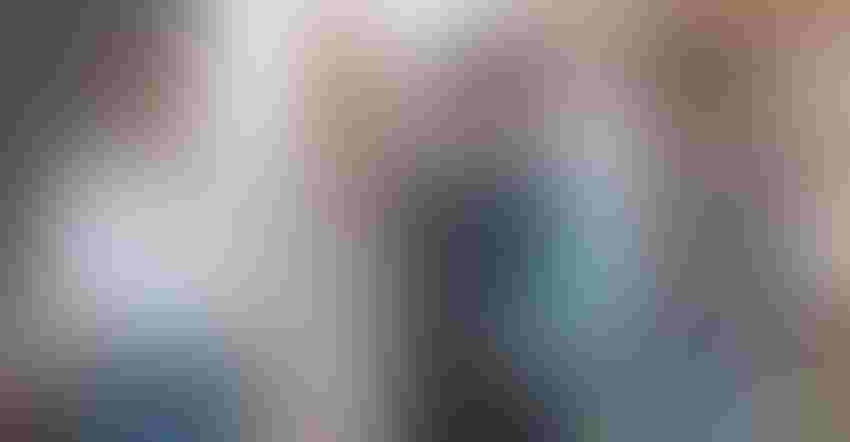 RANCHER OF THE YEAR: Members of the Johnson Stock Farm accepting the Rancher of the Year Award from the North Dakota Stockmen's Association are Becky (front row) and Keith Johnson; and Cody Bratlie (back row from left), Jeremy Johnson, Shane Ebach and Chris Johnson.
The North Dakota Stockmen's Association recently presented its Rancher of the Year Award to Johnson Stock Farm of Sharon, N.D.
Brothers Keith, Wayne and Leslie "Chug" Johnson began working with their father, Norris, on the family farm at a young age. Each brother had his own interest: Chug had a passion for the farming, Wayne for the mechanics and Keith for the livestock. It was a diversified operation comprised of small grains, beef and dairy cows.
Keith went off to college at North Dakota State University in 1968. A year into it, Wayne was drafted into the army and Keith was "promptly drafted back home" to help with the farming. Keith went back to college after Wayne was discharged.
In 1971, Norris decided he wanted to retire and asked his sons to farm in a partnership and eventually take over the operation. The brothers agreed, christening their new partnership the Johnson Stock Farm. At the time, the brothers had less than 100 beef cows and 20 Holstein milk cows that they managed on a share basis with their father until he died in 1988. The brothers' partnership continued until 1999.
That year, Chug and his son left to build a cattle, farming and pregnant mare-unit operation on their own. Keith and Wayne continued to farm together with Keith's son, Chris.
Another of Keith's sons, Jeremy, joined the operation after graduating from college in 2003. In a generous offer to make room for Jeremy in the operation, Wayne opted to semi-retire, giving up his part of the partnership, selling his share of the machinery to Jeremy, and leasing his land and cattle to both of the nephews to help them transition into the family business more easily. It now entailed 500 beef cows, but no dairy cows. The family continued under this arrangement until Wayne's death from Lou Gehrig's disease at age 67.
 "In the final months of Wayne's life, we had several conversations about what would happen in the future," Keith says. "He asked me to make sure to slow down and enjoy life to the fullest, because he never took the time to enjoy his retirement as much as he should have." That's when Keith decided to semi-retire himself in 2015, selling the family's land to his sons and leasing the rest of his land and machinery to them. He and his wife, Becky, have retained 150 cows.
Today, Johnson Stock Farm has 600 cows, more than 7,000 acres of cropland and 3,500 acres of pasture. It is owned by Keith's son, Chris; his wife, Jennifer; and their children, Shaycee, Azlynn, Roegen and Georgiann; Keith's son, Jeremy, his wife, Lindsey, and their children, Brynlee, Brevin and Brody; and Keith and Becky. A young couple, Cody and Jenna Bratlie and their children, Wyatt and Stormy, also have 20 cows in the operation and work on the farm, as do Wayne's daughter, Rendi; her husband, Shane Ebach; and their daughter, Piper. Keith and Becky also have a daughter, Laura, who is married to Joel Foss and has two children, Brett and Alicia; they live in Hatton, N.D., and help out as needed.
The Johnsons are committed to service to the cattle industry and their community. Among other positions, Keith served two terms on the NDSA board of directors and the NDSA brand board, and more than 20 years on the Central Livestock board. Chris is the local township clerk and a member of the Northwood Equity Elevator Board. Jeremy is a member of the Finley Farmers Elevator and Northwood Co-op Oil boards.
Johnson Stock Farm has existed for 46 years with the same name, but under a variety of family partnerships. Keith said it has allowed the Johnson legacy to continue for generations, and for individual family members to focus on their individual passions.
"I look forward to the future," Keith says. "I can only hope to live long enough to see some or all of my grandchildren become involved on the Johnson Stock Farm. That would be the sixth generation to have continuously owned cattle since 1889."
"I want to congratulate the entire Johnson family on their Rancher of the Year Award," said NDSA President Warren Zenker. "You'd be hard-pressed to find a closer-knit unit committed to the family and the work of the family business."
Source: NDSA
Subscribe to receive top agriculture news
Be informed daily with these free e-newsletters
You May Also Like
---