Jim Sidebottom is Kentucky "Farmer of the Year"
Jim Sidebottom is Kentucky "Farmer of the Year"
• Each year, Kentucky Farm Bureau recognizes an individual whose efforts not only strengthen the state's agriculture industry but also demonstrate service and leadership both on and off the farm.• A careful review of Jim Sidebottom's detailed nomination form and an on-site visit to his farm solidified the judging committee's decision to honor him as the 2011 "Farmer of the Year."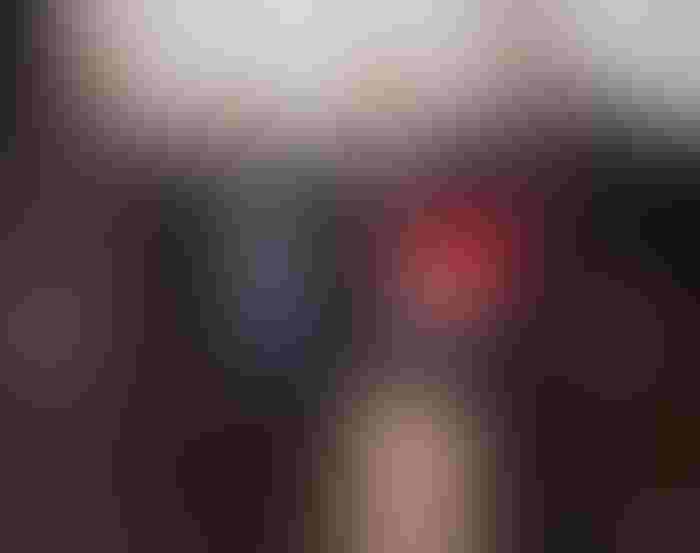 <p> J<em><strong>IM SIDEBOTTOM (right center) and his wife, Ona (left center) received the 2011 &ldquo;Farmer of the Year&rdquo; Award at Kentucky Farm Bureau&rsquo;s annual meeting in Louisville. Presenting the award is David S. Beck, KFB executive vice-president (right) and Mark Haney, KFB president (left).</strong></em></p>
Jim Sidebottom, a 55-year farming veteran of Green County, was honored as the 2011 Kentucky Farm Bureau (KFB) "Farmer of the Year" during the organization's 92nd annual meeting in Louisville.
Jere Cannon of Fleming County and Craig Roberts of Caldwell County were the other finalists also considered for this award.
Each year, KFB recognizes an individual whose efforts not only strengthen the state's agriculture industry but also demonstrate service and leadership both on and off the farm. A careful review of Sidebottom's detailed nomination form and an on-site visit to his farm solidified the judging committee's decision to honor him as the 2011 "Farmer of the Year."
Sidebottom currently raises dairy cattle, corn, wheat and hay on his 443-acre farm in Greensburg, but he and his wife, Ona, spent the first 13 years of their careers juggling part-time farming with owning a flooring business and raising a family. His lifelong dream of becoming a full-time farmer wasn't realized until 1981.
Since that time, Sidebottom has worked hard to grow and improve his farm. He expanded the farm's acreage to allow for a greater volume of production, increased storage capability to buy and store bulk commodities, purchased a variety of new and bigger equipment to more efficiently plant, harvest and maintain crops, and hired additional employees to help on the farm and make sure that he still had time to spend with his family.
Even by hiring extra farmhands to free up his time, Sidebottom's farm is truly a family affair. Jim's oldest son, Stacy, has been a partner in the operation for more than 20 years, and helps with the daily operations of maintaining the farm. Ona raises the calves and is responsible for the bookkeeping.
As the Sidebottoms have pulled together under Jim's leadership to keep the family farm running at a high level of efficiency, Jim has also left a lasting impression on the community around him.
"Jim's knowledge of agriculture and vision for the future of agriculture has helped to bring attention to the needs of not only Green County, but for the state of Kentucky," said Green County Farm Bureau president, Larry Clark, in his recommendation of Sidebottom for this award.
Blazed path of change
"It takes a level head and strong heart to blaze the path of change. Jim not only opened doors for himself; he has allowed others the same opportunity."
Beyond the obvious time commitments needed to effectively run his farm year-round, Sidebottom has also served in numerous roles on the Green County Farm Bureau Board of Directors since 1986 (including four years as 1st vice president).
He is currently president of the Kentucky Dairy Development Council, Green County Soil Conservation District Chairman and a member of the Kentucky Agricultural Development Board. He has held many different positions with other industry-based and civic-oriented organizations over the years, serving at the local, regional and state levels.
Sidebottom has given countless hours of volunteered time and leadership to these groups, and his civic-minded activity is a big part of how he is identified by those closest to him.
Judges visited the three "Farmer of the Year" finalists during the fall to conduct interviews and see each farm in action. The Kentucky Farm Bureau Federation awarded Sidebottom with a $1,000 prize for being named "Farmer of the Year," and the other finalists, Cannon and Roberts, received $250 each as runners-up.
In addition to the statewide recognition and prizes, Sidebottom will represent Kentucky in the Swisher Sweets/Sunbelt Expo Southeastern Farmer of the Year contest, the South's most prestigious agricultural award, in Moultrie, Ga., Oct. 16-18, 2012.
He will also receive $2,500 from Swisher International and a $500 gift certificate from Southern States Cooperative. Sidebottom will compete against nine other state winners for the chance to win a $15,000 award from Swisher International and several other sponsor-based prizes.
Finalist, Jere Cannon
Cannon, a 54-year farming veteran, raises registered Angus cattle, hay and corn on his farm in Flemingsburg. His herd began as a 4-H project with his brother back in 1952, and then steadily grew into the successful family operation that it is today.
Cannon is a 54-year member of the Kentucky Angus Association, 40-year member of the Fleming County Farm Bureau Board of Directors (including two years as president), 30-year member of the Southern States Regional Board of Directors, founding member of the Kentucky Beef Cattle Association, and has served in numerous capacities with several other civic and industry-specific organizations during his career.
Finalist, Craig Roberts, a 31-year farming veteran, runs a cow/calf operation and raises corn, soybeans, wheat and hay on his farm in Princeton.
He additionally puts his entrepreneurial skills to work for his logging and land excavation businesses.
Roberts has served on the Caldwell County Farm Bureau Board of Directors for 31 years (including six years as president), as Secretary for the Lower Tradewater River Conservation Board for 25 years, as a member of the Kentucky Farm Bureau Resolutions Committee for 10 years, as a member of the Caldwell County FSA Committee for four years, and is actively involved in multiple roles with his church and other civic and industry-specific organizations.
With more than 500,000 member families statewide, Kentucky Farm Bureau is the state's largest farm organization. Approximately 1,300 members attended KFB's 92nd annual meeting, Nov. 30 through Dec. 3, to recognize this year's individual and organizational achievements as well as adopt policy for 2012.
Subscribe to receive top agriculture news
Be informed daily with these free e-newsletters
You May Also Like
---