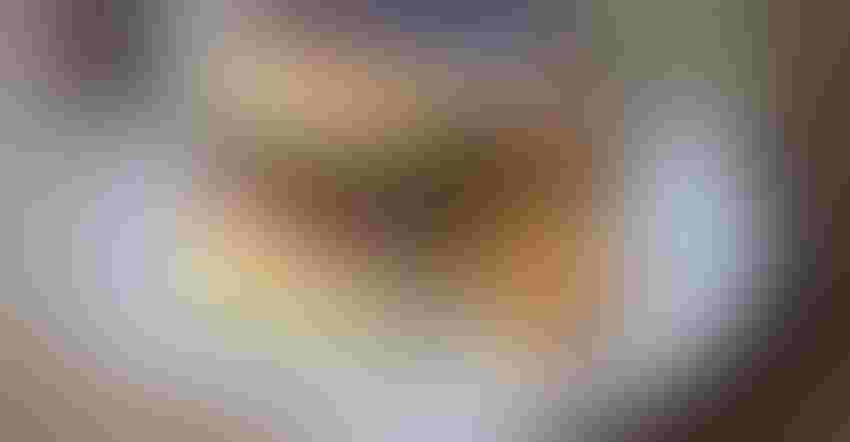 MAY IS BEEF MONTH: Iowa's Best Burger for 2018 has been named in this annual competition.
A small, Brazilian-inspired restaurant in Ames is the winner in the 2018 Iowa's Best Burger contest, sponsored by the Iowa Cattlemen's Association and the Iowa Beef Industry Council. Café Beaudelaire is owned by Brazilian-born Claudio Gianello and his wife, Kellie, who is from Carroll. The restaurant is in Iowa State University's campus town and serves food with a Latin flavor.
Café B, as the locals call it, was announced the winner on May 1. "We are excited to kick off May Beef Month by awarding Café Beaudelaire with the title of the best burger in Iowa," says Brooke German, director of marketing for IBIC. "The Brazilian-inspired restaurant serves a hand-pattied burger, and the judges noted that the taste and quality of the burger is outstanding and worth a drive to have it again."
Contest recognizes quality of Iowa beef
Café B has been in business for 28 years, and over that time, Gianello has tried several different renditions of his now-famous burger. He settled on a simple combination of salt, pepper and oregano on a handmade patty of Certified Angus beef, with a toasted bun and a variety of toppings.
Katie Olthoff, director of communications for ICA, adds, "The contest is a fun way for us to show our appreciation to Iowa's beef farmers for the work they do to provide great-tasting beef, such as the burger served at Café B." Iowa has nearly 30,000 beef producers and ranks fourth in the nation for cattle on feed.
The designation as "Iowa's Best Burger" comes after a two-phase competition. The first phase is completely based on votes from the public. For a month, burger lovers went online and voted for their favorite Iowa burger, submitting nearly 10,000 votes representing around 700 restaurants. At the end of the month, the 10 restaurants with the most votes were declared the "Top 10."
From there, anonymous judges visited each of the restaurants, focusing on the burger patties and scoring them based on taste, doneness and presentation. Gianello's burger beat the nine other finalists to take home the 2018 top honor.
Café B joins previous winners, including The Smokin' Hereford BBQ of Storm Lake, which won the title last year. Here are the winners from the years prior to 2017: The Chuckwagon in Adair in 2016, The Cider House in Fairfield in 2015, Brick City Grill in Ames in 2014, The 61 Chop House Grille in Mediapolis in 2013, Coon Bowl III in Coon Rapids in 2012, The Rusty Duck in Dexter in 2011 and Sac County Cattle Co. in Sac City in 2010.
If you go to Café B, keep in mind the restaurant is fairly small, and parking is limited.
• Address: 2504 Lincoln Way, Ames
• Hours: Monday to Thursday, 10 a.m. to 1:30 a.m.; Friday to Sunday, 9:30 a.m. to 1:30 a.m.
• Kitchen hours: 10 a.m. to 9 p.m. daily
About ICA and IBIC
ICA represents 10,000 beef-producing families and associated companies dedicated to the future of Iowa's beef industry. Its mission is: "Grow Iowa's beef business through advocacy, leadership and education."
IBIC is funded by the $1-per-head national beef checkoff program and the 50-cent-per-head Iowa state beef checkoff. Checkoff dollars are invested in beef promotion, consumer information, research, industry information and foreign market development, all with the purpose of strengthening beef demand. For more information, visit iabeef.org.
Source: Iowa Cattlemen's Association
Subscribe to receive top agriculture news
Be informed daily with these free e-newsletters
You May Also Like
---