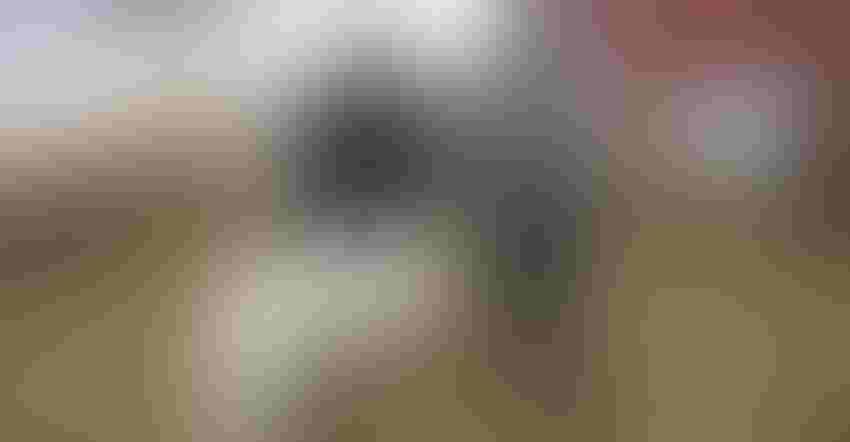 FINDING THEIR NICHE: Lewis Fox and Nikola "Niko" Kochendoerfer started their sheep grazing business, Agrivoltaic Solutions, in 2018. Last year, their sheep grazed 120 acres of solar sites within a 75-mile radius of their farm.
Chris Torres
It's lambing season at Lewis Fox and Nikola "Niko" Kochendoerfer's farm just outside Cortland, N.Y. That means long days and nights taking care of newborn lambs and their mothers in the freezing cold of central New York.
It's hard to believe now, but springtime soon will descend on the valley where the couple raise hundreds of Kathadin sheep. Then those sheep will go to work, grazing community solar sites across the state. Think of them as a more efficient — and less destructive — lawn mower.
"We'll start grazing on solar sites in May to stay on top of vegetative growth, and that's kind of the key," Fox says. "The way we do it is that we guarantee that the vegetation is below the leading edge of the panels."
Four solar companies contracted with Fox and Kochendoerfer to graze their solar sites in 2020. Fox says his sheep grazed 120 acres within a 75-mile radius of his farm. He plans to add three more companies this season, tripling the acreage his sheep will graze.
"From a solar owner standpoint, the sheep work really well," Fox says. "They're sized right, they don't throw rocks like a mower does, they're not going to jump at the panels like a goat would. They won't chew on the wires. The sheep are excellent because they like being under the panels during the day. They like hanging out there, and they're very good at grazing into nooks and crannies."
Solar sheep
For Fox and Kochendoerfer, their solar sheep grazing business — officially known as Agrivoltaic Solutions — is growing quickly.
They're partners in the business with another farmer, Lexie Hain. Fox, who grew up on a dairy farm and was manager of a large dairy in western New York, met Hain in 2018 after she got a contract to graze a Cornell solar site. She needed extra sheep for the job, Fox says, so they split the contract for the site. Soon after, they became business partners and established Agrivoltaic Solutions.
His sheep — more than 400 head last year — spend much of the summer grazing solar sites for days at a time as a big group. Fox moves them from site to site all summer, checking on them two to three times a week.
The sites range from 10 to 150 acres.
"And so … we've put as much grazing density as we can, and it just works better logistically because we're not going to a lot of different sites checking sheep," Fox says.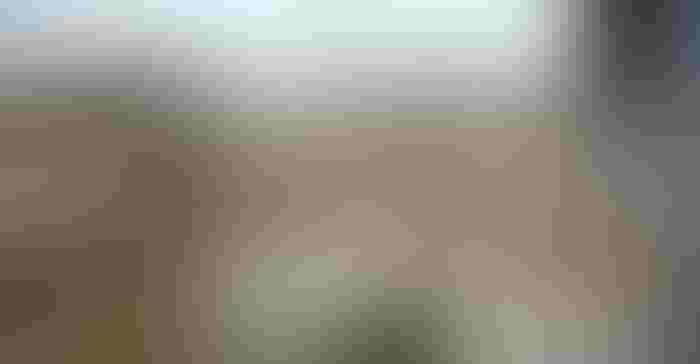 HUNGRY SHEEP: Sheep are good for grazing solar sites. They are more efficient and less destructive than goats, and much smaller than cattle, which can't fit under solar panels.
It's gotten so busy, he says, that they've leased flocks from other farmers and have even subcontracted their grazing contracts to other farmers.
"That's worked out pretty well for us, so if there's a site that's far away and there is somebody local that wants to graze it, and doesn't want to do contract negotiation or figure the insurance out and stuff like that, that's worked well for us," he says.
In some cases, they've even worked with solar developers on site development.
"All the sites we graze right now were not designed with sheep in mind," Fox says. "Typically it works fine, but there are a few things that help if it gets thought out before the site gets built, like making sure the fences go into the ground, making sure the layout is thought through and making sure the seed mix is appropriate for sheep."
The Kathadins, a hair sheep, are low maintenance and don't need to be sheared, Fox says. They're also feed efficient and hardy.
The lambs are sold mostly as feeders in May or June at weaning. Most get sold through Empire Livestock in Dryden.
Filling a need
Fox says he's sympathetic with farmers who are worried about losing farmland. He laments the fact that the region's solar rush has, in some ways, pitted farmer against farmer and that the industry is choosing sites that cut through prime farmland.
"Why not require solar companies to go on hilly land, marginal land, and build the connections? This is an issue. It's a difficult question; there's no easy answers," he says.
At the same time, there's a need to be filled.
Hain and Fox helped found the American Solar Grazing Association, a nonprofit devoted to educating farmers and solar installers on not only sheep grazing, but also agrivoltaics in general.
Hain, the executive director, says the organization has 250 members nationwide. She does regular presentations to solar industry members and farmers.
ASGA has worked with Pace Law School to develop solar grazing contracts and other materials for solar leasing.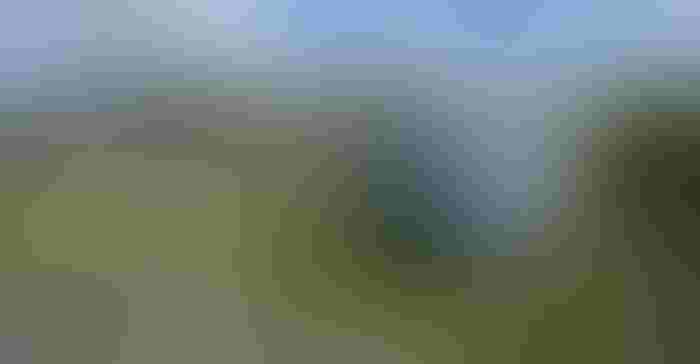 MUNCHING MOWERS: Think of sheep as more efficient — and less destructive — lawn mowers. Solar installers in New York state have caught onto the idea, with farmers such as Lewis Fox and Niko Kochendoerfer providing the sheep.
Last year, the organization contracted with Ernst Conservation Seeds to develop Fuzz and Buzz, a seed mix developed specifically for sheep grazing sites. Most grass mixes have fescue, Fox says, so they developed this mix for better palatability.
The organization also has developed Solar Grazing Map, an app that connects shepherds with solar developers.
"If you go to a solar site, look for a sign on a gate, maybe there's a number to call or not, it's very hit or miss," Hain says. "So the idea is that we wanted to build connections and forge trust, and also make people aware of this opportunity."
Fox, who is originally from Vermont and is the son of dairy farmers, is moving back home this summer with Kochendoerfer. His sheep will continue grazing solar sites in New York, and he's adding sites in Vermont. He plans on hiring some part-time help this summer to help fulfill the contracts.
"I spend probably four days a week on the road every day. It's a lot of trucking," he says.
Solar grazing is seasonal, but raising sheep is a year-round job. Fox hopes that solar grazing will catch on enough that it will incentivize more lamb production, leading to more slaughter facilities to be built. With millions of people only a few hours away, he thinks this is doable.
"The lamb market is really good, and it's really help up with COVID," Fox says. "In general, we're seeing the lamb market is moving back East. It was in the West and Midwest, but the markets for it are East.
"It's unbelievable how much interest there is in grazing solar panels, and there's not a lot of people doing it right now. We'd love more people to get into it. It's a really big opportunity."
Subscribe to receive top agriculture news
Be informed daily with these free e-newsletters
You May Also Like
---