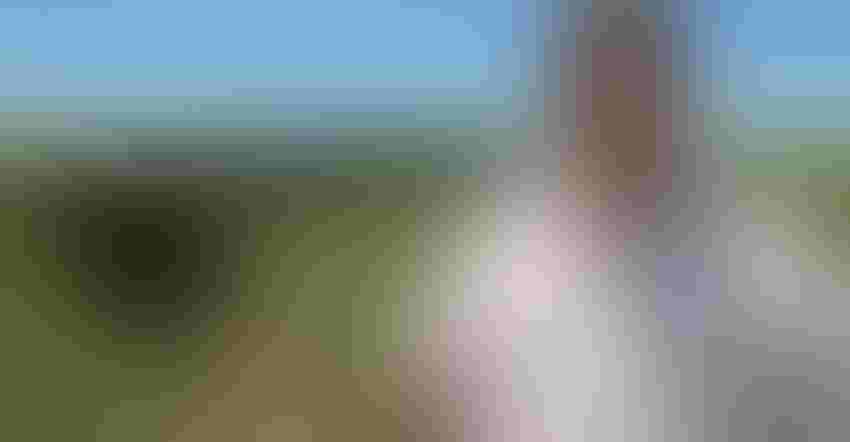 LOCAL BENEFITS: Three people own these cow-calf pairs. "They didn't have resources or the time to run cows in the summer," Tyler Burkey says. "At the end of the day, they've got to make their own marketing decisions. I'm here all the time. They can call and know their cattle are going to be managed well."
Three years ago, when Tyler Burkey first began developing his cow-calf operation near Milford, Chuck Schroeder, founding executive director of the Rural Futures Institute paid his farm a visit to learn about his cow-calf operation. Burkey and Schroeder first met each other nearly 30 years ago through team roping competitions. "What was supposed to be an hour ended up being all morning," says Burkey, who is 40.
"I told Chuck this is basically designed for low-skilled labor to operate," Burkey adds. "That's when he stopped me and said 'I don't believe that. I think it's going to take skilled labor to run this because there are so many different aspects involved that it's going to take people that are innovative and willing to make some big changes. Those types of people bring a lot of added benefit to rural communities.'"
Schroeder adds that vibrant rural communities are built from leadership, entrepreneurship and innovation. "When I see someone like Tyler coming to a community and building an innovative, science-based, economically rational enterprise, I believe he's contributing significantly to leadership in a community," Schroeder says. "The innovation that Tyler is bringing to the table here is absolutely as powerful as someone going to Silicon Valley and building a new app for a phone. We forget that."
Producers helping producers
For many, like Burkey, innovation means finding ways to produce more yield, more forage, and more pounds of beef with the resources available. Over the course of these three years, Burkey's system has evolved to use hoop buildings, grazing cool-season and warm-season cover crops and perennial pasture to make the most out of his resources – and in eastern Nebraska, those resources include fertile soils and adequate rainfall. Now, his 640 acres can support 500 head of cows and calves.
"I don't want a young kid to say 'I don't have the opportunity to farm,'" says EJ Habrock, territory manager of product development at K-Line Irrigation who serves as an advisor to Burkey on his cow-calf system. The opportunity is there, you just need to find it and develop it. You don't have to have 10,000 acres."
In this case, bringing one young family into a rural community also helps other young producers. Burkey is working with three other producers to custom graze cover crops on his acres.
One of these producers is Tyler Roth, 24, who also farms with his dad and uncle. While Roth grazes cover crops on Burkey's farm, he also custom plants for Burkey, who leases acres to Roth to farm.
"It's been great because as a young farmer it's hard for me to get started on my own. The costs are so overwhelming right now. I help Tyler and in return he gives me a place to graze my cattle. I've learned a lot from Tyler over the last couple years. He's rented me some ground for farming," adds Roth. "Without Tyler, without the barns and cover crops, I wouldn't be able to be over here because we wouldn't be able to have as many head. We're doing more with fewer acres."
"Now, you're working with your neighbor, you're not in competition with him. He's helping you, and you're helping him," adds Habrock.
There's also marketing potential for producers pooling their resources together, Burkey says. "Each of these guys has 50 to 70 cows. On their own, even if they did have the grass, they wouldn't sell their calves as one group," he says. "If you sold direct to a feedyard, you might not necessarily get a premium because they're not in a large group. They don't usually buy 50 head at a time, but now it's 200 head at a time. It gives smaller producers an advantage."
Benefits to Main Street
The benefits of bringing a young family to a rural community also trickle into the local economy. For example, Burkey works with local businesses like Roth Aerial to seed cereal rye cover crops. In addition, after Roth Aerial harvests cereal rye seed, Burkey harvests the straw to use as bedding, before planting soybeans into the stubble. In addition, Burkey's hired hand drills rye for Roth Aerial.
Bringing young families into a rural area helps reinvigorate the human capital of that community – that is, the people who live and operate businesses on gravel roads are the livelihood of the businesses on Main Street, notes Habrock. Producers bring business to the local feed store, fertilizer and seed dealers, as well as the local grocery stores and convenience stores, physicians, pharmacies, and mechanics.
"It's more kids in the school system. It's more people living in town, and it's more people working in town to support the needs of these farmers. It's a domino effect, and it's huge," he says. "When you have a locally-owned business in town, the proceeds stay in that town. They will reinvest in the community that support them. The more farmers we have the more downtown businesses we have."
The biggest boost to the community may be setting an example for the next generation to get started in agriculture. Burkey's children Sydney, 9, and Luke, 8, are both involved in day-to-day chores on the farm, and there is potential and flexibility for them to continue to share these benefits with the community.
"You're going to have to change the education system to a certain degree if we keep moving forward," says Burkey. "My kids are with me every day. They've seen the mistakes I've made and it's a learning experience for them to avoid the same mistakes in the future. You're not going to change the mind of 60-year-old farmers. You're going to have to change the minds of their children."
"We've been working with K-12 educators in rural communities who, instead of just looking at national standards or textbooks, are looking at their community as an educational resource that helps people grow up thinking, 'This might be a place I'd like to come back to,'" adds Schroeder. "When you've got someone like Tyler Burkey, it adds to that vibrancy and you have people that think along those lines and want to use current research and knowledge to build new knowledge."
Subscribe to receive top agriculture news
Be informed daily with these free e-newsletters
You May Also Like
---