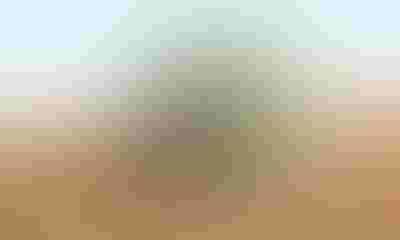 Last week's torrential rains that caused devastating flooding in cities and towns in eastern Iowa have also kept many farmers out of the fields due to muddy conditions. Harvest has started in some corn and soybean fields in Iowa. But several days of dry weather are needed to allow statewide harvest to get underway for 2016. The saturated fields have also resulted in mold developing on corn and soybeans in many fields.
SOAKED: A wet harvest means an increase in mold and fungus on crops, plus a slow-down in the field drying process for corn and soybeans. Above-normal rainfall and localized heavy rains have left some fields in Iowa with standing water, raising concerns about crop damage.
The latest Iowa crops and weather survey by USDA for the week ending September 25 shows localized heavy rains, especially in northeast and north-central Iowa, filled a number of fields with standing water. "Activities last week included chopping corn for silage, and some corn and soybean harvesting," says Greg Thessen, who directs the statewide survey for USDA's National Ag Statistics Service in Iowa. "However, excessive rains have raised concerns about crop damage and pasture condition in certain parts of the state."
How many acres of corn and soybeans have been lost?
Iowa officials are trying to assess how many acres of 2016 crops have been impacted by the September flooding. It's likely to be in the thousands. Many farmers hope to begin combining in the next couple of days. But it could take some growers as long as two weeks before they're able to harvest soybeans and corn. The shrinking window to harvest what's expected to be a record large crop is adding to an already stressful year. Many growers are struggling to post a profit and they're hoping strong yields will help offset lower corn and soybean prices.
Farming near Manchester in northeast Iowa, Kevin Maloney lost about 10 acres of crops along the Maquoketa River. The cattleman also has about 60 acres of pasture under water. The silt and debris will make the pasture unusable for grazing. The receding waters left behind a layer of mud in his cornfield. The ears weren't submerged but Maloney said he'll need a few days to decide if the crop can be salvaged.
Submerged corn, soybeans can't be used for food or feed
Submerged corn or soybeans can't be used for food or feed, including ethanol plants that sell dried distillers grain to livestock producers, says Mark Licht, an Iowa State University Extension agronomist. And the rain and humidity are resulting in mold on corn and soybeans in fields. Elevators test for mold, among other things, and farmers can lose money if too much grain is damaged. Mold also causes problems when corn and soybeans are stored.
Some farmers are reporting "sprouting"—kernels sprouting when water gathers inside the cobs on the stalks. There are other concerns, too. Cornstalks in saturated fields can break and fall, particularly after a strong wind. Downed or damaged grain is especially concerning this year, Maloney says, even with help from crop federal insurance.
Excessive rains raise concerns about crop damage this fall
The complete weekly Iowa Crop Progress & Condition report is available on the Iowa Department of Agriculture & Land Stewardship's website IowaAgriculture.gov or on USDA's site nass.usda.gov/ia.  The report summary follows here:
CROP REPORT: Although southeast Iowa had 6.4 days suitable for fieldwork, statewide there were just 3.6 days suitable for the week ending Sept. 25, 2016, according to USDA's National Ag Statistics Service. Above-normal rainfall with localized heavy rains led to some fields with standing water. Activities for the week included chopping corn for silage, and some corn and soybean harvesting. Excessive rains have raised concerns about crop damage and pasture condition in certain parts of the state.
Topsoil moisture levels rated 1% very short, 2% short, 67% adequate and 30% surplus. Subsoil moisture levels rated 1% very short, 4% short, 73% adequate and 22% surplus.
As of Sept. 25 in Iowa, 72% of the corn crop was mature or beyond, three days ahead of last year, and two days ahead of the five-year average. Corn harvest slowed due to wet conditions, but there were scattered reports of corn for grain being harvested. Corn condition rated 82% good to excellent.
Soybean harvest has started in areas of Iowa where dry enough
For soybeans, 93% of them were turning color or beyond, three days ahead of last year's pace. And 68% of soybeans were dropping leaves or beyond, three days ahead of average. Soybean harvest has begun in Iowa in the areas of the state where field conditions were dry enough. Soybean condition is rated 81% good to excellent.
The third cutting of alfalfa hay advanced only one percentage point, to 96%, due to the week's abundance of rain. Pasture condition rated 65% good to excellent. While above normal temperatures were beneficial for livestock conditions, grazing livestock had to move to higher ground as lowland pastures flooded in north-central and northeast Iowa. Outdoor feedlots also became muddy.
IOWA PRELIMINARY WEATHER SUMMARY—for week ending September 25, 2016
By Harry Hillaker, State Climatologist, Iowa Department of Agriculture & Land Stewardship
It was yet another very wet week across much of Iowa last week. Scattered thunderstorms brought rain from south-central to northeast Iowa on Monday (Sept. 19) and over the extreme northeast corner of the state on Wednesday (Sept. 21) morning. Rain was widespread over the northern one-half of Iowa from Wednesday afternoon to Thursday (Sept. 22) morning with torrential downpours in north-central into northeast Iowa with record flooding along the Shell Rock River.
Downpours in northeast, north-central Iowa have slowed harvest
Thunderstorms were again widespread over the northern two-thirds of Iowa Thursday afternoon into Friday (Sept. 23) morning with heaviest rains centered upon Buchanan and Delaware counties in northeast Iowa. Finally, another episode of widespread rain impacted the western two-thirds of Iowa from Saturday (Sept. 24) afternoon into Sunday (Sept. 25) morning with heaviest rains in southwestern portions of the state. 
Rain totals for the week were exceptionally variable with no rain falling over the southeast portion of Iowa at such locations as Albia, Ottumwa, Fairfield and Burlington while Nora Springs reported 11.07 inches and Nashua 9.76 inches in Floyd County.  
Nora Springs had 11.07 inches of rain, Nashua 9.76 inches last week
The statewide average precipitation was 1.95 inches while normal for the week is 0.77 inches. The statewide average rainfall thus far in September has averaged 6.29 inches, the highest September average since 1986. However, once again, the rain totals this month vary widely from only 0.90 inches at Fairfield to 17.25 inches at Nora Springs. A higher September precipitation total than seen in Nora Springs has occurred in Iowa in only 1926 and 1970. 
Meanwhile it was a very warm and humid week across the state for the seven days ending September 25. Temperatures averaged from 9 degrees above normal across the northeast to as much as 14 degrees above normal in the south with a statewide average of 12.1 degrees above normal. Temperature extremes varied from a Tuesday (Sept. 20) morning low of 47 degrees at Cresco to Wednesday (Sept. 21) afternoon highs of 94 degrees at Atlantic, Algona, Clarion and Indianola.
Subscribe to receive top agriculture news
Be informed daily with these free e-newsletters
You May Also Like
---