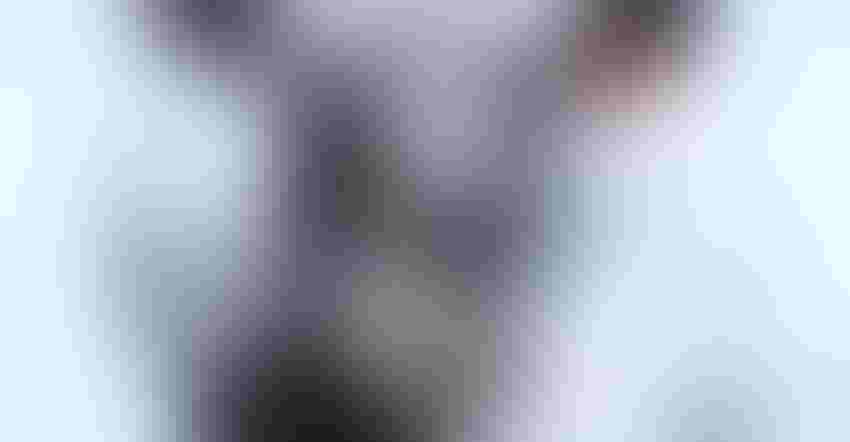 HOPE IN HELP: Help is available to cattle producers in North Dakota after back-to-back storms caused power outages, building damage, and livestock illness and death. North Dakota Stockmen's Association and North Dakota Stockmen's Foundation have started a relief fund to help offset some of the losses.
Michelle Erickson-Jones/Getty Images
April threw North Dakota cattle producers an aggressive one-two punch, with the blows coming at the most inopportune time of calving season.
First, Blizzard Haley dumped more than 40 inches of snow in some areas, but true totals were hard to calculate due to the sustained 50-mph winds accompanying the snow. That blizzard was followed by more feet of snow, severe winds, and rain or ice.
Between coping with blizzard conditions impacting calving season and other issues facing feedstuff supplies, North Dakota cattle producers have a lot to deal with, but help is coming.
The North Dakota Stockmen's Association and North Dakota Stockmen's Foundation have launched the Hope After Haley Disaster Relief Fund. The two organizations have kick-started the effort with a $40,000 contribution.
Impact still unknown
The storms' impact on livestock producers is still being calculated by the county offices of North Dakota State University Extension.
But "what I can tell you is that we have visited with literally hundreds of producers over the course of the last two weeks, and the impacts are very real from border to border," says Julie Ellingson, executive vice president of the North Dakota Stockmen's Association. "The impacts range from livestock losses or illness that resulted from the storms, or other things like damage to buildings, feed reserves being depleted significantly, and now in the northwestern part of our state, significant long-term power outages that exacerbate the problems."
Drought conditions had a border-to-border impact across North Dakota in 2021, reducing "production and restock-ability of both hay yards and feedstuffs in general, so that creates a compounding effect with the types of disasters that we're dealing with now," Ellingson says.
Snow amounts across the state will make it difficult for cattle producers to find clean, dry areas for their livestock. Also, with the drought carrying over, most will face a delayed turnout to pastures, "and will require more use of some of that stored feed, which already has been limited because of the conditions that we're coming off of," she says.
Delay turnout
NDSU livestock specialists say this spring's weather on top of last year's lingering drought will likely create a delay in pasture turnout.
"Air temperature is the main environmental factor that determines the rate of grass development," states Miranda Meehan, Extension livestock environmental stewardship in an NDSU press release. "Each leaf produced on a stem requires a specific amount of accumulated heat, or heat units. The temperature when plants initiate development, or the base temperature, is 32 [degrees] F for cool-season and 40 F for warm-season grasses. The temperature, or heat units, that a plant needs to accumulate to produce a leaf can be expressed as growing degree days."
Perennial grasses start to accumulate growing degree days the first day after March 15 when the average daily air temperature exceeds 32 degrees for five consecutive days, according to Kevin Sedivec, rangeland management specialist and interim director of the NDSU Central Grasslands Research Extension Center at Carrington.
The number of growing degree days needed to reach grazing readiness varies between species from 443 days for crested wheatgrass to over 1,000 for most native species. Read more about grazing readiness at NDSU Extension.
"Grazing readiness is the developmental stage where the plant is able to recover from the stress of grazing," says James Rogers, Extension forage crops production specialist at the NDSU North Central Research Extension Center near Minot. "Grazing readiness for most domesticated pasture is at the three-leaf stage, whereas grazing readiness for most native range grasses is the three-and-a-half-leaf stage."
Rogers says grazing too early will:
lower total forage production

increase disease, insect and weed infestations
Pastures and range damaged by early grazing or severely overgrazed may take several years of deferment or rest before the stand regains productivity.
How you can help
To help cattle producers affected by the storms and lack of feedstuffs, monetary contributions to the disaster relief fund can be made in two ways:
Checks can be made to the NDSF with "Hope After Haley" written in the memo and sent to 407 S. Second St., Bismarck, ND 58504.

Credit card gifts can be made online by clicking here.
The gifts will be pooled and distributed in their entirety to North Dakota cattle ranchers later this spring through an application and nomination process. A selection committee comprised of fellow ranchers will make selections and distribute the funds to those most in need.
"We're hopeful to get dollars in the hands of cattlemen and women in North Dakota that are the hardest hit," Ellingson says. The storms of the past month "and the impact on livestock producers captured the attention of people from all over the country, and the outpouring of support has been incredible of people reaching out, really sympathizing for what our cattlemen and women are going through."
Subscribe to receive top agriculture news
Be informed daily with these free e-newsletters
You May Also Like
---