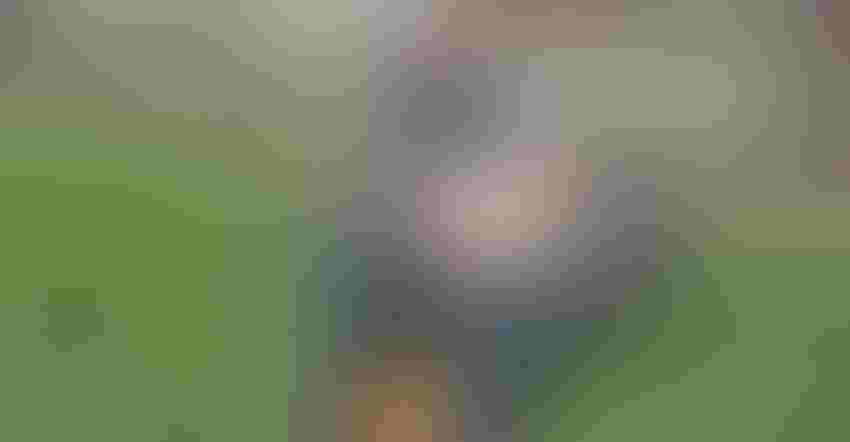 GROWING GOATS: Devin Zimmerman feeds his goats so he can market them at 70 to 80 pounds, figuring it'll take them five to six months to reach that weight.
When Devin Zimmerman's parents sold their dairy herd several years ago, their youngest son decided he wanted to raise goats, but not the milking kind.
"Mom and Dad said, 'We're not getting out of one thing and into another' that involves more milking," Devin explains. "So I got into [meat goats]."
Going goats
Devin bought his starter herd of Boer goats, a meat variety, from Pat and Julie Kolp, Hustisford breeders who had quite a few animals. He says he started with four. That was in 2010, a year after his parents, Dean and Karla Zimmerman of Fox Lake, sold their cows. Then, Devin notes, "we went back for a few more."
Devin wasn't yet in high school but says the summer after the cows were sold, "I just decided I wanted goats and kind of jumped into it then." He had some help along the way from Waupun High School ag teacher Tari Costello.
"We have an ag program in junior high, as well," Costello explains. "It's part of our [overall] ag program." Devin started at that level in his Supervised Agriculture Experience program. "It's just part of what ag education is about," Costello says. "Kids like Devin ... just take off [to start their own businesses]. Every ag education has three parts: classroom, FFA and Supervised Ag Experience. They apply what they learn in the classroom."
Now Devin is a senior at Waupun High School and his meat goat FFA project has grown to a herd of about 65, all purebred. He sells breeding stock in addition to meat.
"I keep taking more area away from my dad," he says, laughing, explaining that he needs it to pasture his expanding herd. The Zimmermans crop about 350 acres of corn and soybeans and raise dairy steers. Devin has added three Hereford heifers of his own to his FFA projects.
He usually keeps one or two bucks for breeding his goats.
"I just purchased a new buck," he notes, "and I try to make sure I'm not breeding in the does' line. As I select a new buck, I always want to improve on what the does may be lacking.
"The demand for goat meat is pretty high all over, especially within ethnic markets," he goes on. "The majority go to Equity Livestock Sales at Lomira, but I'll have people come right to the farm for butcher goats after putting an ad on Craig's List or other online places." The goats provide cuts of chops, steaks, roasts and hamburger.
"We have not butchered," Devin discloses. "We had one done by a butcher. We decided we needed to actually try some."
His herd numbers are increasing every year, but he thinks he's about at optimum size.
"I think I might end up staying at the 60 to 80 mark," he says. The goats are penned in the former dairy barn in winter and pastured in warmer weather. "The barn was pretty full this year," he says. "I can't imagine getting bigger unless I put up another building."
Pasture and hay are supplemented with pellets, corn and oats mixed by Devin. "I have a formulator to use to figure the percent of protein and other nutrients," he says.
Just kidding
Devin breeds for three crops of kids in early October, around Christmas and in early April.
"I usually have some for sale almost all year-round," he says. The births can be singles, most often are twins, and sometimes are triplets — and Devin has even seen a number of quadruple births.
He feeds to market his goats at 70 to 80 pounds, figuring five to six months to reach that size.
"That's kind of what they look for as far as weight goes," he explains.
In his show herd, he looks for length of body and width of front end. He's earned awards at the Fond du Lac County Fair Meat Animal Show and at the Dodge County Fair with breeding stock.
His enterprise has been profitable.
"I make pretty good money," Devin says. "You get a lot; then you're writing a check out for feed."
Devin plans to stay in farming, helping his dad and eventually taking over the farm operation. Along the way, he'll learn more about how a good amount of farming involves getting paid a lot and then writing a check for expenses.   
Buchholz lives in Fond du Lac.
Subscribe to receive top agriculture news
Be informed daily with these free e-newsletters
You May Also Like
---