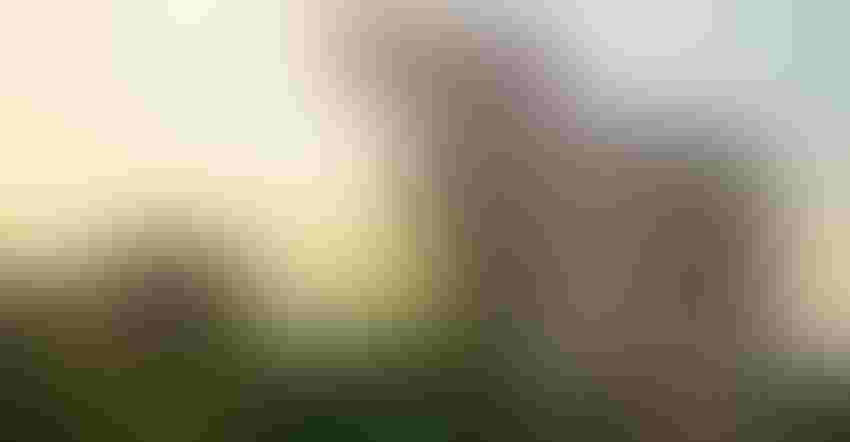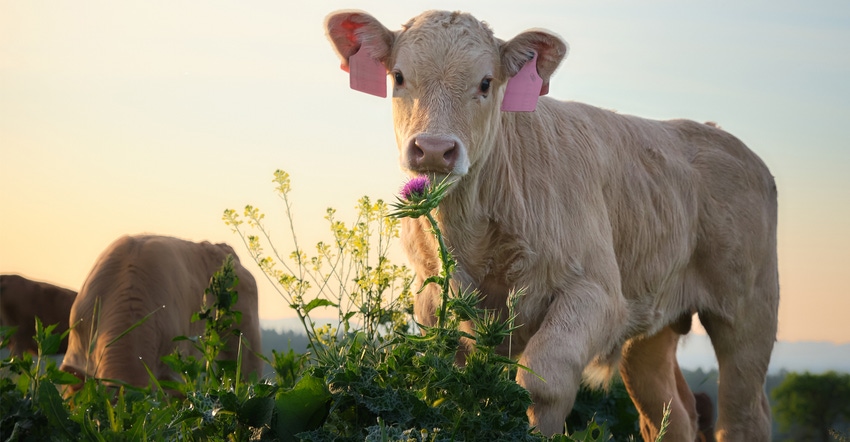 INVADERS: Spring and fall are the ideal times to control invasive species like thistles and Old World bluestems in pastures. Fighting these invaders requires a long-term battle plan.
Vitezslav Vylicil/Getty Images
It starts with one, maybe two invaders in a corner of the pasture. If left unchecked, thistles and Old World bluestem can take over like an invading force, costing cattle producers valuable range their livestock could be grazing.
Keith Harmoney, Kansas State University range scientist at the Hays Research Center, spoke during the April 8 Cattle Conversation hosted online by K-State Research and Extension Service. Harmoney says spring and fall are the right times to beat back these invaders, but the first step is correctly identifying the enemy.
Thistle control
"There are eight different thistles commonly found in Kansas," he says. "Your control options really depend on the species you have present." Those eight species include the native Wavyleaf and yellow spine thistles and the invasive Scotch, musk, tall, bull, and Canada thistles and teasels.
Range managers have four options available for control:
• Do nothing. Wavyleaf and yellow spine thistles are native perennials to Kansas. They are longer-lived than most thistles, but slow-spreading, and they rarely form dense colonies.
• Prescribed burning. Musk, tall, bull and Scotch thistles and teasels are invasive biennials that respond to burns if their growing points are close to the surface. Harmoney says the burn may reduce rosettes — but if the growing point is deep, you've only reduced the seed load that season.
• Mowing. Musk, tall, bull and Scotch thistles and teasels can be mowed right after they start bolting and heads start to form. That can reduce seed production, but Harmoney cautions they can rebolt and might need remowing.
Harmoney says livestock under prescribed grazing schemes can be trained to graze on thistles. But, just like mowing, it takes repeated grazings to get full control of thistles that bolt from rootstocks. It is a long-term battle plan.
• Herbicides. Canada thistles, along with musk, tall, bull and Scotch thistles and teasels can respond to herbicides, but a surfactant must be included for adequate coverage. Herbicides have the best control in the fall, when plants are at the rosette stage, or in spring before flowers start to bud. 
Harmoney says it's critical that range managers monitor the growth stage of thistle to match the right control methods used. For example, musk thistles are most susceptible to herbicide at the rosette stage, before bolting. When they bolt, they have so many nutrients flowing to the upper portion of the plant, it would be like shooting a BB at a tank.
"If thistles have taken over an area, and are at full bloom, any herbicide application done at this time will not work quickly enough to prevent seed from maturing and dropping," Harmoney says. The key is to get rid of seed heads and cut off water supply to those flowers before they form mature seed.
Rotational or set stocking grazing methods can be effective tools to fight thistles. Grazing tends to lead to more vigorous grass and vegetative growth, which then competes with thistles trying to get established. However, overstocking can weaken the grass growth, and open up the pasture to invading species, he warns.
Old World bluestem
Other invasive species that sneak up on cattle producers is the Old World bluestems. These grasses were actually introduced to Kansas ranges because they are highly productive in dry conditions. In areas with abundant moisture, they can rapidly reproduce.
However, Harmoney warns, the yellow bluestem and the Caucasian bluestem basically form monocultures in pastures. That's a problem, because these species mature before native grasses and cattle tend to avoid grazing them, while putting more grazing pressure on the tender native grasses around them.
"They're really a threat to the whole grass biome and ecosystem," Harmoney says. "These patches can spread quickly. We have an area on the Hays Research Center where we've followed Old World bluestems for over eight years." At a 13% compound annual growth rate, a patch of just 86 plants can turn to an acre in 16 years, he warns.
Range managers have three options available to them:
• Do nothing. You can manage large patches of Old World bluestem like the monoculture it is and adjust your grazing to its cycle. If you choose to hay the patch, be sure that you don't transport bales to locations where those seed heads could start a new colony.
• Dig. Isolated plants can be identified, dug up and removed from the property.
• Herbicide. Small patches can respond to an application of imazapyr, a selective herbicide that won't harm the native grasses you're trying to save. Glyphosate will control Old World bluestems, but it will also kill any desirable vegetation in the patch.
Whichever method you choose, be prepared for a long battle. Harmoney says he knows of a producer in Ellsworth County who wanted to control the invasive Old World bluestem to help his grassland bird populations. He started in 2016, with more than half of his pasture covered. In three years of imazapyr treatments, the Old World bluestem was reduced to less than 1% cover, and the native grasses were able to rebound.
Whether your invaders are thistles or Old World bluestems, be prepared for a long-term battle plan so that your pasture can sustain livestock and wildlife for years to come.
About the Author(s)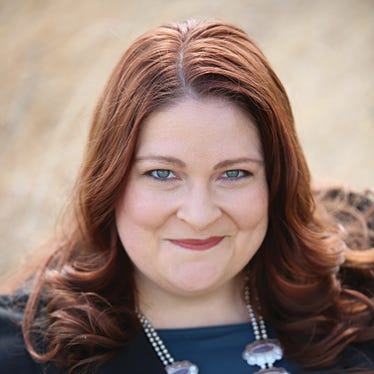 Through all her travels, Jennifer M. Latzke knows that there is no place like Kansas.
Jennifer grew up on her family's multigenerational registered Angus seedstock ranch and diversified farm just north of Woodbine, Kan., about 30 minutes south of Junction City on the edge of the Kansas Flint Hills. Rock Springs Ranch State 4-H Center was in her family's backyard.
While at Kansas State University, Jennifer was a member of the Sigma Kappa Sorority and a national officer for the Agricultural Communicators of Tomorrow. She graduated in May 2000 with a bachelor's degree in agricultural communications and a minor in animal science. In August 2000 Jennifer started her 20-year agricultural writing career in Dodge City, Kan., on the far southwest corner of the state.
She's traveled across the U.S. writing on wheat, sorghum, corn, cotton, dairy and beef stories as well as breaking news and policy at the local, state and national levels. Latzke has traveled across Mexico and South America with the U.S. Wheat Associates and toured Vietnam as a member of KARL Class X. She's traveled to Argentina as one of 10 IFAJ-Alltech Young Leaders in Agricultural Journalism. And she was part of a delegation of AAEA: The Ag Communicators Network members invited to Cuba.
Jennifer's an award-winning writer, columnist, and podcaster, recognized by the Kansas Professional Communicators, Kansas Press Association, the National Federation of Presswomen, Livestock Publications Council, and AAEA. In 2019, Jennifer reached the pinnacle of achievements, earning the title of "Writer of Merit" from AAEA.
Trips and accolades are lovely, but Jennifer says she is happiest on the road talking to farmers and ranchers and gathering stories and photos to share with readers.
"It's an honor and a great responsibility to be able to tell someone's story and bring them recognition for their work on the land," Jennifer says. "But my role is also evolving to help our more urban neighbors understand the issues our Kansas farmers face in bringing the food and fiber to their store shelves."
She spends her time gardening, crafting, watching K-State football, and cheering on her nephews and niece in their 4-H projects. She can be found on Twitter at @Latzke.
Subscribe to receive top agriculture news
Be informed daily with these free e-newsletters
You May Also Like
---