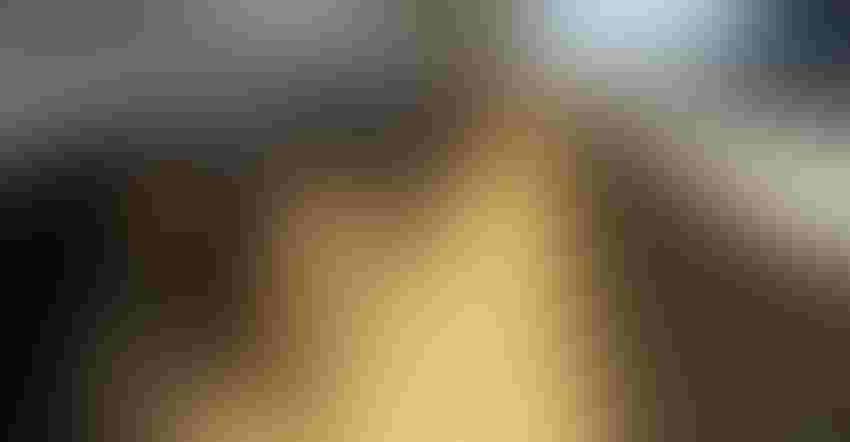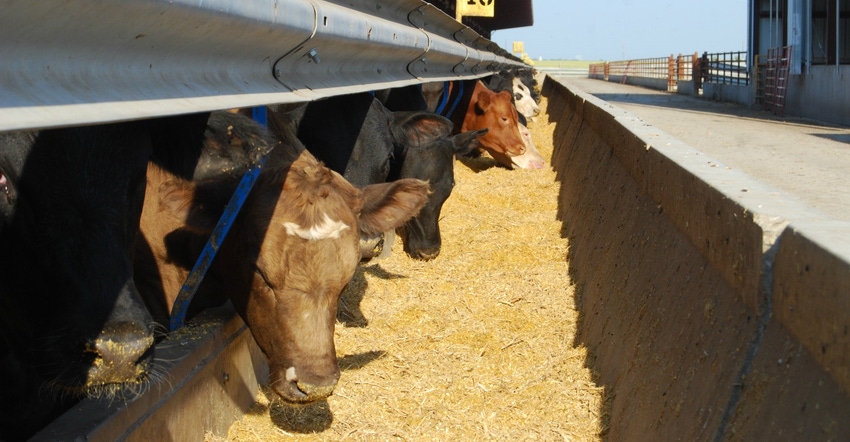 DO IT RIGHT: The Mohr family has built a new 999-head-cattle feeding facility, designed to provide comfort for cattle and comply with environmental rules.
Farmers interested in learning about the benefits of raising cattle under roof are invited to attend an open house at the Mohr family farm Aug. 3 at Marengo in eastern Iowa.
Attendees will tour Alan and Sara Mohr's new cattle building from 11 a.m. to 5 p.m. A complimentary lunch will be served from 11 a.m. to 2 p.m. The Mohr farm is at 2119 G Ave.
"The open house is a great opportunity to see how modern livestock buildings enhance animal care and safeguard the environment, and how much livestock contributes to our local economy," says Brian Waddingham, executive director of the Coalition to Support Iowa's Farmers (CSIF), says the open house will feature a new 999-head deep-pitted cattle barn with rubber mats on the slats for cattle comfort. The under-roof working facilities have a catwalk above the pens.
Latest tech in cattle feeding
The farm is in Iowa County, where family farms and agriculture businesses employ 26% of the county's workforce, bringing over $184 million in wages to the county. These economic contributions enhance the local communities, schools and quality of life for all residents, Waddingham says.
Attendees will learn about the latest technology used in cattle feeding. "This is a perfect opportunity for farmers to see the benefits of raising cattle under roof and get their questions answered by farmers who are doing it successfully," he says. "There will also be an opportunity to interact with industry partners about the products and services they have available to assist cattle farmers."
Experts from CSIF will also be available to provide insight into interpreting rules and regulations impacting livestock farms, enhancing relationships with neighbors and choosing good locations for new barns and feedlots. CSIF assistance is available to farm families at no charge.
The open house is sponsored by the Coalition to Support Iowa's Farmers, Iowa Beef Systems, Iowa Cattlemen's Association, Iowa Beef Industry Council and local support.
CSIF is a nonprofit organization that assists livestock farmers who want help in interpreting rules and regulations, guidance on good site locations for livestock barns, counsel on enhancing neighbor relations and tips on how to protect the environment. CSIF provides these services at no cost to the farm family. For more information, call 800-932-2436 or visit supportfarmers.com.
The Coalition to Support Iowa's Farmers was created by farmers to help farmers raise livestock responsibly and successfully. It's a partnership involving the Iowa Beef Industry Council, Iowa Cattlemen's Association, Iowa Corn Growers Association, Iowa Farm Bureau Federation, Iowa Pork Producers Association, Iowa Poultry Association, Iowa Soybean Association, Iowa Turkey Federation and Midwest Dairy Association.
Source: CSIF
Subscribe to receive top agriculture news
Be informed daily with these free e-newsletters
You May Also Like
---