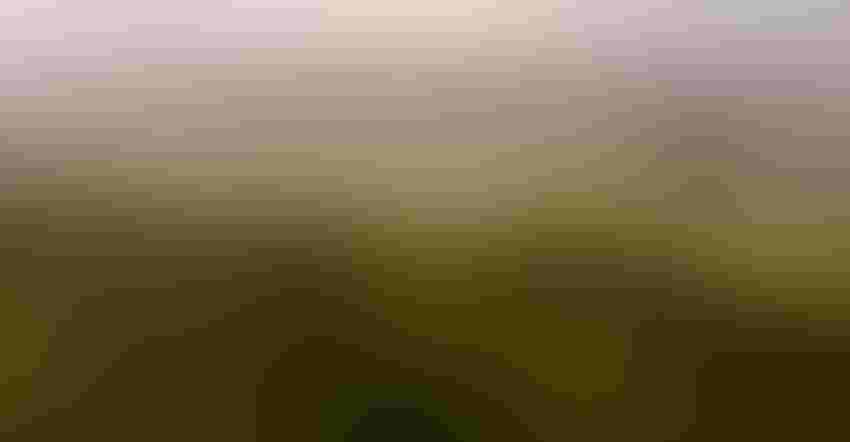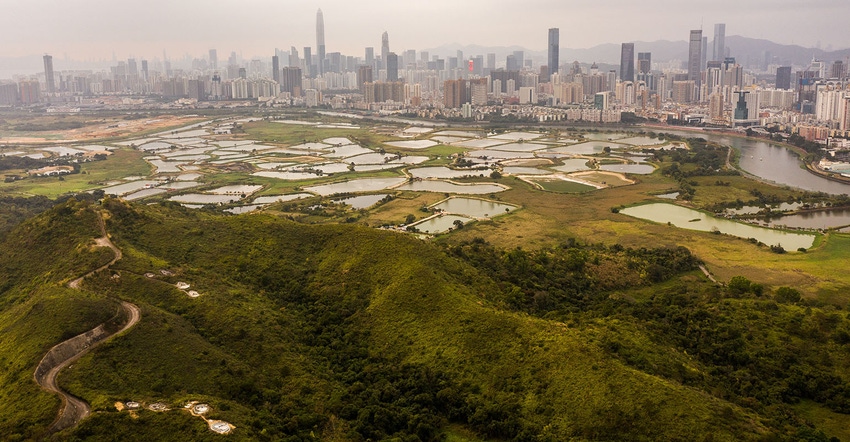 This aerial photo taken on Feb. 6, 2020, shows farmland and fisheries on Hong Kong's border, with the skyline of the Chinese city of Shenzhen in the distance.
ANTHONY WALLACE/AFP/Getty Images
By Bloomberg News
China's consumer prices rose the fastest in more than eight years last month, with the outbreak of the coronavirus and subsequent shutdowns of transport links across the country making further gains in the coming months likely.
Consumer prices rose 5.4%, with food prices jumping the most since 2008 in January. Even before the coronavirus, prices were likely to have risen sharply due to the normal spike in demand around the Lunar New Year and the effects of the African Swine Fever outbreak which has killed millions of pigs and damaged pork supplies. Pork prices gained the most on record.
The dramatically worsening coronavirus situation in the last 10 days of the month exacerbated those factors and could prolong the high prices. That will not only hurt consumption domestically, but could push up prices globally, with extended shutdowns in China hurting supplies of various industrial goods and exported foods.
"The virus outbreak has rewritten the supply and demand story in China, with supply staying at a relatively low level except for the medical sector and demand also falling," said Tommy Xie, an economist at Oversea-Chinese Banking Corp in Singapore. "Prices will likely continue to rise due to weak supply."
The fallout will also impact foreign companies with production or sales in China, and may well lead to rising prices for consumer goods in the U.S. and elsewhere if factories can't restart soon.
Apple Inc.'s main iPhone production partner has told employees at its Shenzhen facility not to return to work Monday when the extended Lunar New Year break ends, and its production resumption hinges on the government's guidance.
Other multinationals with footprints in China are already seeing disruptions. Nike Inc. closed about half of its company-owned stores in China and rival brand Adidas AG also said it has closed a significant number of stores in China, as a result of the outbreak, Bloomberg reported last week.
The rise in CPI was mainly due to the Lunar New Year and the coronavirus epidemic, and also due to a lower base last year as the holiday was in February 2019, the National Bureau of Statistics said in a statement.
What Bloomberg's Economists Say...
    "Looking ahead, CPI inflation is likely to be volatile. The impact of the virus could cause prices of food, such as vegetables, to rise further. On the other hand, it could reduce household demand, sapping inflationary pressures." -- David Qu, Bloomberg Economics
Chinese farmers are feeling the pain as authorities have ordered shutdowns and road blockages in various cities and areas in an attempt to contain the spread of the illness. Roads to transport animal feed and farm products were blocked, leaving farmers to watch their poultry starve and farm products go bad.
Sun Dawu, founder of Hebei Dawu Agriculture and Livestock Group, wrote on Weibo on Jan. 30 that his company had to "dispose" of about 5,000 kilograms of fresh eggs and 40,0000 baby chickens on a daily basis, because "we aren't able sell these, and even if we managed to sell to merchants, they dare not trade livestock."
"The animal feed and animal farming industries are about to get burnt," he said in another post on Weibo, China's equivalent of Twitter, on Feb 4.
Right now the main problem his company is facing is road blockages, according to a company manager called Yang, who only gave his last name. "It has got better, but there are still some extremes cases where our trucks aren't allowed to exit highways or enter villages," he said Monday via phone.
Blockages Forbidden
The issue was so bad the Ministry of Agriculture was forced to intervene, last week ordering people not to intercept vehicles transporting animal feed and live animals, not to close slaughterhouses, and not to block village roads.
Taobao, one of China's biggest e-commerce platforms owned by Alibaba Group, has launched a campaign called "Foodies Help Farmers" to promote the sale of products from kiwi fruits to asparagus which have been disrupted. "Don't let fruit and vegetables rot on the farms," is the slogan.
The faster inflation is benefiting some agricultural companies, at least in the short-term. The stock prices of Beijing Dabeinong Technology Group Co. and Heilongjiang Agriculture Co. both hit the 10% daily upside limit as of 11:14 a.m. local time, while Muyuan Foodstuff Co. jumped 8.2% and Wens Foodstuffs Group Co. climbed 5.5%.
"After the virus is contained and lockdown measures are lifted, demand will likely recover more quickly than supply, which may be more or less delayed by a potential disruption of supply chains, resulting in rising CPI inflation," Lu Ting, Nomura Holdings chief China economist, wrote in a report to clients last week.
--With assistance from Tomoko Sato, Yinan Zhao, Miao Han and Ken Wang.
To contact Bloomberg News staff for this story:
Lin Zhu in Beijing at [email protected]
To contact the editors responsible for this story:
Jeffrey Black at [email protected]
James Mayger
© 2020 Bloomberg L.P.
Subscribe to receive top agriculture news
Be informed daily with these free e-newsletters
You May Also Like
---