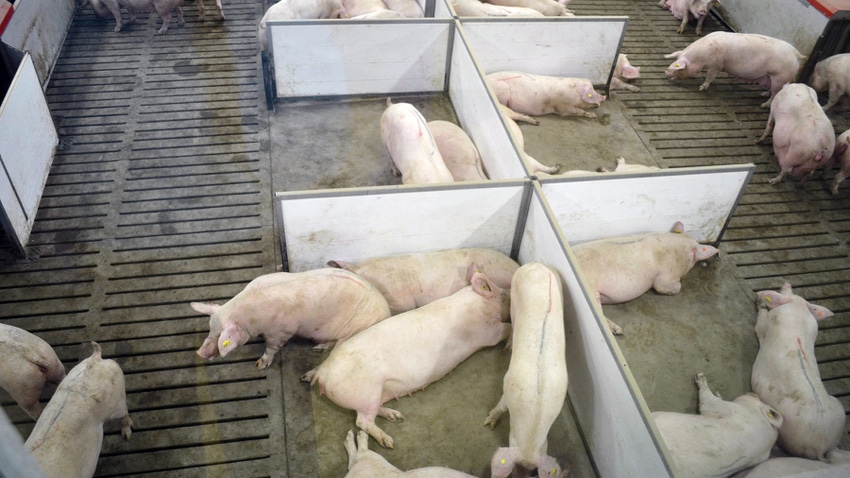 TRANSPARENCY: Today's consumer wants to know more about how their food is being produced, including how the animals are cared for prior to being harvested.
Courtesy of National Pork Board
Livestock and crop farmers continually feel the external pressures on how to go about their business, with many production practices scrutinized by the consuming public.
Many states are adding to this pressure by attempting to implement legislative mandates on what farmers can do on their ground and in their barns and feed yards.
California's Proposition 12 has garnered a lot of headlines as that measure, if implemented, sets minimum space requirements for egg-laying hens, sows and gilts, and veal calves. Prop 12 also dictates that products from such animals to be sold in California need to be raised in facilities that meet those guidelines, regardless of where that animal is raised. For example, a pork chop from a hog raised in Iowa needs to meet the California standards if marketers wish to sell that product in the Golden State.
Implementation of Prop 12 is currently in limbo, as the U.S. Supreme Court has heard the case and is expected to render a ruling soon.
Regardless of the Supreme Court's Prop 12 ruling and how many other states add such policies to their books, external forces will continue to pressure producers to change their production practices. If states don't pass policies, American consumers are trending to have more of a say in how their food is being produced.
Roxi Beck says, "Consumers have and will always have some level of influence in how food is produced. In the cases where the system seems to be going in a different direction, putting up a wall, or appearing to be something less than transparent – that will raise their level of uncertainty and skepticism about what we're doing." Beck is the director of consumer engagement with the Center for Food Integrity, an organization focused on building trust in the food system across the entire food system.
Biosecurity concerns and agriculture gag laws that prevent the outside public from getting onto livestock farms, Beck says, may lead to some of that skepticism: "There can be the perception that agriculture is trying to hide something."
Tear down the wall
Today's internet-driven world allows consumers to access information about any business on the planet, "and when they believe that something is being held back from them, it increases their distrust," Beck says.
She says the mobile technology allowing consumers to access information instantaneously is the same technology that farmers can use to open their doors to remove the figurative walls.
"We're forced to do this [close barns] for the well-being of our animals, for the safety of other animals and other farms as well," Beck says, "but because of the power of the internet, we have the opportunity to share information and imagery we know consumers want. Because the vast majority of people never have the privilege of walking in a barn, stepping onto a field — we can bring that to them. The reality is, we're not trying to hide — we're trying to protect. And having visual and audio to tell that exact story can be incredibly impactful."
However they choose to do so, Beck believes farmers have good stories, but adds that even though consumers claim they want to know how food is produced, advises producers not get bogged down with the facts. She uses the analogy of adding facts to your story like adding salt into a dish you're cooking.
"Salt has a really impactful outcome on food," she says. "Think about the impact of too much salt on food. … If you put 2 tablespoons of salt on the food, you've ruined it. Facts have that exact effect. If you think you need to pile it on and tell them everything you know, and dump out the whole 'saltshaker,' you've lost them."
She suggests "sprinkling" in some facts, and then backing off "and let them take a little taste. They'll tell you if they want more."
Armed with facts
Facts about practices on a farm are important. Sara Crawford feels it's equally important to share facts about how a farm works toward the common goal of environmental sustainability. That goes for both crop and livestock farmers.
"Data is the ticket to entry," Crawford says, and her company, Sustainable Environmental Consultants (SEC), aims to give producers the data to help tell consumers the story their farms have to tell.
SEC, founded in 2008, dedicates itself to "showcasing agriculture as a climate solution and providing innovative sustainability solutions that transform our customers' success, our communities and the planet."
Through that mission, SEC offers producers in a wide variety of ag sectors a sustainability analysis to give such producers a baseline of their environmental performance.
Such analyses both quantify and verify the impact an individual farm's practices have on the environment. For example, a report will show a farm's net greenhouse gas emissions, soil carbon sequestered and soil erosion rates, among many other factors measured. Between commodity group checkoffs and private industry, the cost for producer participation is often offset or absorbed completely.
After collection of data that Crawford says most producers already gather, the SEC team will generate a sustainability report. The first year a producer participates provides a baseline, and SEC team members offer suggestions about where that producer may improve their sustainability.
"What you don't measure, you don't improve," says Angie Krieger, SEC vice president of operations. "We take the data from producers; we give back to them those measurements and those baselines to tell the story of how amazing a job they're already doing. The next step is to evaluate those metrics to say, 'if you want to improve, here's some things that you could do.' Continuous improvement is a pillar of agriculture. I think that it resonates very well with producers and everyone in the supply chain."
Will it pay?
Producers can modify their operations to suit the desires of the consuming public, but some modifications add to the farmers and ranchers' production costs. The follow-up question then is, will consumers be willing to pay potential higher food prices incurred?
Beck, with the Center for Food Integrity says that answer may be "no."
Back a few years, the cage-free egg movement was taking place, and Beck says Center for Food Integrity (CFI) data show consumers weren't necessarily ready to pay more for those eggs when other options were available. A lot of that depended on the egg outlet.
"If you are a quick-service restaurant chain, you can really have direct influence over your supply chain. If you're selling enough eggs, you can change long-term contracts and tweak other elements in your supply chain," she says. "But if you're in the retail sector and are offering many different types of eggs, consumer choice comes into play — and there are an abundance of reasons people may choose one type of egg over another."
Consumers look at cost, taste and convenience, among other factors — like nutrition, sustainability, animal welfare, food packaging and more, Beck says. "At the end of the day, when they're facing that egg case and the abundance of choices at various price points, it's sometimes hard to justify paying a much higher price."
Some consumers may question if this egg is safer or better? Was the hen treated differently? Did she live a better life?
With the cost differences in the egg case, Beck says some companies that committed to 100% cage-free eggs by 2025 are now assessing whether they can make that work — because in some markets where choices are abundant, consumers aren't buying them.
Beck says CFI advocates for all production models. "The system allows many different types of production systems, and they're all regulated by USDA. The goal is that we all have consistent access to safe, nutritious food — independent of how that food was produced."
Driven by price
In true supply chain issue fashion, consumers often are driven by price, leaving the higher-priced alternative on the shelves. "If you have eggs that are rotting on the shelf because nobody's buying them, it not only impacts the producers who changed their whole production system, but it also impacts the retailer throwing away those eggs," Beck says. "It's important to pay attention to consumer concerns and input — the decision-makers in the supply chain also have to have great research that confirms these broad-brush system changes will work out for all involved: themselves, their suppliers [farmers and food companies], and consumers."
She says that picture has become even more clear in the last three years, with supply chain disruption and increased food prices. "Everything has changed from three years ago," she says.
Beck adds that that is why she does what she does. "I'm just a farm kid who's sitting in the middle of suburbia, surrounded by people who love food and want to trust it's coming from people and a system they can trust. The challenge is they don't have broad understanding — because they lack direct access to the people producing food," she says. "So when I get into these conversations, I'm so excited. … I can help enlighten the conversation. Not because I want to educate everybody, but because I want people to know this system is filled with people who are making amazingly informed decisions. And they have a great heart driving their decision-making process.
"I always say it's such a privilege to be in this industry, and I really do feel blessed doing what I do," Beck says.
Subscribe to receive top agriculture news
Be informed daily with these free e-newsletters
You May Also Like
---