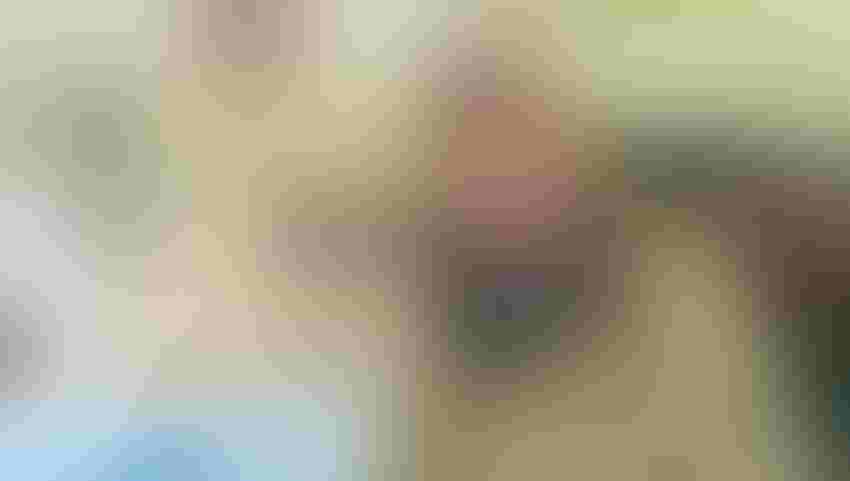 79-year-old Don Cardey has been selling top-priced Angus and other bulls in Red Bluff for decades.
Tim Hearden
When it comes to the Red Bluff Bull and Gelding Sale's rich history, Don Cardey has seen it all. Or at least, he's seen most of it.
Cardey, 79, attended his first sale with his father in 1959. Over the decades, his Cardey Ranches in Turlock, Calif., has consistently sold the top-priced Angus and other bulls at the annual auction. And he's seen lots of changes.
"In the old days there were all white-faced and horned bulls, no Angus," Cardey told Farm Progress during the 80th Red Bluff event Jan. 28. "And they were all tied up."
Now one of the West's biggest livestock-related events, the Red Bluff Bull Sale began in 1941 when a small group of local ranchers and a local farm adviser decided to start a Hereford show, according to the event's website.
In the late 1970s, the sale of ranch geldings was added to the agenda, as well as a select sale of the industry's top working stock dogs, the website recalls. Organizers have since added a trade show, and a dozen years ago, Western Video Market started holding an online feeder and replacement heifer sale as part of the Red Bluff activities.
Started in 4-H
Cardey and his brother started in 4-H in Southern California, and his family moved to Atwater in 1959. There were 300 bulls at that 1959 sale, but not much else; the bulls were sold on a Friday and everyone went home, he said.
"They added the horse sale and the dog sale," he said. "Now with all these loose bulls walking around, it's a lot less work."
Not long after his first sale, Cardey began raising and selling purebred bulls. He raises Angus, Shorthorn, Charolais and Gelbvieh cattle. The ranch has a variety of bulls, heifers, pairs and steers available for purchase, placing an emphasis on total soundness with good performance on a wide variety of ranges, according to its Facebook page.
And since the beginning, Red Bluff has been an annual stop for Cardey.
"I'm sure I've sold more bulls here than anybody," he said.
His first bulls averaged about $600, he said. In the last 10 years, his bulls have averaged about $5,000. He brings about 20 bulls each year, although this year he only brought 12, he said.
Usually he gets about five bulls into the top 30 in terms of price. Two years ago he got $20,000 for his champion Angus bull, he said.
"We sell a lot of bulls to the same people every year," Cardey said.
Big social event
The bull sale has always been a big social event, he said.
In the early years, "having a sale like this in Northern California was a big deal," he said. "Now there's stuff going on everywhere, but it's still pretty big."
This year, the sale's social interactions came as a welcome relief to many buyers and consigners who haven't had access to live events because of coronavirus-related restrictions on public gatherings. Cardey said he usually shows at fairs that have open beef divisions, but in 2020 there were no fairs.
"It's the first time I'd been home all summer since '57," he said.
As the bull sale celebrated its 80th anniversary this year, Cardey believes it'll be around for another 80 years.
"We're pretty stubborn," he said of cattlemen. "The people are wonderful. Good management – dedicated."
Subscribe to receive top agriculture news
Be informed daily with these free e-newsletters
You May Also Like
---