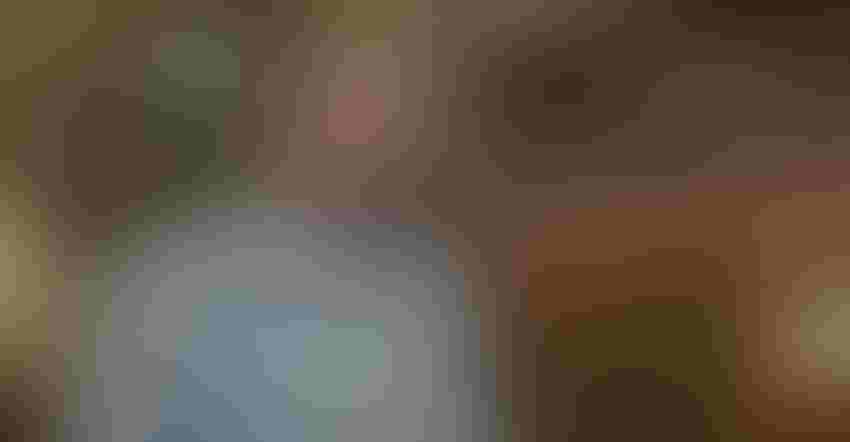 COUNTING BLESSINGS: Veterinarian Eric Knock is counting his blessings after a September accident working cattle north of Miller, S.D. He suffered multiple skull fractures, some hearing loss and a damaged optic nerve.
Kevin Schulz
Safety is stressed at Prairie View Veterinary Clinic, and Eric Knock reminds farmers, ranchers and other veterinarians not to become complacent when working around livestock.
Knock, one of the owners at PVVC in Miller, S.D., has always stressed caution over possible work hazards to his team, but now he has firsthand experience to better illustrate his safety lessons.
A veterinarian since 2007, Knock has worked with his share of cattle and with various cattle chutes, but on Sept. 7 he got caught between two hard places.
"We were ultrasounding and preg-checking heifers, and I was pouring a bull," he recalls. "And I stood up right next to the chute."
Problem was, when the 6-foot-8 Knock stood up, the squeeze was released to free the bull, and his head became pinched between the chute frame and the squeeze.
Two veterinary technicians — Gavin Machtemes and Darcy Boersma — and the cattle producer helping work the cattle knew something wasn't quite right. Knock never lost consciousness, but "I don't remember a lot of it, just parts of it," he says of that day. He was bleeding "quite a bit" from his right ear and his nose, and was told by others present that he was talking to them the entire time.
An ambulance transported him from the pasture to the hospital in Miller before being airlifted to Avera McKennan Hospital in Sioux Falls, S.D., where he stayed for 12 days — about a third of the time in intensive care. He then spent a week in Avera's inpatient rehab center.
Though no surgeries were involved, he had several skull fractures. "I never did hear a number of how many," Knock says of the fractures. "They just used words like 'extensive' and 'many.'" None of the fractures were displaced; thus, plates were not required.
His injuries caused an epidural hematoma, or bleeding between his brain and skull. "That luckily quit bleeding on its own," he says.
Luck was on Knock's side, as a bad situation could have been much worse. He recalls a Sioux Falls doctor asking him, "Do you know how lucky you are?"
"Yea, I think I do," Knock recalls telling the doctor, with the doctor replying, "No, I don't think you do."
While his right eye and optic nerve are fine, cranial nerve damage has caused the muscles controlling eye movement to track improperly, causing double vision. "Without the patch, it makes it hard to concentrate or function real well," Knock says. "We're basically waiting to see if that nerve will heal, and there's a decent chance that it will, but that might take a really long time."
He has lost hearing in his right ear, as the ear drum is about 80% gone with damage to the middle ear. Doctors are confident that a surgery in December will recover some of that hearing loss.
Knock has been slow to return to work, starting with small-animal work. He was back working cattle on a limited basis in late October. He says he is grateful for his fellow PVVC veterinarians, as well as other practitioners who pitched in while Knock was out of commission. A total of six veterinarians work out of the PVVC clinics at Miller, Highmore, Wessington Springs and Redfield.
Lessons learned
Knock's tale should serve as a reminder to others. He has worked with a variety of chutes over the years, and he had used this portable chute owned by the clinic a handful of times.
He stresses that cattle producers and veterinarians get to know their equipment. "Know where the pinch points are, and make sure that you have an escape route planned before you start with the first animal," he says.
When PVVC veterinarians hit the road to work cattle, they bring a portable chute, such as the one that caused Knock's injuries.
"We have a lot of interns that work with us who may not be experienced around chutes, and the producers that we visit, their crew may not be familiar with our chute either," he says. "We try to get everyone familiarized with the chute, getting them to be aware of where everyone is and to point out some of those spots that were more likely to pinch someone."
While pinch points are a common concern, so are strike points, such as a head gate "that comes out pretty fast. It's not a pinch point, but a case where people can get concussions from those chutes with a quick release," he says.
Boersma knows all too well the dangers, as she suffered a concussion a couple years back from a "wild" beef animal releasing the side of the chute, which hit her in the head. She was out of work for about month.
Boersma and Knock see each of their accidents as flukes. "The only way you can prevent them was to not work at all," he says.
In addition to familiarizing yourself with equipment, Knock advises producers to simply "slow down, don't be in a hurry, and be aware of the risk areas."
About the Author(s)
Subscribe to receive top agriculture news
Be informed daily with these free e-newsletters
You May Also Like
---