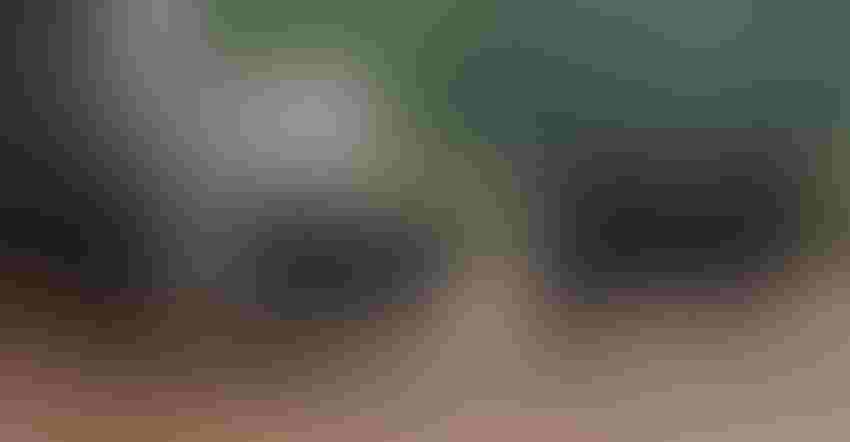 SOUNDNESS EXAM: Bulls coming from the test station near Bedford, Ind., to be sold at Indiana Beef Evaluation Program auctions must pass a physical soundness exam, including examination of hooves, feet and leg structure.
When you buy a bull tested through the Indiana Beef Evaluation Program testing station, you know several things. It is a well-performing bull, free of diseases, that is physically sound — both in structure and reproductive system — with a good disposition sell.
"That's one reason why we believe people keep supporting our sales," says Nick Minton, Purdue University beef systems specialist. Stationed at the Feldun-Purdue Agricultural Center near Bedford, Ind., home of the IBEP test station, one of Minton's duties is overseeing the IBEP bull test program.
"Bulls which are eligible for sale must be in the top two-thirds of their breed for performance index, but they must also pass examinations for both physical and reproductive soundness."
A winter test concludes with a sale of eligible bulls in April. This year's sale is April 18 at the Springville Feeder Auction, beginning at 6 p.m. EDT. The sale is broadcast through dvauction.com, with remote live viewing and bidding sites in Lafayette and Rochester. Learn more at ag.purdue.edu/ansc/ibep.
A summer test begins in late April each year. Eligible bulls from the summer test will be offered for sale in October.
Hoof structure
One factor considered more today when bulls are evaluated for physical soundness is hoof structure. "We've been looking at it for some time, but some breed associations are starting to emphasize it as well," Minton says. "It's important for two big reasons.
"First, a bull which has structural issues with hooves may end up lame at some point in the future and unable to service cows. Second, researchers have determined that it is a moderately heritable trait. That means a bull with hoof issues due to poor structure could pass that trait along to females and even future herd sires."
The American Angus Association issued guidelines on evaluating hooves and claw set a couple of years ago. For both foot or hoof angle and claw set, the guidelines rate the trait on a scale from 1 to 9, with 5 being ideal in each case. Posters are available that show examples of each score in the range for each trait in the Angus guidelines.
Minton emphasizes that these and other available tools are only guides and don't provide a 3-D image of the hoof. "The best evaluation happens when you have experienced cattlemen evaluating each bull individually," he says.
To assist with evaluating hoof structure, IBEP installed a concrete pad to walk each bull across as it's evaluated. A solid surface prevents mud, snow or dirt from hiding flaws in hooves.
Bulls on the IBEP test are evaluated for physical soundness by a committee of several people, including experienced cattle producers, Minton says. If they pass the physical soundness exam, then they're tested for reproductive soundness, including semen quality. Bulls must be free of persistent penile frenulums and bovine papilloma, Minton adds.
The index used to select bulls eligible for sale is a performance index based on two components. Average daily gain accounts for 60% of the index, with weight per day of age making up the other 40%, Minton says.
Subscribe to receive top agriculture news
Be informed daily with these free e-newsletters
You May Also Like
---