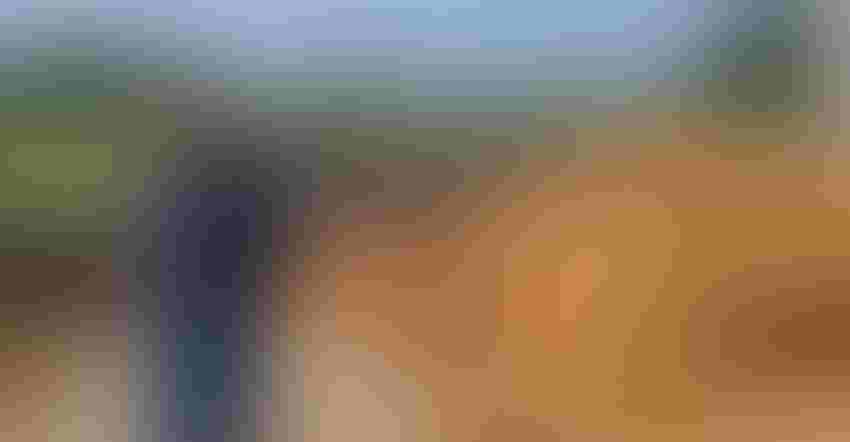 ON TOUR: Jerry Birt, Greencastle, Ind., will explain how he uses byproducts in his cattle feeding operation during the beef and forage tour July 6.
If you raise forages or have even a few beef cows, you don't want to miss this one-day tour on July 6. You can visit three unique beef enterprises and learn about both establishing and feeding a variety of forages in one tour. I tagged along on a pre-tour, and I promise you will come home with plenty of ideas that will make you think about your own operation.
I can make that promise because I have made a change in our small sheep flock system already. Jerry Birt of J&K Birt Farms made a comment during a tour of his cattle feeding barn that since he started cleaning waterers more often, he has increased daily gain 0.2 pound per head per day. I brought that idea home and started emptying water buckets for young lambs daily. Guess what? They're drinking more water — water grows stagnant more quickly than you think.
The bus tour begins at the South Putnam High School parking lot at 8:30 a.m. EDT. The school is located on U.S. 40 just east of U.S. 231, between Cloverdale and Greencastle, Ind. The tour is sponsored by the Indiana Forage Council and the Indiana Beef Cattle Association.
Quick overview
Ted Willer and family will welcome you to Willer Timber Ridge about a mile from the school. It's a nationally known Angus seedstock operation.
"We are best known for producing performance-oriented bulls for commercial cattlemen," Willer says. You'll get a chance to see some of his cows and bull calves during the tour.
Willer will also discuss how he's using a variety of forages, including triticale and pearl millet, to supplement pastures. They're also part of a plan to transition older pastures to newer ones with endophyte-free fescue. Purdue University Extension forage specialist Keith Johnson will be on hand to discuss the need for forage analysis of these feedstuffs, and how you can use them in a beef feeding program.
Birt Farms has a cow-calf operation, but its most intensive venture is a cattle feeding operation. Jerry Birt uses a monoslope barn built in 2016 with a one-time capacity of 220 head of cattle. Be sure to check out the "small" features he's built in, including a double gate system with an easy-to-operate, nearly foolproof closing system.
What's most intriguing, though, is how Birt manages byproducts from other industries and big square bales of straw as the diet for his feeder cattle. While his approach requires constant management, it helps him keep costs of production low.
You'll also want to check out his storage bay for manure, which is under a roof, part of the main cattle feeding barn, and partially paid for using Environmental Quality Incentives Program funds from the Natural Resources Conservation Service. Birt cleans the front half of the barn, but manure accumulates in the loafing area, which he beds with big round bales of cornstalks weekly.      
Crops and cows
Paul and Jennie Hodgen, Roachdale, call themselves part-time cattle producers because their operation is heavy on crops. Yet there's nothing part time about how they handle forages for cattle, including feeding ammoniated straw bales to feeder cattle. They ammoniated the big round bales themselves last year and fed them successfully. It's a practice that requires precise management.
Their cattle operation is diverse; it features a cow-calf herd — part of it in partnership with another person — plus a cattle feeding operation for their own calves and a backgrounding operation for cattle they buy and precondition to go to large feedlots. There will be plenty of tips to pick up at this farm, as well.
Reservations are required to attend this tour. Cost is $20 per person, including lunch. You can call the Indiana Beef Cattle Association at 317-293-2333 or visit indianabeef.org.
Comments? Email [email protected].
Subscribe to receive top agriculture news
Be informed daily with these free e-newsletters
You May Also Like
---