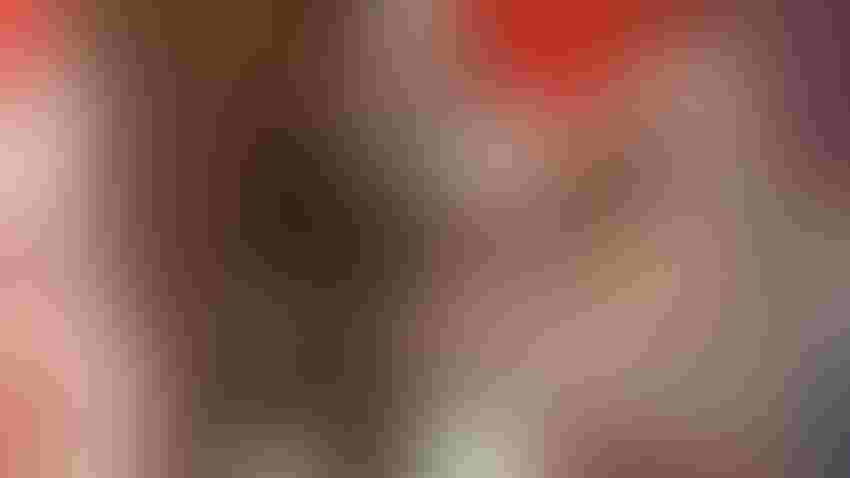 ASSIST PROPERLY: Knowing how to place the obstetrical chains on a calf's legs is important to prevent injury.
Photos by Jennifer Carrico
Springtime usually means new life on the farm. Making sure calving happens easily and without problems is the goal. Iowa State University Extension beef specialist Chris Clark says preparation is the key to having a good calving season.
"Providing cows with proper nutrition will mean less dystocia or difficult births, better colostrum for the calf, better calf vigor and cows that are more likely to rebreed," Clark says. "It's ideal to have cows in a body condition score of 5 or 6."
Delivery of the calf
While preparation is the best way to prevent dystocia, cattle producers should also know what to look for during delivery of a newborn calf. Signs of pending parturition include relaxed pelvic ligaments, a swollen vulva, udder development, behavior changes and mucus present.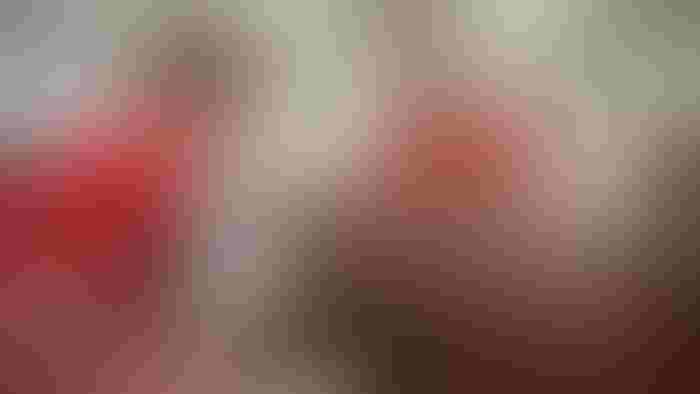 GETTING EXPERIENCE: Iowa State University Extension beef specialist Chris Clark (left) positions a calf in the calving simulator during a hands-on display, while Matt Deemer of Winterset, Iowa, coaches his son, Cody, on how to pull the calf.
In Stage 1 of delivery, the fetus enters the birth canal, cervical dilation occurs and uterine contractions begin. The average duration of this stage is approximately four hours and not more than eight hours.
During Stage 2, there is a presentation and rupture of the water bag, appearance of fetal extremities, and active labor is marked by straining and abdominal press. This is when the calf is born. The average duration of Stage 2 is two to four hours, but Clark says typically cows move through this stage faster than heifers.
Stage 3 is the passage of the placenta, which can take up to six hours, on average. The placenta is considered retained if it has not passed within 12 hours.
If dystocia occurs
If a difficult birth or dystocia happens, there can be many different causes, including an undersized dam, an oversized calf, uterine inertia or the inability of the uterus to contract properly, abnormalities of the birth canal, fetal structural abnormalities or fetal malposition.
"If we see a difficulty during calving, it can have effects on both the calf and the cow," Clark says. "The calf might have decreased absorption of protective antibodies, more risk of infectious disease or more difficulty regulating their body temperature. The effects on the cow could include slower return to estrus, lower conception rates and reduced milk production."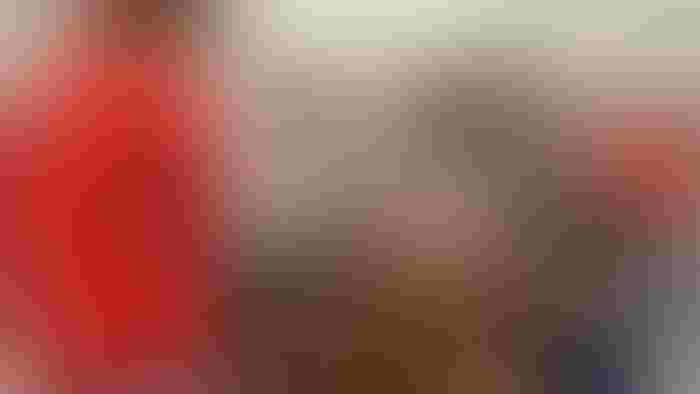 PULLING EDUCATION: Winterset youth Matthew Brakhane gets experience pulling a calf from the calving simulator as Iowa State University beef specialist Chris Clark coaches him during a display in Madison County, Iowa.
Clark says a producer should recognize when it is time for intervention through manual or mechanical fetal extraction — or in extreme conditions, a cesarean section. Assistance should occur if Stage 1 of labor goes beyond eight hours; the water bag is visible beyond two hours with no progress, especially if the cow is not pushing; if active labor extends past 30 to 60 minutes without progress, the cow becomes exhausted or the calf is stressed; and if there is an abnormal presentation.
"A calf that isn't presented correctly almost always needs assistance," he says. "Restrain the cow, and only pull when the cow pushes. Try to pull legs one at a time in an alternating manner. If hips get locked, the calf should be rotated 45 degrees to help get it out of the cow. Don't force it out."
Post-birth care for calf and cow
Once the calf is on the ground, the calf should be evaluated for stress, and its mouth should be cleared of any fluids. The cow should also be evaluated for stress, and if she is able to stand, she should be allowed to mother the calf.
"Watch the cow and calf for any unusual activity. The calf needs to get colostrum to receive immunity and antibodies against diseases," Clark says.
For more information on calving management, visit https://iowabeefcenter.org/calvingmanagement.html.
Subscribe to receive top agriculture news
Be informed daily with these free e-newsletters
You May Also Like
---