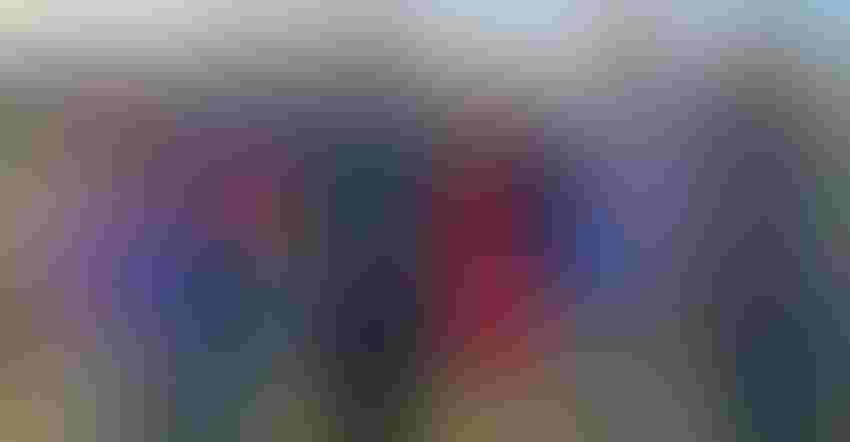 WINNING TEAM: The SUNY Cobleskill dairy judging team placed first and second at the 178th Royal Highland Show in Scotland. Pictured are Kaylah Gulley (left), Josh Chisholm, an unidentified man from the Scottish Association of Young Farmers Clubs, Kennedy Crothers, Matt Currie and coach Carrie Edsall.
While robotic milkers and other technologies are slowly finding their way onto farms in the U.S., European farmers have been toying with robotics for much longer.
Josh Chisholm, 20, of Carthage, New York, got a chance to see just how advanced farms in Scotland are during a recent trip with his SUNY Cobleskill dairy judging team.
The team was there to compete in the 178th Royal Highland Show, but they also got a chance to visit local farms.
Chisholm, the calf manager at Milk Street Dairy in Watertown, was in awe at seeing robotic mixing wagons on one farm.
"That was one thing I never saw before. It was a once-in-a-lifetime experience," he says.
The team got to Scotland after winning the overall team title in the International Post-Secondary Dairy Cattle Judging Contest at last year's World Dairy Expo.
They continued their winning ways in Scotland by winning first and second place in the collegiate dairy judging contest for two-year colleges.
Carrie Edsall, the team's coach and instructor at SUNY Cobleskill, says the competition in Scotland was different than what her team was used to. For one thing, the four-person team was broken into pairs of two, something they were not ready for. And while they usually get up to 15 minutes at home to judge cows, in Scotland they had only six minutes to judge the animals for angularity, defined bone and the quality of their udders — the "dairyness" of the cow — along with providing reasons.
"That was a little nerve-wracking for them. That kind of panicked them," Edsall says. "I really push my students to have the details; it's hard to find that in six minutes."
CATTLE JUDGING: Matt Currie at halter of a cow in the Royal Scotland Show.
But the students persevered, she says, by remembering that cows are judged by their ability to reproduce.
"We really do focus on what is the ideal standard. They have to show us that dairyness and femininity. It's learning to place the puzzle pieces in many ways, and then it's that confidence to present themselves," she says. "Dairy judging is interesting. It is an art. I think my job is making sure to build their confidence, don't question the little things and remember the ideal standards."
Eye-opening farm visits
For Chisholm, who took first place in the competition, learning how to judge cows has helped him recognize what a productive and "nice looking" cow looks like.
He and his teammates got to visit several farms in Scotland and Luxembourg, which they toured briefly after the Scotland show.
He says the farms were like farms back home but with more robotic milking machines and other technologies.
Matt Currie, 19, of Tully, got second place in the show. He grew up on a dairy farm that now houses 1,000 cows. He is currently pursuing a bachelor's degree in animal science.
"It was awesome. It was really, really life changing," Currie says of the trip.
He was also surprised to see the amount of technology on farms in Scotland. Having shown cows since he was 7 years old, Currie says he appreciates how much dairy cattle judging has helped him grow as a member of his family farm.
"It's really amazing how the dairy judging competition applies to everyday life, whether it's just look at the conformation of the cow and deciding what bull you want to breed her too. It really does apply to everyday life," he says.
Kaylah Gulley, 20, of Greenwich, also took second place in the competition in Scotland. She says that showing and judging has helped with her decision-making skills.
"Sometimes as a person I can overthink things. Just having to quickly make a decision and stand behind it, and justify it, I think for me personally that's going to take me pretty far," she says.
While dairy farms in Scotland are different, she says that farmers over there face the same struggles.
"I think that ... seeing everything in a different aspect was cool, but at the same time there were a lot of things that were the same," she says. "It was an eye-opening experience seeing that people are struggling everywhere."
TRIP ABROAD: The team visited Scotland and Luxembourg during a two-week period earlier this summer.
Kennedy Crothers, 19, of Pitcher, has shown cattle her whole life but never judged cattle in a competition until she joined the dairy judging team at SUNY Cobleskill at the end of her freshman year.
"I knew how to see cows, but I couldn't explain it in a set of reasons," she says.
Crothers learned quick. She ended up winning first place at the Scotland show.
The trip was also the first time she ever went overseas. She says she was eager to tell her parents, owners of a 70-cow dairy of mostly Jerseys and Ayrshires, what she saw on the farms.
"I saw a lot of robotic farms. Everything is very clean there, everything is very organized," she says. "I don't think my parents' farm is big enough for a robot, but it was still good to see that."
Skills for success
Edsall is fairly new to coaching a dairy judging team. She's only been doing it for three years. 
She grew up on a dairy farm and went to SUNY Morrisville and Cornell, earning degrees in ag business and animal science. She also worked for Cornell Cooperative Extension and at North Carolina State University.
She moved back to New York in 2009 and started at SUNY Cobleskill as an adjunct instructor teaching animal science.
Edsall says that competing in dairy judging can bring lifelong benefits.
"I know what it did for me as a youth. It got me off the farm. It got me to see other farms and really broadened my horizons," she says. "Anyone in the dairy industry needs communication skills and dairy judging does that. Also, being able to make decisions, be it herd health or breeding techniques or with employees, it builds confidence."
Subscribe to receive top agriculture news
Be informed daily with these free e-newsletters
You May Also Like
---