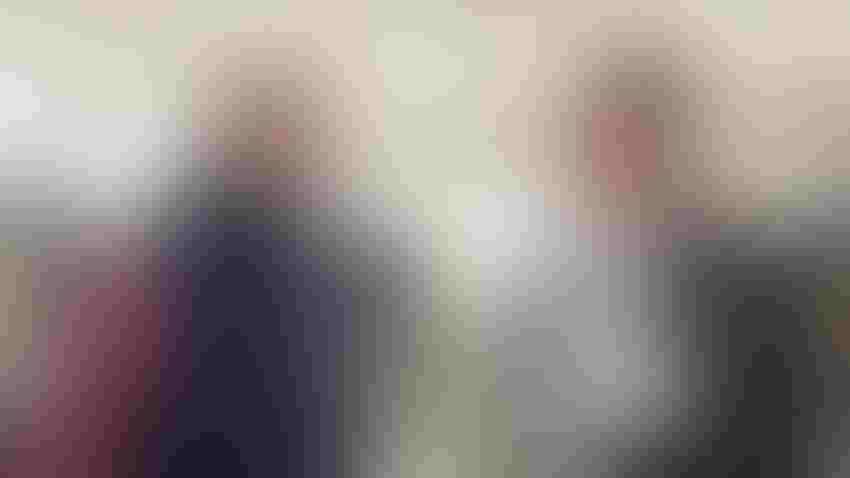 Lavon, Texas, producer Ben Scholz, left, visits with Chris Novak, CropLife America CEO, following his presentation at the 34th annual Texas Plant Protection Conference, Bryan.
Shelley E. Huguley
It may seem contradictory to say that the pesticide industry wants a strong EPA. But according to CropLife America CEO Chris Novak, because farmers and consumers want safe and effective products, a strong regulatory system only helps build that confidence. But there's a problem.  
Did you know it takes about 14 years to bring a new pesticide to the market? Four of those years are spent in EPA's regulatory process, said Novak, where scientists determine, of many things, how a pesticide's active ingredients will affect the 1,800 threatened and endangered species in the United States.  
A lack of EPA funding, a higher workload, which spiked in 2020 during COVID, and the science required to determine if a pesticide complies with the Endangered Species Act (ESA) are hurdles impacting pesticide registration and ultimately the farm, Novak said. 
Novak spoke to agriculture consultants, producers and industry personnel at the recent Texas Plant Protection Conference in Bryan. He said farm organizations in Washington D.C. are beginning to understand ESA's importance as it relates to producers' ability to utilize various pesticides. 
He compared the complexity of considering endangered species when building, for example, a road versus pesticide use on the farm. "If a new bridge, road or building is proposed, and it's a federal facility, then a consultation is required with the Fish and Wildlife Service and the National Marine Fisheries Service as to whether that project will impact an endangered species.  
"If you're building a bridge or a highway, you've got a targeted geographic slice that you're looking at," Novak said. "That process for most federal projects takes 60 days." 
Compare that to pesticides for the farm. "We have 700 different active ingredients registered on the market today, in terms of available pesticides. And there are 1,800 threatened or endangered species. And now think about trying to assess how one of those pesticides is going to impact those potentially threatened or endangered species across millions of acres and then you can understand why it's not working." 
While EPA has determined whether a pesticide will impact an endangered species, it hasn't done the consultation process, Novak said. As a result, in January 2022, the EPA announced a new policy for how that will be managed.  
Novak referenced the registration of Corteva's Enlist One and Enlist Duo. "Essentially, what EPA said was, you can use Enlist in most all the areas Corteva requested to register this product but because of endangered species, we're not going to allow you to use this product in roughly 217 counties across the U.S. In Texas, when EPA approved the initial registration in January, there were 15 different counties where EPA said you can't use Enlist One. However, Corteva submitted additional information to the agency.  The agency acted quickly, and at the end of March, made a new announcement that reduced those prohibited counties from 15 to nine.  
"If you live in one of those counties, you've suddenly lost a tool that may have been important. But at the same time, this is EPA's choice of how they want to try to protect threatened and endangered species. Now, did EPA have an alternative that they could have used? Always. Is there better science that could have been applied? Did they have to jumble things up by issuing a registration in January and then an amended registration in March? Yes, all of that could have been done better. 
"But let's also go back to the number of people they have in place, the job they're trying to do on specific deadlines, and you can understand why they did what they did. In June of 2021, the D.C. Circuit Court of Appeals handed down a decision on another product called aldicarb, used in Florida orange and grapefruit production.  
"The court said the EPA acknowledges that it did not make an ESA affects determination prior to approving aldicarb and has therefore violated Section 782 of the ESA." 
Novak said the critical part of the decision read, "The summary vacatur is granted. So, what the court said is EPA approved this pesticide, but they didn't comply with the law, so we're going to vacate the registration of that product and farmers are not going to be able to use it.  
"So, 700 pesticides, 1,800 threatened and endangered species. Almost all our pesticides have not gone through the consultation process and are vulnerable to this type of legal challenge which is why EPA is doing what it's doing." 
What does this mean for farmers? First, it reinforces the need for producers to read and follow all pesticide label directions. "Farmers need to be alert that more changes are going to come to the farm level with respect to mitigation measures.  These mitigation measures are being put forward as a pick list that gives farmers a choice to implement certain practices. EPA is doing that to try to stay in front of the lawsuits coming from the activist community in respect to their compliance with the Endangered Species Act." 
"We are working with farm organizations to address these issues and to ensure that EPA is using better science, better mapping. Right now, EPA doesn't have accurate data on where or how pesticides are used or where the particular species are at, and yet those two things alone would allow EPA, rather than partitioning off an entire county from using a particular pesticide, the agency might be able to focus mitigation measures on a narrower geographic area." 
CropLife America represents the pesticide industry and is lobbying Congress for funds to hire more EPA personnel and the necessary tools to make more scientifically based decisions in a timelier manner. 
Novak encouraged attendees to be patient. He also suggested they speak to their congressional representative about the importance of pesticides on their farms.  
"We may not love what EPA is doing but they are working to address a problem that has been a critical vulnerability for farmers and for the pesticide industry," Novak said. "Congress needs to understand that they need to fund the agency and look at how the system is built and that it's not working as well as it should." 
Subscribe to receive top agriculture news
Be informed daily with these free e-newsletters
You May Also Like
---