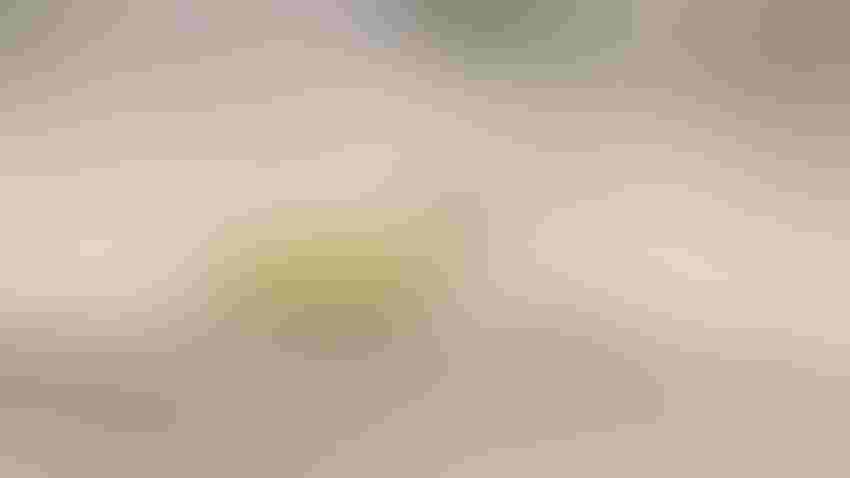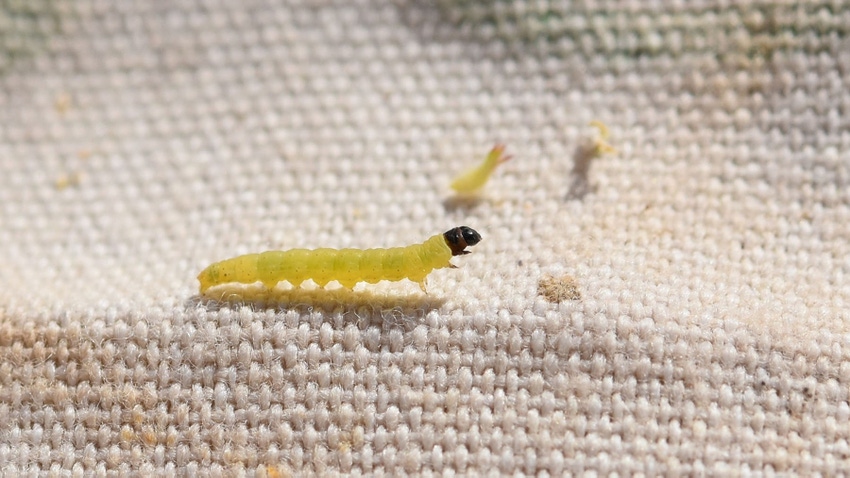 The Alfalfa Leaftier is a new pest that came on the U.S. alfalfa scene in 2021. It was confirmed in the California and Arizona low desert region on both sides of the Colorado River. Since then, it has been reported across much of Arizona's alfalfa growing region.
John Palumbo/University of Arizona
Two new pests to alfalfa growers in the West already appear to be troublesome in their damage, and problematic in their control.
The Alfalfa Leaftier (Dichomeris acuminatus) and dot lined angle (Psamatodes abydata) were discovered in low desert alfalfa in 2021 and 2022, respectively, according to Michael Rethwisch, entomologist with the University of California Cooperative Extension in Blythe.
Since then, the insects – both are caterpillar pests not previously reported in U.S. alfalfa – have become particularly troublesome in Imperial County, Calif, and in Yuma and LaPaz counties in Arizona. These counties share the Colorado River as a common border. There are currently no known discoveries of these insects in other alfalfa growing regions in California, to include the Central Valley and the northern California mountain regions of Lassen, Modoc, Siskiyou and Shasta counties.
According to John Palumbo, entomologist with the University of Arizona, the leaftier is being widely reported across Arizona, including much of the western and central portions of the state. Palumbo was unaware of reports in the southeast corner of Arizona, where there is also some alfalfa acreage.
The Alfalfa Leaftier starts as a green to off-green caterpillar and tend to reach about 9mm in length. As caterpillars they are characterized by a black sclerotized first thoracic segment and leg. They can be picked up in sweep nets, Rethwisch says.
The adults are about the same size as a pink bollworm, he said. Identifying characteristics include dark spots on each forewing and dark diagonal lines at the tip of the forewing.
The insect gets its name from how it ties alfalfa leaves together. This makes it difficult to find the small caterpillar as it uses those tied leaves to hide and feed on the leaves. Later feeding damage can look like that of armyworms, which can be severe, he said. Closer inspection can reveal the tied leaves and the small caterpillar.
From Florida to California
Seasonal discoveries of the leaftier in Arizona have been reported in September through November. In California those reports stretch from September through January. Elsewhere in the U.S. the insect has been reported in Florida and Mississippi. It is reported year-round in Florida.
Rethwisch reports that the leaftier has other reported hosts in the Southwest, including sesbania, palo verde, and mesquite.
"The possibility that this could be a year-round pest does exist," Rethwisch said. "That didn't seem to be the case in 2021 and going into 2022."
The Dot Lined Angle also appeared in low desert alfalfa. This insect is three times longer than the Alfalfa Leaftier. This pest was first reported by a pest control advisor to Rethwisch last October.
This insect goes through a more dramatic transformation as a caterpillar, Rethwisch says. It will change colors and shape as it transitions through the instar phases into a moth. Photos from Mississippi State University suggest that the same moth have different wing shapes and variations, depending on their location in the United States. The Dot Lined Angle has been reported in most southern-tier states, except for New Mexico, and in states across the upper Midwest and Northeast.
Because the bugs are new to California and the Southwest, Rethwisch says Extension specialists continue to study pesticide and biological control methods. Alfalfa growers or their PCA's in Arizona and California who think they may have discovered new caterpillars in their fields are encouraged to contact their local Extension entomologists to confirm their identifications.Information on the Dot-Lined Angle caterpillar can be found online through UC Cooperative Extension. A UCANR blog on the Alfalfa Leaftier can be found here.
Subscribe to receive top agriculture news
Be informed daily with these free e-newsletters
You May Also Like
---