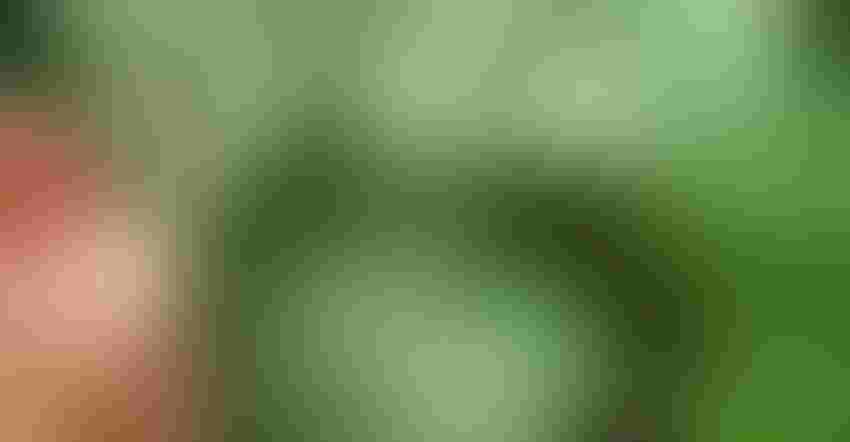 NEW PEST: Soybean leaves show injury from Macrosaccus morrisella, a new leaf-mining pest that first appeared in Minnesota in 2021.
Photos by Robert Koch
University of Minnesota entomologists are closely monitoring a new pest that was identified in 2021 in St. Paul and Rosemount and has since been detected across southern Minnesota.
Robert Koch, U-MN Extension entomologist, and colleagues have provided updates on work they have been doing since first discovering Macrosaccus morrisella, a tiny leaf-mining moth. The pest gets its name from the telltale sign of moth larvae feeding on the inside of soybean leaves. These "mines" occur on the underside of leaves, looking like white blisters that are usually outlined by leaf veins.
The larvae that live in the leaf mines are typically pale green in color. The adults, roughly a quarter-inch long, have a striking color pattern of orange, white and gray-black markings.
Koch pointed out that the mines from this new leaf-mining moth are distinctive from — and should not be confused with — those of a small beetle, the soybean leaf miner.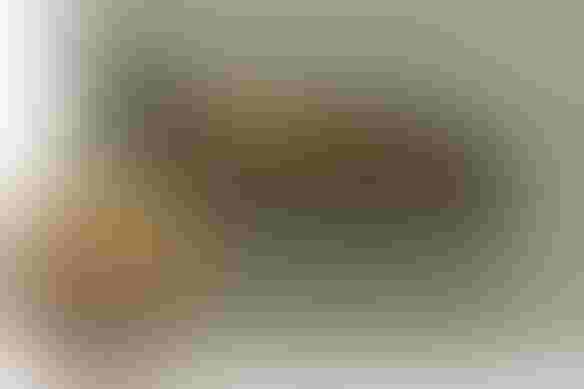 Macrosaccus morrisella is a native insect, usually found in the Eastern U.S., that feeds on two plants — the American hog peanut and the slickseed fuzzybean. However, in 2016 these leaf mines were observed in soybean fields in Quebec.
Koch shared in a recent blog that he and his U-MN colleagues received reports of the leaf miner in southern Minnesota this summer.
"Many of these fields have relatively minor levels of infestation that are not likely to affect soybean yield," he wrote. "However, we received a report of a heavy infestation of this pest on a farm in Sibley County. In one field on this farm, soybean plants on field edges near tree lines were very heavily infested. On one edge, all the plants were infested, and the percentage of the leaf area affected with leaf mines ranged from 3% to 42% per plant. In contrast, the interior of the field and edges without trees had much lower levels of infestation, with about 1% or less of the leaf area affected with mines."
Current research
Entomologists have been extensively sampling the Sibley County soybean field to learn more about the leaf miner's biology and impacts to soybean. Some of the research they have conducted includes:
Within field distribution. Leaf samples have been taken going into the soybean field from different edges to learn about how infestation levels change across the field. Preliminary results suggest that infestations are highest on field edges near trees, and generally lower on edges without trees and in the field interior.
Within plant distribution. Leaves of whole soybean plants are examined to learn about where the insect occurs on plants. Preliminary results show that the lower leaves of plants, which were fed upon by the previous generation of this insect, had the highest percent of leaf area affected with mines. However, the upper leaves were getting attacked by the next generation of the insect.
Parasitism of the leaf miner. Soybean leaves containing mines of the leaf miner were placed in cages in the laboratory to see if the adult leaf miner moths and/or parasitic wasps would emerge. The moths emerged, as well as a surprisingly high number of parasitic wasps from the leaf mines.
"It is very likely that these tiny parasitic wasps develop in — and kill — the leaf miner, which would make them beneficial insects," Koch noted. "We need to identify these wasps and learn about their biology, so we can promote them in the fields to help naturally suppress this pest."
Soybean growers will learn more about U-MN Extension leaf miner research at upcoming winter meetings.
The University of Minnesota Extension contributed to this story.
About the Author(s) Paula Mohr has been editor of The Farmer since 2004. She enjoys covering a wide range of topics that are of interest to Minnesota producers.
Subscribe to receive top agriculture news
Be informed daily with these free e-newsletters
You May Also Like
---