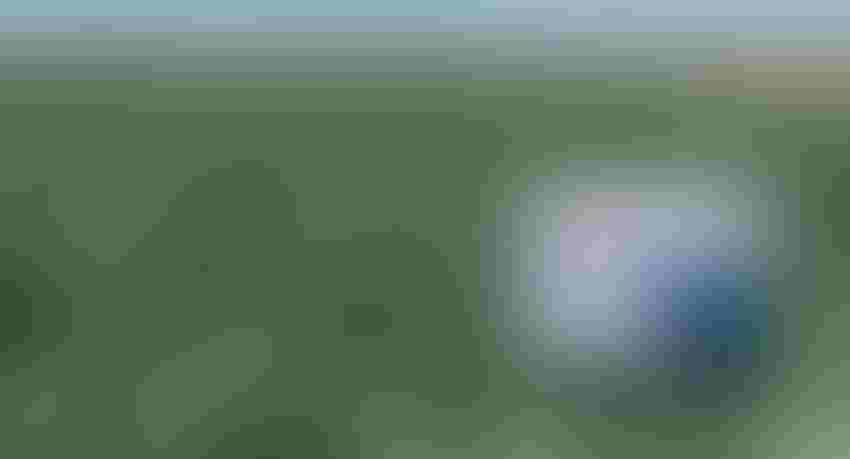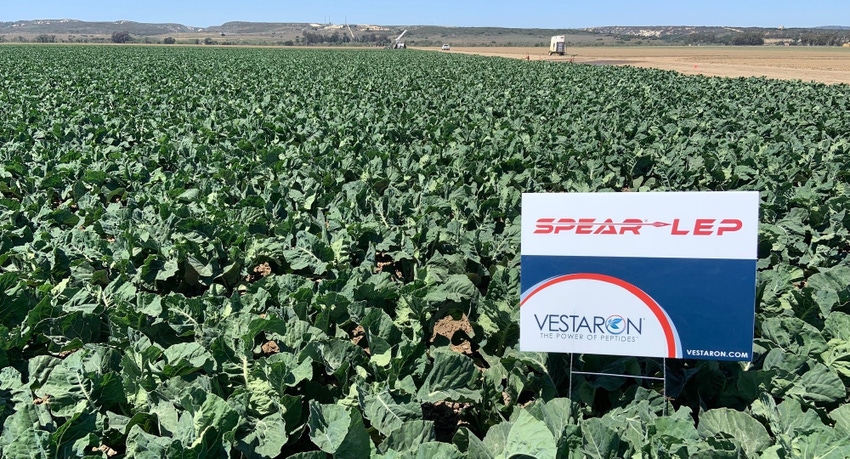 A cauliflower field trial in Santa Maria, Calif., tested Spear-Lep, a new bioinsecticide from Vestaron Corp.
Vestaron Corp.
Vestaron Corp. has announced a distribution partnership with Wilbur-Ellis for a new bioinsecticide the companies say will be effective against pests in tree nuts and other crops, including the navel orangeworm in almonds.
Spear-Lep, a peptide-based bioinsecticide registered in all 50 U.S. states, offers the superior safety profile of a biological product with the efficacy and specificity of a synthetic product for broad spectrum lepidopteran control on tree fruit, nuts, vines and vegetables, according to Vestaron.
The product is labeled for use on almonds, hazelnuts, pistachios and walnuts as well as numerous other crops, including apples, blueberries, grapes, stone fruits, strawberries, tomatoes and vegetables, according to a company fact sheet.
The biopesticide, which is ingested by the insect, was evaluated in more than 60 field trials across North America and consistently controlled pests equivalent to mainstream synthetic chemistries, the manufacturer claims.
"Our Spear-Lep product is made specifically for Lepidoptera pests in a variety of different crops across the country," Vestaron product launch specialist Jaylene Bischel said in an email. Lepidoptera is an order of insects with about 180,000 species.
"Our product is unique in that it is safe to humans, bees and fish," she said.
Wilbur-Ellis evaluated Spear-Lep in several apple and almond field trials in 2019 and was pleased with the results, said Jesse Rosales, the company's key actives and biopesticides portfolio manager.
"Spear-Lep is the kind of biopesticide we think can enter mainstream ag in the almond and apple markets," Rosales said.
According to Vestaron, Spear-Lep – an Insecticide Resistance Action Committee (IRAC) Group 32 biological product – acts at the same receptor but different site as neonicotinoid and Spinosad chemistries.
Not an organic product
While the product isn't certified organic, it does have some traits of an organic product, such as a zero-day pre-harvest interval, four-hour restricted-entry interval (REI) and a maximum residue level exemption, Bischel said.
As such, the biopesticide "is able to be used close to harvest or in the peak of the season, in order to save some of their heavier chemistries," Rosales said.
Spear-Lep is the newest in a line of Spear products, which Vestaron touts as the first bioinsecticides that affect a specific neuromuscular target. Because of its biological origins, Spear is lethal to insect and mite pests but non-toxic to bees, fish and mammals, according to a fact sheet on the product's mode of action.
Spear-Lep must be tank-mixed with Bacillus thuringiensis products (Bt's) to work in tandem, researchers and company officials contend.
The new product's launch comes as California growers are seeking more natural alternatives to synthetic pesticides, whose use is heavily regulated in the state.
"Based on what I hear from some growers and the biopesticide industry data, there has been a steady increase in biopesticide use," said Surendra Dara, a University of California Cooperative Extension entomologist.
For more information about Spear-Lep, visit http://www.vestaron.com/spear-lep/ 
Subscribe to receive top agriculture news
Be informed daily with these free e-newsletters
You May Also Like
---