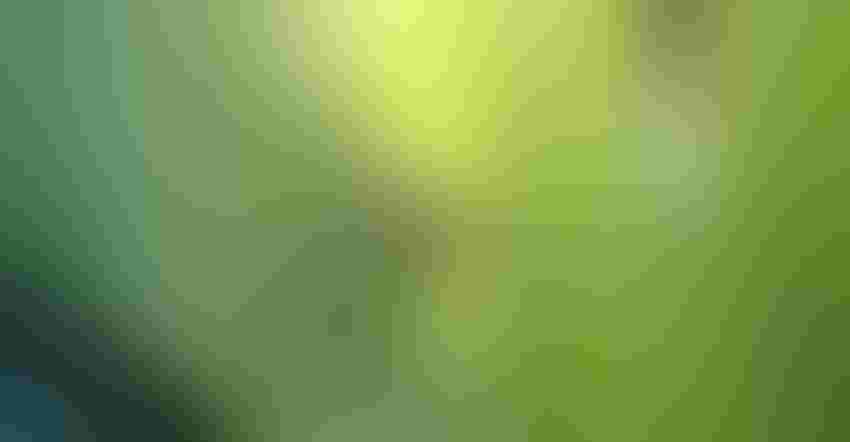 DOING DAMAGE: Japanese beetles left unchecked can affect corn yields when they feed on silks. A netting system can protect corn and soybean fields.
Mindy Ward
Attract-and-kill insecticidal nets provide equal protection against Japanese beetles as weekly insecticide sprays in crops. This latest behavior control method not only kills the beetles, but also may be the one way to keep insecticides on the shelf longer.
"We're losing chemistries at a fast rate across the United States because of resistance and some broad spectrum products being pulled from the shelf," says Kevin Rice, the former University of Missouri Extension entomologist who is now the director of the Alson H. Smith Jr. Agricultural Research and Extension Center at Virginia Tech. "While the attract-and-kill net is not a silver bullet, if we reduce the number of sprays that are going onto fields, then we can reduce the likelihood of resistance and keep insecticides available long term."
After years of research, Rice says the data show that netting with pheromones and insecticides work at killing Japanese beetles. Now the focus shifts to size and placement of the nets for optimum protection.
Using pheromones to trap
It takes just three seconds for a Japanese beetle to land on a pyrethroid-infused net, pick up the toxin and die. Rice explains that the concept works like a roach motel used by homeowners, luring a particular pest into a given area where it will ultimately die.
His on-farm research set a 76-meter net trap along soybean field borders. It was treated with two lures — one contains a Japanese beetle aggregation pheromone that attracts males and females; the other mimics plant volatiles. The insecticidal nets and lures last for a full season.
"The data showed that attract-and-kill nets placed on the outside border of soybeans protect plants from Japanese beetle defoliation the same as a weekly insecticide spray," Rice says.
Closer look at net details
Future research will look at lengths of nets, larger or smaller, and placement to determine optimum efficacy.
"I never envisioned that growers would be putting out 76 meters of net," Rice explains. "That was the first experiment to see if the concept works. Since it does, we can try to refine and tweak the system to make it more cost-effective."
Researchers will test the idea of 2-meter nets placed along four borders of a field. Most Japanese beetles migrate into the soybean field from border fields or tree lines. Knowing where the pest comes from is key to the netting behavioral control method.
Rice's graduate students did a separate experiment spraying soybeans in the field with egg protein and the natural habitat outside the field with milk solution. After collecting beetles from the soybean field, they were able to determine where they originated.
"Most of the beetles are coming from the outside of the field," Rice says, "so that leads us to believe if you put those nets on outside borders with the pheromone, it's a really powerful pest control tool."
While these behavioral modes of pest control can cost a little more and be labor-intensive, Rice says they are needed to protect crops and chemicals moving forward.
Japanese beetle damage in row crops
When Rice surveyed farmers in 2018 about key insect pests for forages and field crops, Japanese beetles topped the list. This year, by mid-July, Missouri saw Japanese beetle populations rivaling 2018.
Japanese beetles cause the most damage in corn. "They like to feed on the silks, which can prevent proper pollination of corn ears," he explains. "That can result in a yield loss."
Where the pest seems to be all bite, but little bark, is in soybeans. "Japanese beetles can cause a lot of damage without cutting soybean yield," Rice adds. "You have to look at the whole plant to really determine if you're at the economic threshold."
The common treatment threshold for Japanese beetles in soybeans is 30% defoliation before bloom and 20% defoliation after bloom.
About the Author(s) Editor, Missouri Ruralist
Mindy resides on a small farm just outside of Holstein, Mo, about 80 miles southwest of St. Louis.
After graduating from the University of Missouri-Columbia with a bachelor's degree in agricultural journalism, she worked briefly at a public relations firm in Kansas City. Her husband's career led the couple north to Minnesota.
There, she reported on large-scale production of corn, soybeans, sugar beets, and dairy, as well as, biofuels for The Land. After 10 years, the couple returned to Missouri and she began covering agriculture in the Show-Me State.
"In all my 15 years of writing about agriculture, I have found some of the most progressive thinkers are farmers," she says. "They are constantly searching for ways to do more with less, improve their land and leave their legacy to the next generation."
Mindy and her husband, Stacy, together with their daughters, Elisa and Cassidy, operate Showtime Farms in southern Warren County. The family spends a great deal of time caring for and showing Dorset, Oxford and crossbred sheep.
Subscribe to receive top agriculture news
Be informed daily with these free e-newsletters
You May Also Like
---