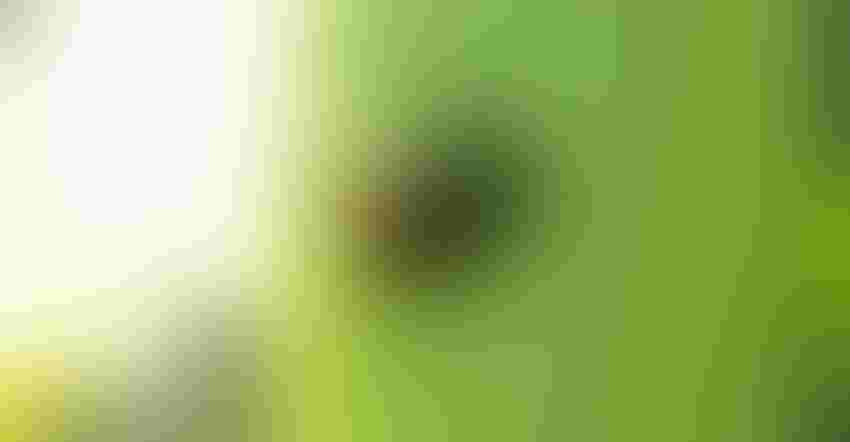 YIELD ROBBER: When the Japanese beetle feeds on silks of corn plants, it can cause problems with ear fill, which ultimately reduces yield. Now is the time to scout and spray.
Mindy Ward
There may be a glint of metallic bronze and green in Missouri's corn and soybean fields this time of year. The Japanese beetle is here.
According to University of Missouri Extension entomologist Kevin Rice, the number of these invasive beetles is higher than last year. "In 2019, we experienced lower populations due to the drought in 2018," he says. "Basically, the population recovered."
Japanese beetles may not be as damaging as farmers think to crops. It all depends on feeding time. Understanding when damage occurs and thresholds for treatment is key to staying ahead of this pest in the future.
Damage control
When it comes to corn, the primary economic damage from Japanese beetles happens around silking, Rice says.
In Missouri, adult beetles typically emerge in June and feed for 45 days. "Feeding on silks before pollination occurs reduces ear fill," he adds. This results in yield loss.
When farmers see an average of three or more adults per ear feeding on silk, they should treat with a foliar insecticide. However, one chemical application may not keep the beetles at bay for the entire season.
Japanese beetles move from one field to the next. Even after a farmer sprays one field and kills hundreds of them, the beetles may move right back in from a neighboring field.
One more threshold to remember is that if there are other silk-feeding insects present, farmers should treat when the silk is clipped to less than a half-inch and pollination is less than 50% complete.
Once pollination occurs, Rice adds, it does not matter if they feed on the silks.
When it comes to soybeans, a telltale sign of Japanese beetle presence is lacelike skeletons on leaves.
However, while extensive defoliation looks bad, it rarely causes yield damage.
The greatest impact occurs during flowering and pod fill. Soybean growers should consider insecticide treatments when damage is more than 30% at vegetative and 20% at reproductive stages of the plant.
Trapping the pest
MU has trapping locations across the state for the Japanese beetle to determine movement and an accurate number count. "We only have a few traps per region," Rice says, "and this pest can have a patchy distribution within habitats."
These traps help farmers determine if the Japanese beetle is in their area and if the numbers warrant treatment. As of July 1, much of the concentration centered in the northeastern and northwestern part of Missouri.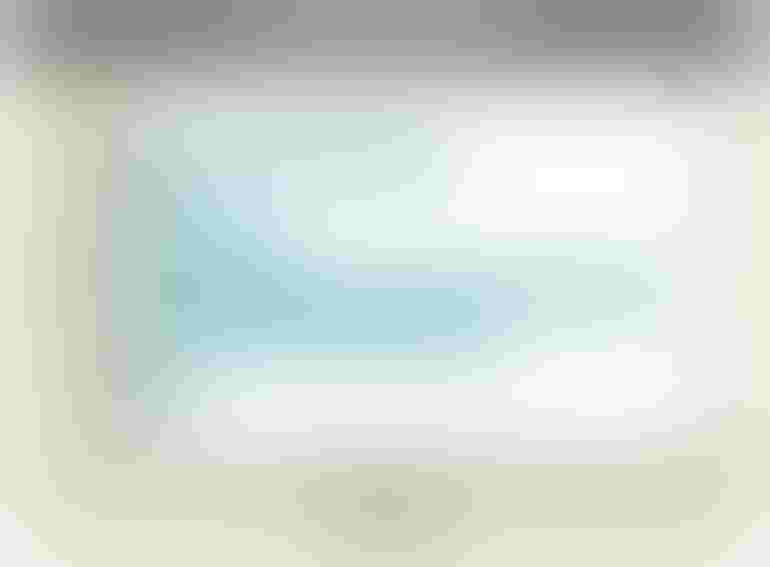 Farmers can visit MU Integrated Pest Management's Pest Monitoring Network for up-to-date information, alerts about Japanese beetles and access to an interactive map.
Treatment options
Pyrethroids are the best control measure for the Japanese beetle, Rice says.
In corn, chemical control is justified when there is an average of more than three beetles per ear, silks are clipped less than a half-inch, and pollination is less than 50% complete.
The beetles move quickly from nearby woods, fields and lawns to reinfest an area, so multiple applications might be necessary. Japanese beetles will continue to eat vegetation until September.
The USDA reports that Istocheta aldrichi, known as the winsome fly, is an internal parasite of the adult Japanese beetle and shows promise as a control measure.
Originally from Japan, the winsome fly was introduced in North America in 1922. The female flies can deposit up to 100 eggs during a period of about two weeks. The eggs are usually laid on the thorax of the female beetles. Upon hatching, the maggot bores directly into the beetle's body cavity, killing the beetle from the inside.
This fly can suppress Japanese beetle populations before beetles can reproduce. These have not yet moved into the Midwestern region of the U.S. but have settled in the northeast. However, researchers say they are waiting for natural migration.
Until the predatory pests arrive, farmers may have one more ally in the fight against the beetle — the weather. As in 2019, populations of Japanese beetle were lower after a drought year.
About the Author(s) Editor, Missouri Ruralist
Mindy resides on a small farm just outside of Holstein, Mo, about 80 miles southwest of St. Louis.
After graduating from the University of Missouri-Columbia with a bachelor's degree in agricultural journalism, she worked briefly at a public relations firm in Kansas City. Her husband's career led the couple north to Minnesota.
There, she reported on large-scale production of corn, soybeans, sugar beets, and dairy, as well as, biofuels for The Land. After 10 years, the couple returned to Missouri and she began covering agriculture in the Show-Me State.
"In all my 15 years of writing about agriculture, I have found some of the most progressive thinkers are farmers," she says. "They are constantly searching for ways to do more with less, improve their land and leave their legacy to the next generation."
Mindy and her husband, Stacy, together with their daughters, Elisa and Cassidy, operate Showtime Farms in southern Warren County. The family spends a great deal of time caring for and showing Dorset, Oxford and crossbred sheep.
Subscribe to receive top agriculture news
Be informed daily with these free e-newsletters
You May Also Like
---