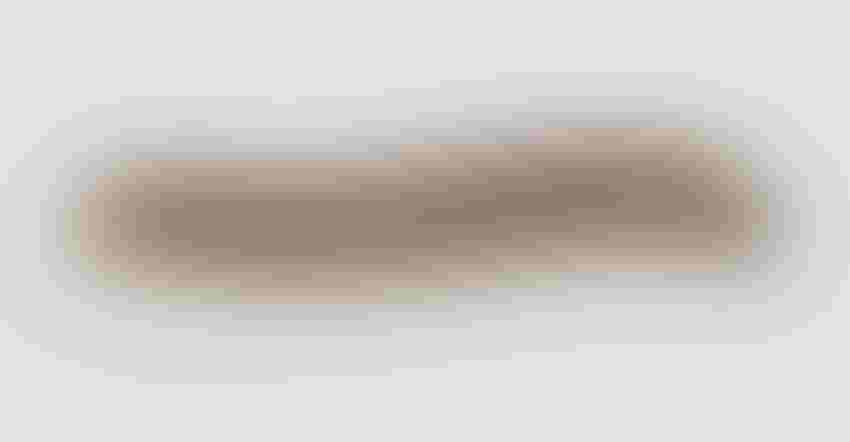 BLACK CUTWORM: Although not as problematic as in the past, black cutworm larvae can still cause a lot of damage to newly emerged corn plants.
Viktor_Kitaykin/Getty Images
Planters were rolling across fields in the mid-Atlantic, Ohio and Michigan this week, which means opportunistic critters will soon have plenty of crops to munch on in the coming weeks.
With the weather getting warmer, one of the critters to look out for is black cutworm. These pesky pests are likely mating now and will emerge as a potential problem in the next few weeks in Pennsylvania and other locations, says John Tooker, Extension crop entomologist with Penn State.
Black cutworm moths migrate from south to north along storm fronts in spring. Based on early traps put out by Extension educators in Lebanon County, Pa., Tooker says that some adult moths started arriving in late March, but with the cold weather, they likely did not mate or lay eggs.
Penn State Extension runs a black cutworm surveillance network using pheromone traps, and this year, traps have been placed at 25 sites across the state. Tooker says the most recent data from south-central Pennsylvania shows that black cutworm moths have not yet reached the threshold — nine caught moths over two nights — for growers to be concerned. But that will likely change quickly as more storm fronts bring more moths.
Black cutworms arrive in waves depending on weather; some years see only two or three migratory flights, while other years can see up to 10 migratory flights.
While the monitoring program is useful, it's also imperfect. While females are more important to keep track of because they can reproduce, these traps only attract males, Tooker says, so you can only assume that if male caterpillars are present, the females are likely present, too.
Steady decline
Unlike in the 1980s when thousands of acres of corn were decimated by the pest, widespread damage from black cutworm is rare these days — largely because of better monitoring and more targeted rescue treatments. The development of Bt corn may also be a factor in the declining number of black cutworm moths that have been reported over the past 10 years through the surveillance network, Tooker says.
Still, they can do damage. Losses in infested fields range from 10% to more than 80%.
Black cutworm larvae (caterpillars) do the most damage. Where soil moisture is abundant and crops are small, these larvae hide in the soil all day and move to the soil surface at night, cutting off plants just above the soil surface. One larva will cut an average of five corn plants during its development.
In drier soils, the larvae do not move to the surface. Instead, they chew on the plant just below the soil surface, causing the corn plants to wilt and die.
Trap and control
Tooker says scouting fields for number of cut plants per growth stage is the best way to target the pest and to effectively apply a rescue treatment. The thresholds are two, three, five and seven cut plants per 100 seedlings at V2-, V3-, V4- and V5-stage plants, respectively.
You can also buy a universal moth trap with pheromone to do your own black cutworm surveillance.
Lots of different insecticides can kill black cutworm. An article on the University of Minnesota Extension website states that black cutworms can be controlled using a pyrethroid, organophosphate, carbamate or diamide.
Tooker suggests a low-cost pyrethroid as a good option.
Problem maggots
Spring has been cold thus far in Ohio, and that has Kelley Tilmon, associate professor of entomology at Ohio State, concerned about seedcorn maggots.
"I'm concerned that we may see more seedcorn maggot pressure than usual in corn and soybean, particularly in fields that were planted on the earlier side, and especially in fields with a cover crop disked in or manure applied," Tilmon says. "When the seed sits in the ground too long before germinating, the insecticidal seed treatment coating leaches off, and that level of protection against the maggots is gone."
This will result in poor emergence and skips in rows where feeding is heavy. There is no rescue treatment, she says, but timely replanting can help replace a poor stand.
Alfalfa weevil is another pest that growers should look out for.
"It has been so cold and slow that people may have forgotten about this pest, but the weevil larvae have just been waiting for enough degree days to accumulate to become active, and we're about at that point," Tilmon says. "Especially if farmers have fields that were damaged by fall armyworm late last summer, those fields don't need further insult to their injury and should be watched carefully."
Stinkbugs have become a big problem for soybean growers in the state. During seed formation and growth, stinkbugs will pierce the soybean seed and feed on the contents, resulting in shriveled or aborted seed, she says. But this may not be apparent until harvest, making surveillance very important.
The best time to do surveillance is during pod formation using a sweep net, Tilmon says. "Consider treating if the average-per-10-sweep set is two for food-grade seed or four for grain. Most foliar insecticides labeled for stinkbugs in soybeans are reasonably effective," she says.
Stinkbugs can also feed on developing corn seedlings, resulting in excessive tillering. If they feed on the plants before silking, it can lead to deformed ears.
Click here for sampling guidelines for stinkbugs in corn from North Carolina State University.
Find out more about pests at aginsects.osu.edu.
About the Author(s)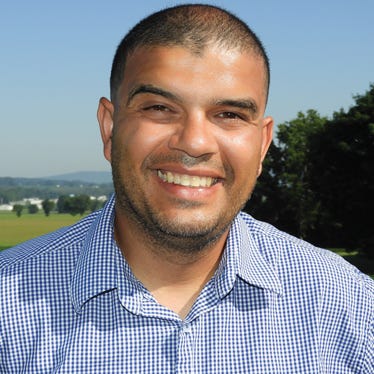 Editor, American Agriculturist
Chris Torres, editor of American Agriculturist, previously worked at Lancaster Farming, where he started in 2006 as a staff writer and later became regional editor. Torres is a seven-time winner of the Keystone Press Awards, handed out by the Pennsylvania Press Association, and he is a Pennsylvania State University graduate.
Torres says he wants American Agriculturist to be farmers' "go-to product, continuing the legacy and high standard (former American Agriculturist editor) John Vogel has set." Torres succeeds Vogel, who retired after 47 years with Farm Progress and its related publications.
"The news business is a challenging job," Torres says. "It makes you think outside your small box, and you have to formulate what the reader wants to see from the overall product. It's rewarding to see a nice product in the end."
Torres' family is based in Lebanon County, Pa. His wife grew up on a small farm in Berks County, Pa., where they raised corn, soybeans, feeder cattle and more. Torres and his wife are parents to three young boys.
Subscribe to receive top agriculture news
Be informed daily with these free e-newsletters
You May Also Like
---