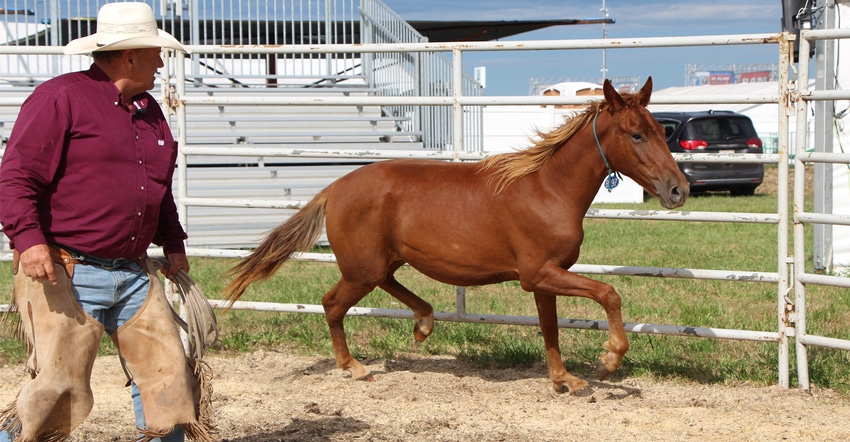 TRUST ESTABLISHED: It took just under 30 minutes from the time the wild colt jumped off the trailer until the horse gentler could approach. "The goal," Ron Knodel tells a group at Husker Harvest Days in Grand Island, Neb., "is to get this animal to where it will work with you and for you in your operation. It just takes time and patience. It has to be a good experience for horse and handler."
Mindy Ward
The Chestnut colt leaped off the stock trailer, ran to the far side of the corral and then back toward the trailer. Cutting from side to side, it desperately tried to find its way back inside the trailer, but the door was closed. Realizing there was no way out, the young colt began circling the corral, staying close to the rail. He was trying to avoid the man in the burgundy shirt, cowboy hat and chaps standing in the center of the pen.
With a wound lasso rope clutched in his hand, Ron Knodel stood still. Then slowly, he began to move in sync with the horse. "I'm trying to catch his eye," Knodel says. But the animal was flighty.
The brand on the colt explained its uneasiness. To mark a horse or burro as a wild horse managed on federally protected land, the Federal Bureau of Land Management uses "freeze branding."
The BLM manages and protects wild horses and burros on 26.9 million acres of public lands across 10 Western states. To manage the population in sync with available pastureland, it places animals in private care. Since 1971, more than 240,000 wild horses and burros were adopted by individuals, many who are ranchers. This was such a horse.
With each lap around the pen, the colt eased its pace until it stood still. Then the Nebraska horse gentler began to work.
The wild horse gentling training sessions conducted by Knodel have been a part of Husker Harvest Days for nearly 21 years. Over that time, he has probably demonstrated his technique with 250 horses.
The Federal BLM wild horse and burro facility in Elm Creek partners with Knodel to provide mustangs for the event. These mustangs have never been handled. After the Husker Harvest Days sessions, the horses are returned to the BLM for adoptions.
Knodel spends his life working with horses in different phases of training. He draws from his experience to bring these wild animals to civility over the course of the show. You can catch him every day Sept. 14-16 at 10 a.m., 1 p.m. and 3 p.m. on Lot 51E, just east of Syngenta Square.
Subscribe to receive top agriculture news
Be informed daily with these free e-newsletters
You May Also Like
---