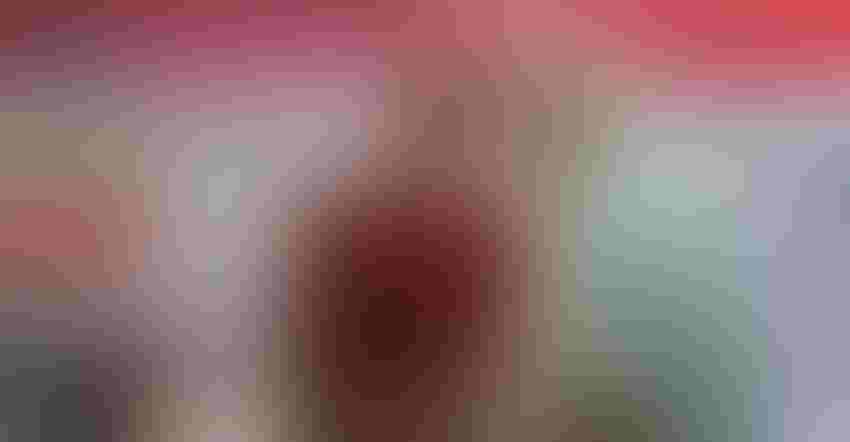 HELPING FARMERS: Jim Jansen, Nebraska Extension ag systems economist educator, visits with farmers at the Husker Harvest Days IANR Big Red Building in 2019. All disciplines of UNL and Nebraska Extension researchers and educators offer exhibits, demonstrations and information at this interactive, personalized exhibit experience.
Curt Arens
AG education displays on "Knowledge That Helps Cultivate Opportunities" will be offered by the University of Nebraska-Lincoln, the Institute of Agriculture and Natural Resources, and Nebraska Extension at Husker Harvest Days Sept. 14-16 in Grand Island.
The displays will be located in the UNL "Big Red Building" at Lot 827. Teams of Extension educators and specialists will share their field-proven experiences with new research-based, unbiased information. The variety of topics being offered should provide a wealth of information that could lead to more success and wellbeing in the lives of participants.
Farm and ranch economic and financial decisions can be hard to make. Faculty from the UNL Center for Agricultural Profitability will provide information to help people make good farm management decisions. The teams will cover these areas:
Beef systems. Cattle production is one of the most important agriculture industries in Nebraska. The Beef Systems Team will provide information to help producers manage feed costs and maintain animal performance.
Animal manure management. Livestock always produce manure. Members of the UNL Animal Manure Management Team will emphasize that using livestock manure to fertilize cropland is nature's original recycling program, and recycling locally available manure is the key to protecting the environment.
Cover crops. Just like the use of manure on fields, planting cover crops will improve the ability of the soil to grow a crop. The Cover Crop Team will demonstrate how the small effort made to plant a cover crop will result in a large payback both financially and in land quality.
Water. Increasing soil organic matter, boosting water infiltration and reducing loss of soil nitrogen protect the quality of both surface and aquifer-held water. The Water Issues Team will provide information on managing soil water and applying irrigation to increase crop production while conserving natural resources.
Digital ag and on-farm research. There have been significant improvements in the equipment that farmers use to produce their crops and to record yield data. The Digital Agriculture and On-farm Research Team will highlight the ease of conducting on-farm research and how farmers can use reliable yield data to guide them on future management decisions.
Pests. Pests change in their occurrence and response to control tactics; thus, they're a challenge to manage. The Pest Management Team will highlight research on pest control, pesticide resistance management and emerging pest problems.
Trees. Trees bring significant value to farms and landscapes by blocking the wind, reducing soil erosion and providing habitat for wildlife. The Community Environment Team will provide information that will help farmers and home residents select the right trees and maintain tree health.
Mental health. Stress can happen to all people, and it is important to understand that it is normal to feel overwhelmed, particularly during tough times. The Healthy Lifestyles and Wellness Team will help people learn to maintain their well-being and be able to recognize when family and friends may need assistance.
LEAD program. To prosper, communities need people to provide leadership. The administrator of the Nebraska LEAD Program will share information about how participants can develop the skills needed to help lead rural communities.
Ag careers. Young people need training to establish a career and contribute to their communities. The Agriculture Career Zone Team will offer information on agricultural careers, preparation for post high school training and markers for career success.
In addition to providing program information, the institute's faculty will be available to answer crop and animal production questions.
Seymour is a Nebraska Extension educator in Adams County.
Subscribe to receive top agriculture news
Be informed daily with these free e-newsletters
You May Also Like
---