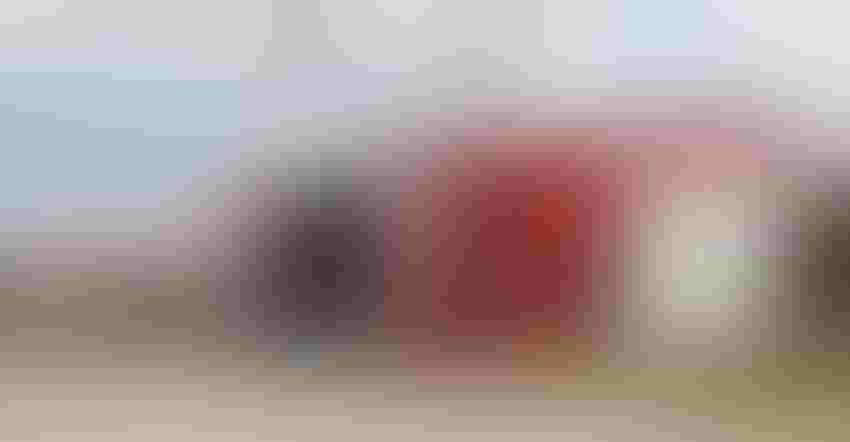 SUSTAINING FUTURE: At the University of Nebraska-Lincoln's Big Red Building, Husker Harvest Days guests can gain information on many topics, including crops and livestock, precision ag, marketing, community involvement, and food technology.
Curt Arens
Nebraskans never stop innovating. It could be new ways to precisely manage every acre, bring food to market, utilize water or fly drones to manage livestock.
The University of Nebraska-Lincoln, the Institute of Agriculture and Natural Resources, and Nebraska Extension will be providing educational displays on "Innovations To Grow Your Legacy" in the UNL "Big Red Building."
Teams of Nebraska Extension educators and specialists will share their research on a variety of topics. The teams are:
Water Team. Groundwater is one of Nebraska's greatest resources. Stop by to see what happens in our groundwater and what it looks like below our feet. The team will provide information on managing soil water and applying irrigation to increase crop production while conserving natural resources. Also, ask about your own drinking water and how to make sure your supply is safe.
Nebraska Regional Food Systems Team. This group works with all things food-related — from growing to marketing to increasing access to local foods.
Beef Systems Team. Cattle production is one of the most important agriculture industries in Nebraska. The team will provide information to help producers manage tech decisions involving drones, virtual fences, cameras, smart feeders and more.
Animal Manure Management Team. When raising livestock, producers must deal with manure. The team will discuss using livestock manure to fertilize cropland as nature's original recycling program, and recycling locally available manure as the key to protecting the environment.
Digital Agriculture and On-farm Research Team. Manage your field one plant at a time. The team will highlight the ease of conducting on-farm research and how farmers can use data to guide their own future management decisions.
Cover Crop Team. Learn about improving soil health, erosion, weed suppression and forage through the use of cover crops. The team can discuss how to find the right options that fit your operation.
Energy Team. With farming costs on the rise and increasing electrification, now is a great time to look at ways to reduce costs. Stop by to explore two options: reducing electrical costs by managing your electrical use based on your rate schedule and adding on-farm solar.
Community Environment Team. The team will be available to answer your questions about pollinators, trees, water, soil, local food production and more. Through sustainable plant selection and management, you can develop pollinator habitats, maintain the health of your tree canopy and windbreak, and conserve water.
Precision Conservation Team. Do you have issues with consistently low yields in sections of your fields? Do you continue to farm those marginal areas hoping production will increase? The team can help you identify solutions to increase whole-field profitability, including possibly converting marginal acres to perennial vegetation.
Agriculture Career Zone Team. Young people need training to establish a career and contribute to their communities. The team will provide information on ag careers, preparation for post-high school training and markers for career success.
Subscribe to receive top agriculture news
Be informed daily with these free e-newsletters
You May Also Like
---