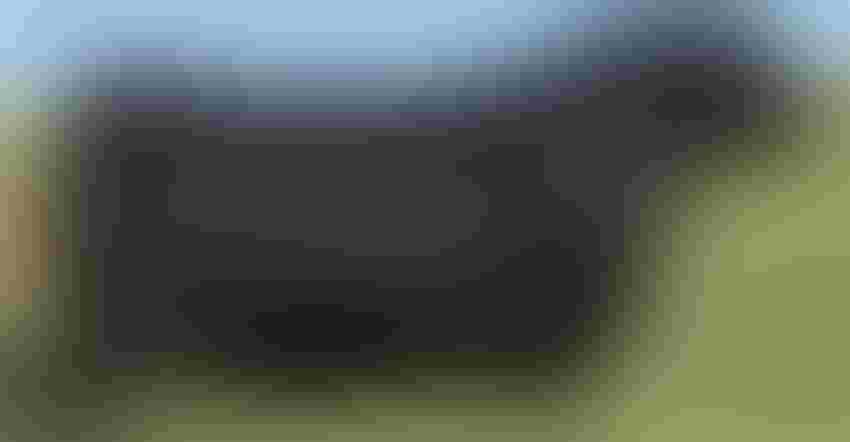 RECORD-SETTING: SAV America 8018, valued at $1.887 million and owned by Herbster Angus Farms of Falls City, will be on display at Husker Harvest Days.
Courtesy of Herbster Angus Farms
There aren't many humans who travel with 24-hour-a-day security, but a world-record-setting bull coming to Husker Harvest Days Sept. 14-16 will have just that.
Traveling to the show site from North America Breeders Inc. in Berryville, Va., the bull, "America," owned by Herbster Angus Farms of Falls City, will give producers attending the show a chance to see his valuable genetics on the hoof.
"Husker Harvest Days is an amazing event that almost everyone who is involved in agriculture attends in our area," says Charles W. Herbster, owner of Herbster Angus Farms. "We visit with many of our customers who purchase Herbster Angus Farms genetics at the show every year. It's a great opportunity for people to see a bull they may want to use in their program but have never had the chance to view in person."
The plan was to bring America to the 2020 Husker Harvest Days, but COVID-19 restrictions canceled the show. So, Herbster made arrangements to bring the bull this year.
America was purchased by Herbster at the 116th Schaff Angus Valley sale in St. Anthony, N.D., in February 2019. When the gavel fell making the sale final, auctioneer Joe Goggins noted the historic nature of the transaction, saying that the numbers involved in the bidding process were not the kinds of numbers normally used at a livestock auction.
So, what is so special about this bull, America? Born in January 2018, SAV America 8018 is valued at $1.887 million, as the all-time, top selling, world-record son of SAV President 6847. Herbster also owns President, which he purchased from Schaff Angus Valley in 2017. President has a total valuation of $935,500.
America shattered every record at Schaff Angus Valley, including weighing 1,107 pounds for his 205-day weight.
A one-of-a-kind breeding piece, with 80% semen interest bringing $1.51 million, America was a long shot, resulting from a single embryo produced from the last flush out of an aged donor cow, SAV Madame Pride 0075. This cow is a Schaff Angus Valley matron and has produced over $5.5 million in progeny sales to date.
Take a look for yourself
"We have always encouraged people to take the opportunity to visually appraise our cattle," Herbster says. "Bringing America to a central location like Husker Harvest Days lets them do that easily. So many people make decisions on someone else's word or by just looking at a photograph when buying semen," he adds. "We think enough of America to let people see him and make up their own minds on just how good he is," he adds. "America's phenotype is living proof that his fame is more than just hype."
See America up close at the Herbster Angus Farms display at Lot 361 during Husker Harvest Day, Sept. 14-16, in Grand Island, Neb. Learn more at herbsterangus.com.
Subscribe to receive top agriculture news
Be informed daily with these free e-newsletters
You May Also Like
---