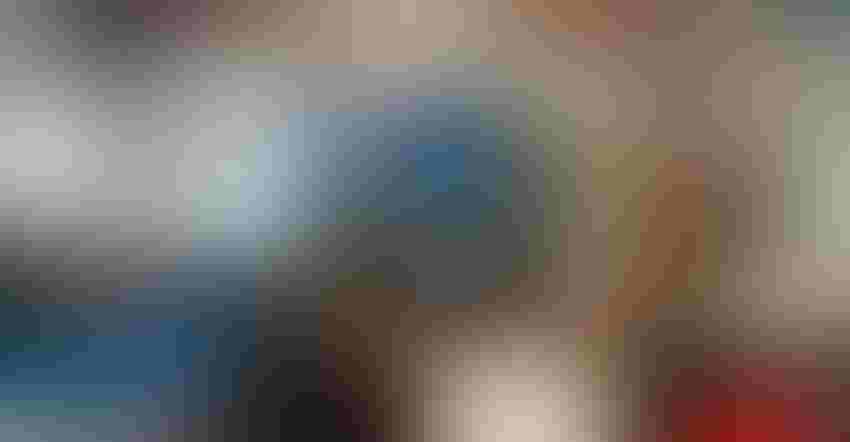 INTERNATIONAL AT HHD: International guests gather at the International Visitors Center at Husker Harvest Days in September.
Department of Economic Development
At Husker Harvest Days, it's not uncommon to see farmers and ranchers from Nebraska, Kansas, Iowa, South Dakota and other surrounding states. However, in recent years, more visitors have come from out of the country — from Mexico, Russia, Australia, even New Zealand.
This year, Farm Progress, the Nebraska Department of Economic Development, the Nebraska Governor's Office and Valmont partnered to bring a new International Visitors Center to the show to foster connections between international customers and companies from Nebraska and other parts of the U.S.
Matt Ondrejko, vice president of global marketing at Valmont, said the idea stemmed from last November's Ag Tech Summit, when Valmont invited tech companies from Israel and the U.S. to its Nebraska headquarters to discuss ways to work closer with international tech companies and draw ag tech companies to the Midwest.
"Nebraska and Iowa, Kansas and South Dakota are really considered the Silicon Prairie," Ondrejko says. "We keep thinking to ourselves: How do we get the coasts to stop flying over us and take a look inside and say this is where things are going to be applied? Creating solutions for California is important, but the needs of a farmer in California are different from the vast majority of farmland in the U.S. We said, anything we can do to continue to promote a global reach, local focus and try to build things up for what we're known about is really important to our success."
Ondrejko says Husker Harvest Days gives international visitors at the Farm Progress show an additional opportunity to spend more time in the U.S. touring farms and seeing the latest ag products.
"Valmont, John Deere, CNH, Agco, the big companies are sponsoring events and learning opportunities for farmers," he says. "In 2018, we hosted a large contingent of Brazilian clients. We brought them to Husker Harvest Days, spent a couple days there, visited local farms. Farmers are very interested in how the things they do are done differently around the world. Anytime we can get farmers interacting with farmers, that's a big win. I think the larger companies in North America are finding opportunities to bring their international customers to an event like that."
"For being the first pass at this for the Department of Economic Development, the International Visitors Center was well-executed, and they did a nice job creating an atmosphere for fostering relationships," Ondrejko adds. "There are some things we've learned from it, and we're going to work on those things to make it better next year. The key to success for this was the cocktail party held Wednesday evening. Gov. Ricketts spent a lot of time there, and it gave people a chance to connect, and that's really where it all came together."
Events such as this already have laid the foundation for international partnerships. Ondrejko notes an example in the Ag Tech Summit that Valmont hosted in 2018, and the recently announced partnership between Valley Irrigation and the Israeli-based tech startup Prospera.
"The partnership with Prospera came out of the Ag Tech Summit," Ondrejko says. "That was a journey, because they were one of the groups that came over with the Israeli delegation, and we were also invited to Israel to visit some of their trade shows, to continue to have those discussions with Prospera. That's a good example of how this came together. We've continued conversations with several other companies from Israel, as well as the state of Israel and their economic development group. We're finding a lot more of these startup events pop up around the world."
At the moment, Ondrejko notes a number of promising ag tech startups are originating in Israel, Ireland, New Zealand, Australia and Brazil.
As a top producer of corn, soybeans and cattle — and the No. 1 irrigated state in the nation — Nebraska is primed for growth of international markets, Ondrejko notes.
"We're kind of the bread and butter of farming," he says. "Anytime we can show our global partners what we're doing and create an exchange of knowledge and ideas, it helps industry as a whole. Why fight what we're known for? The cool thing is agriculture today is becoming very tech-driven and a very significant source of business revenue for a lot of companies.
"When you traditionally think of farming, you think of tractors and combines, but a lot of it is data-driven now. We've taken something most Americans see as the humble American farm and made it a significant business that you have to have people who are very well-trained and educated to operate."
Subscribe to receive top agriculture news
Be informed daily with these free e-newsletters
You May Also Like
---