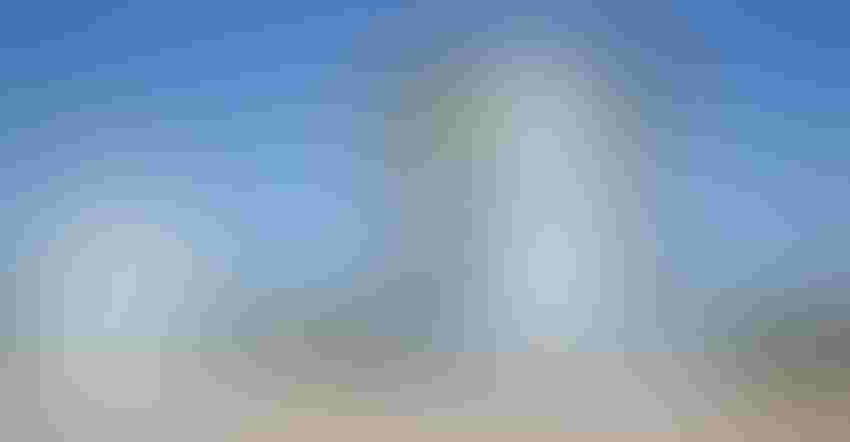 GRAIN HANDLING EXPANDED: There have been several upgrades to the grain-handling complex at Husker Harvest Days through the years.
Tyler Harris
Grain-drying demonstrations have been a mainstay at Husker Harvest Days since the first years of the show in the late 1970s.
Originally, the grain-handling facility at HHD consisted of three grain-drying systems — including a Chief Industries continuous-flow, in-bin system with a Sukup bin stirring-unloading device, and a portable continuous-flow drier from M&W, both handling corn. The third system, a Stormor batch-in-bin system, with the drying unit in the top of the bin, was used for grain sorghum.
Dried corn was stored in Butler Manufacturing and Behlen Manufacturing bins, while soybeans harvested at the show were stored on a Miracle Span flat storage structure.
Things have changed over the years. The most recent upgrade in 2014 saw the addition of a 30,000-bushel MFS grain bin, along with a NECO D24150 grain dryer, a 25-by-50-by-12-foot Sentinel building to house a control room for the dryer, a 10-by-82-foot Hutchinson double-run grain pump, and a portable drive-over conveyor.
This year, AGI is upgrading the grain-handling site once again to meet the standards of today's cutting-edge farming operations, with a new 30,000-bushel bin, a 15,000-bushel wet bin, a 10-inch chain loop system capable of handling 5,000 to 10,000 bushels per hour, and a drive-over pit and truck dump.
"We have a NECO mixed flow dryer at the site, and in the past, we've filled and loaded it with portable equipment," says Jeff Feldkamp, U.S. sales director at AGI. "As agriculture advances, most are looking to fill their bins with permanent handling equipment. We're looking at updating it to keep the site working and not running into a bottleneck, more like a working farm site."
With the expanded wet holding capacity and new loop system, Feldkamp notes the site will be able to keep working continuously all day.
"With the wet holding capacity, it's going to be more consistent," he adds. "You're not waiting on loads. You can prime the pump and let it run. We're going to have enough wet holding capacity, and I think with the weather this year, we'll probably need it. We'll be able to really give a good, real-life example of what a grain system on the farm would look like today."
The pit connected to the chain loop also helps keep operations moving smoothly.
"Before, we would have dumped a grain cart directly into the auger hopper," Feldkamp says. "This system has a pit directly connected to the chain loop so you can drive over and empty, and it takes the place of the hopper on your traditional auger or belt conveyor."
"It's a complete, permanent grain facility," he adds. "The only thing you would do on a farm is scale it up for size based on the number of bushels you need to hold. This system will scale. To put it in perspective, we'll put them over six, 60-foot-diameter bins, 60 feet tall. This system could probably work up to half a million bushels of on-farm storage, which is a pretty good-sized farm these days."
While the grain dryer itself won't be changed, HHD host farmer Jason Luebbe says the new upgrades will be able to better take advantage of the current mixed flow dryer system.
"Sometimes we're drying 25% to 28% moisture corn," Luebbe says. "With our previous setup, we put 1,000 bushels into a gravity wagon and we'd have to wait and keep filling it. Now, we will be able to just harvest 15,000 bushels of wet corn and continuously dry all night or day. Before, the drying demo was done when we got the gravity wagons empty. Now we can hold some corn back if we want to keep the dryer going. This isn't a commercial setup. This is something the average farmer can afford and would be fairly efficient with."
Subscribe to receive top agriculture news
Be informed daily with these free e-newsletters
You May Also Like
---