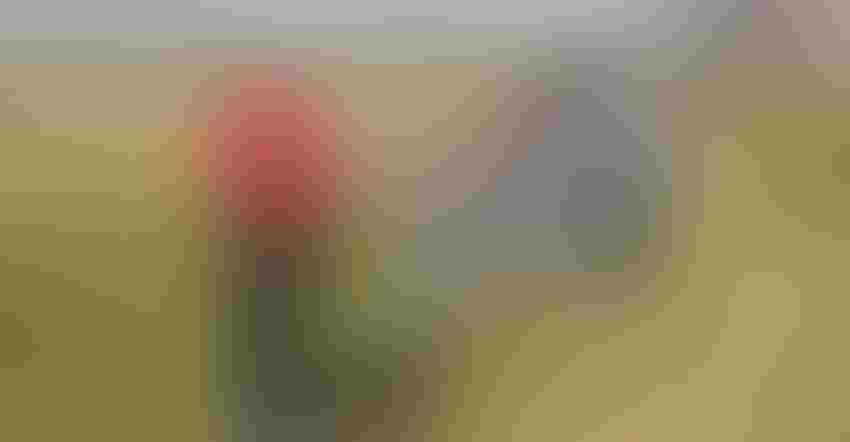 USING RESIDUE RESOURCES: Beef systems specialist Mary Drewnoski (left) and educator Jenny Rees, both with Extension, discuss using crop residue at an HHD workshop last year.
Farmers have tons of questions about baling corn residue. Nebraska Extension educator Jenny Rees says the reasons for the intense interest in residue management are many.
Producers dealt with severe downed corn two years ago by baling much of the downed ears and cornstalks to feed to livestock. When producers are not willing to allow cattle to graze cornstalks, they may be able to manage heavy residue by baling it.
Baling helps in drought
In drought areas of the state, or regions where spring floods destroyed rangeland, farmers are looking for ways to feed their livestock, so baling is one option of using precious feedstuffs.
Nebraska Extension and several forage equipment manufacturers are partnering again this year to provide an exhibit and workshop at Husker Harvest Days to answer many of the management questions related to corn residue baling and utilization, Rees says.
"The interest in baling corn residue and feeding it has been intense," says Extension educator Brad Schick. The corn residue baling and management workshops will be held from 1:30 to 2 p.m. daily during HHD on the edge of Field 4, prior to the alfalfa raking and haying demonstrations, which begin at 2 p.m. at Field 2.
Several haying and rake manufacturers will exhibit equipment at the workshop. Schick says that some manufacturers will use the same equipment in the corn residue baling exhibit as they will in the haying demonstrations that follow.
Cornstalk raking, baling
Weather permitting on Sept. 11-12, cornstalk residue raking and baling demonstrations will take place near Field 2, adjacent to the haying demos after those demonstrations are completed, Schick says. 
"Each manufacturer will talk briefly about their equipment and specific settings that might be needed to make their machinery work better on residue," he says.
The goals of the exhibits, demonstrations and workshops are to raise awareness among producers on the relative feed value of baled residue and management techniques for residue baling, and to help producers learn more about the equipment, as well as adjustments and settings of machinery needed to do the job, depending on weather and field conditions.
Learn more by contacting Schick at 308-536-2691. 
Subscribe to receive top agriculture news
Be informed daily with these free e-newsletters
You May Also Like
---