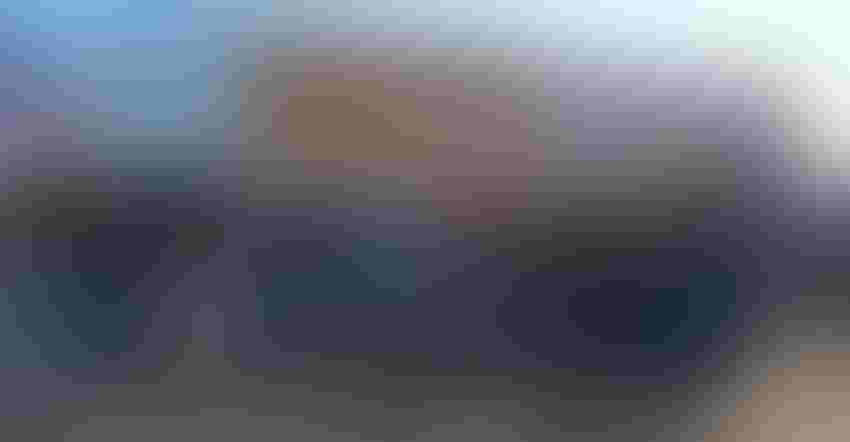 PACK IT IN: A semitrailer holds food donations from Husker Harvest Day visitors. It is part of the Heartland United Way's food drive held Sept. 10-12.
There is a hunger gap in rural America. Nebraska FFA members work to fill it during Husker Harvest Days by taking part in Heartland United Way's food drive.
While it may be hard to believe hunger is a problem in the breadbasket of the world, Karen Rathke, Heartland United Way president, notes it is a problem even in Nebraska. In the four-county area of Hall, Hamilton, Howard and Merrick, 44% of all children are eligible for free and reduced school lunch, and 60% of children are food insecure. One in 7 Nebraska households does not know where its next meal is coming from.
"The food drive is about helping families get through a difficult time. Life happens. There are unexpected expenses and illnesses, and the last thing anybody wants is for a child or family member to go hungry," Rathke says. "The Heartland United Way food drive is an opportunity for communities to come together and help families through tough times."
Each year, FFA members from across the state bring food donations as part of Heartland United Way's annual food drive during Husker Harvest Days. FFA members who donate five nonperishable food items will receive free admission to the show provided by Farm Bureau, Aurora Cooperative and Farm Progress. Food donations are collected at the bus entrance on the southwest corner of the grounds in a semitrailer provided by Cash-Wa.

PILE IT UP: Boxes are filled to overflowing, with cans donated by FFA members during the Heartland United Way food drive at HHD.
Last year, 101 high schools from across the state (and Kansas) brought donations to the Husker Harvest Days show. The food drive collected nearly 6 tons, with a grand total of 15,905 pounds of food, according to Rathke. Heartland United Way awards a $200 and $100 grant back to the FFA chapters that collect the most food. Last year, Hampton Public Schools won, with runner-up honors going to Palmer Public Schools.
"We deeply appreciate the efforts from the FFA chapters to help feed the hungry and serve people who are homeless," Rathke says. However, the food drive extends beyond HHD and is held in conjunction with local food drives at collection sites at grocery stores like Super Saver, Hy-Vee and Hometown Market (St. Paul), throughout Hall, Hamilton, Merrick and Howard counties. Shoppers can also buy meals to donate.
"Some grocers will pre-bag $5 worth of groceries. The items are preselected to meet the needs of the area," Rathke says. "With backpack programs, it's so important that families get food they can prepare easily, or even children can prepare for them. We pick it up, so people can pay for it but don't need to take it anywhere to donate."
The Heartland United Way food drive is generously sponsored by Nebraska Farm Bureau, Aurora Cooperative and Farm Progress.
Subscribe to receive top agriculture news
Be informed daily with these free e-newsletters
You May Also Like
---