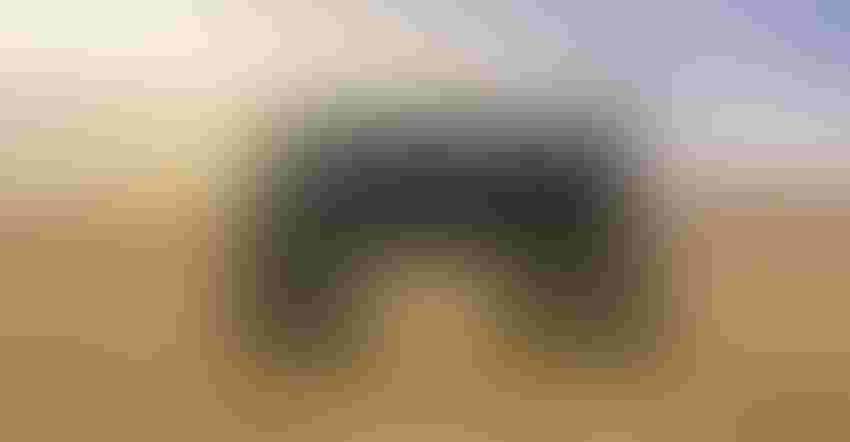 HANDS-OFF OPERATOR: The new OmniPower 3200 will be operating in an autonomous demonstration area at the Husker Harvest Days show site. Raven will also be showing the OmniDrive autonomous grain cart solution at work.
Courtesy of Raven
Farmers are starting down a road to autonomy, but it's not an overnight move. Rising use of automation in machinery has allowed farmers to be more efficient and improve practices from tillage to planting to harvest. And fully autonomous vehicles are becoming a reality. At Husker Harvest Days, visitors can see some of these new tools in action.
Raven Industries returns to the show with its OmniDrive and OmniPower driverless machines, and Meagan Huisman, marketing strategist, says Raven's goal is to work with farmers on their tech journey.
"We want to talk to the farmer about the path to autonomy," Huisman says. "Raven is committed to helping farmers better utilize their resources through technology, helping to reduce fatigue, improve safety, increase sustainability and essentially do more with less."
She says at Husker Harvest Days for this year, Raven is inviting farmers on the company's journey to integrate technology into their farm: "Join us on the path to autonomy and take strides forward to integrate advanced technology."
The key is that farmers are at different points on that path, and the discussion with Raven when visiting the exhibit will be around determining where an individual farmer is on the journey and where the farm needs to go.
"There are five levels on the path to autonomy," Huisman says:
precision farming, where each layer of tech operates independently

coordination and optimization

operator-assisted autonomy
In the exhibit field, Raven has redesigned the experience to collaborate with farmers on the path to autonomy, providing an air-conditioned environment to discuss the tech and explore where farmers are on their journey.
Enhanced field demo setup
At the field demonstration, Raven has upgraded its Command Center to provide a viewing deck, so farmers can get a good look at the driverless machines as they move through the demonstration area.
"We have reinvented the Command Center to be a really cool experience," says Rachel Hennen, marketing strategist at Raven. "We know that putting our technology in the hands of our customers or potential customers helps them feel more comfortable with it and builds trust in the solutions we're providing."
The new Command Center has an observation deck that allows visitors a better view of the OmniDrive and OmniPower machines at work.
OmniDrive makes a tractor with a grain cart an autonomous "harvest helper." OmniPower is the driverless power platform that can be used for different tasks depending on what it is mated to, including a granular spreader or a full-size sprayer.
In addition to the observation deck, there will be a tent, too, providing a shaded experience for visitors at the field demo.
Subscribe to receive top agriculture news
Be informed daily with these free e-newsletters
You May Also Like
---