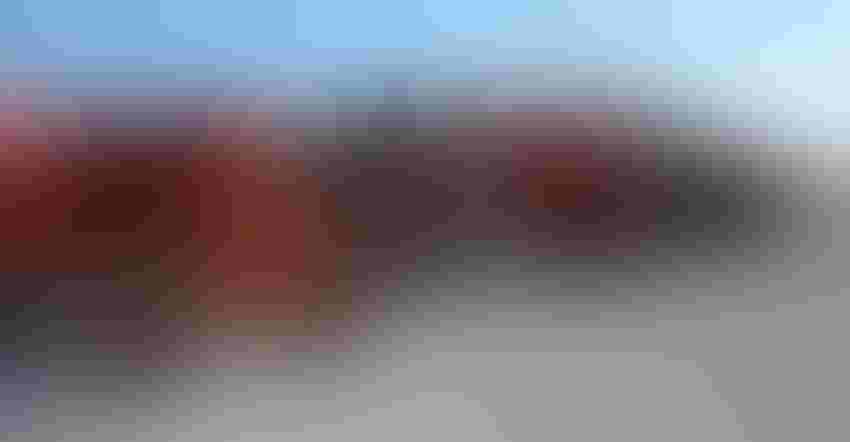 OLD BUT NEW AGAIN: Discussions of moving our country to alternative fuels are nothing new. This year's antique farm machinery display will feature tractors that once used electric, liquid propane, jet fuel and steam power.
Kevin Schulz
Organizers of this year's antique farming display at Husker Harvest Days are keeping up with the times by showcasing various fuels that have been tried for farm power over the years.
Several liquid propane tractors have been committed for the display that will be in the northwest quadrant between First and Second streets. Representatives will explain the history and development of diesel, electric and turbine power.
"A lot of things have been tried over the years, and we hope to create a platform where we can discuss the merits and downfalls of each," says Howard Raymond of Wellfleet, Neb., who along with Brian Wolfe coordinates the antique farming display.
Fuel through the years
As a primer for the alternative fuel discussions at this year's show, Raymond and Wolfe offer a history lesson:
1930s. In 1934, International Harvester introduced the first diesel-powered wheel tractor. It featured a unique dual-fuel starting system, where a decompression chamber in the head, along with a carburetor and magneto, allowed it to be started as a conventional gasoline engine.
"We plan to have an early example on display," Raymond says.
1950s. Allis-Chalmers developed a hydrogen-powered fuel cell tractor, with research started in 1951. In October 1959 near West Allis, Wis., a fuel cell tractor plowed a field of alfalfa with a double-bottom plow.
Fuel cells produce electrical power directly through a chemical reaction, without heat, smoke or noise. Unlike standard batteries, fuel cells do not store energy but convert chemical energy to electric energy.
The original example of this tractor is housed at the county museum at Hutchinson, Minn. "But we were unable to secure it for our display due to renovations to the museum preventing its removal," Raymond says.
Oliver Farm Equipment Corp. in 1957 developed an experimental model, the XO-121. According to Oliver, the tractor's motor was the first of its kind to feature a 12-1 compression ratio, nearly double that of earlier and competing models.
The tractor's motor used a then-special high-octane fuel developed by the Ethyl Corp., specially blended for use in the XO-121's motor. This tractor could be seen at the Hart-Parr Oliver Collectors Association show in Norfolk, Neb., this past winter.
1960s. In 1961, IH pioneered the International HT-340 turbine experimental tractor. Powered by a turbine engine from the company's Solar Aircraft Co., it was the first tractor to utilize a totally hydrostatic transmission. But it had serious drawbacks: It consumed copious amounts of jet fuel (kerosene), and its overall weight was insufficient for adequate traction.
Still, it showed change was possible. The hydrostatic transmission found its way into the Farmall 656 tractor in 1965.
Raymond and Wolfe say representatives will also discuss with show attendees the concepts of wood, gas, various applications of steam power, the semi-diesel hot-tube engine, high-compression gasoline and alcohol engines.
Subscribe to receive top agriculture news
Be informed daily with these free e-newsletters
You May Also Like
---