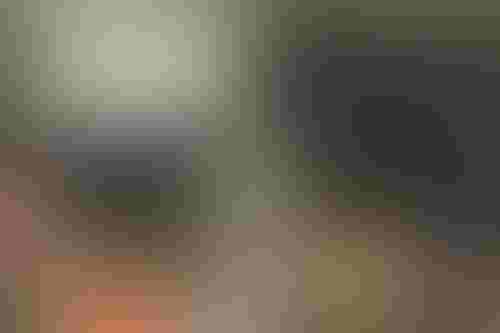 I visited the World Pork Expo at the Iowa State Fairgrounds in Des Moines this week for only two hours. But no matter who you talked to or conversations you overheard, the topic that kept coming up was PEDV—Porcine Epidemic Diarrhea Virus. During the past year this devastating disease (new to the U.S.) has killed an estimated 7 to 8 million baby pigs nationwide. It has spread like wildfire through many hog herds since first showing up in this country in May 2013. That's when it was initially officially diagnosed in the United States.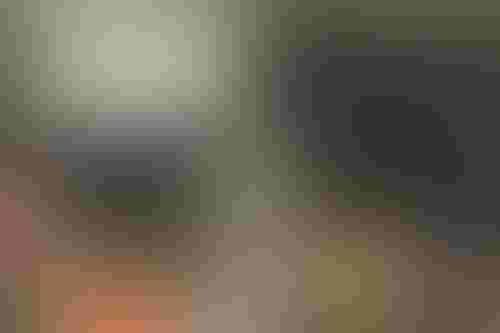 HELP FROM USDA: U.S. Secretary of Agriculture Tom Vilsack addressed the 26th annual World Pork Expo in Des Moines. Pork industry leaders say they support the mandatory reporting requirement for PEDV but worry it could become a bureaucratic bunch of red tape.
Controlling PEDV is a big deal everywhere hogs are raised these days, especially in Iowa, the nation's number one pork producing state. Tyler Harris, our Wallaces Farmer field editor, covered the entire three days of the 2014 World Pork Expo, listening to presentations by experts and talking to a number of pork producers. He commented how a year ago at WPX, the PEDV topic was barely on the radar screen—it was in the back of producers and veterinarians minds, just starting to attract attention. This year it's front and center and was on the agenda for a number of educational presentations. A year ago, no one could foresee how quickly PEDV would spread. It has now infected half of all the sows in the U.S.
Pork industry leaders fear another possible disease outbreak
Tyler filed reports from the Expo for our Wallaces Farmer and Farm Progress Company website and will have an article in the July issue of the magazine. Also, Christina Dittmer, a Wallaces Farmer summer intern, attended some of the Expo seminars and is writing about what she learned. Following are some of the main points from the information they gathered, and a few of my own observations.
~~~PAGE_BREAK_HERE~~~
Pork industry and government leaders worry that another deadly animal disease could make its way into the U.S., possibly "following the path" of the PEDV virus. "Another foreign animal disease could be crippling to our industry," said Howard Hill, president of the National Pork Producers Council. He's a veterinarian and pork producer from Cambridge, Iowa. He said another disease outbreak like this one would be especially harmful to exports of pork, as the U.S. sold nearly $6.1 billion worth of pork to foreign buyers last year. "Those markets would be shut overnight," Hill said.
NPPC wants USDA to find out how PEDV got into this country
Hill and others called on USDA to thoroughly investigate how the disease entered the U.S. "We want to close the pathway by which PEDV entered," said Liz Wagstrom, NPPC's chief veterinarian. The virus poses no threat to other animals or humans, she says. And pork products remain safe for consumers.
John Clifford, USDA's chief veterinary officer, said it's difficult to learn more about PEDV—how it got here—a year after it entered the country. "This disease has taught us a lesson," he said. "When the next such disease comes into the U.S., I want us to act together and act quickly and don't wait to see if the disease kills millions of animals."
On Thursday, U.S. Agriculture Secretary Tom Vilsack addressed the Expo. He said USDA will pump $26 million into fighting PEDV, which government officials now estimate has killed 8 million pigs in a little over a year. That's 10% of the U.S. hog inventory in the past year. Vilsack says the USDA investment will climb to $30 million in the agency's 2015 budget request, with nearly $4 million to go to research vaccines to battle PEDV. There is one vaccine on the market and more are being developed. The vaccines are in the testing stage and are showing some success.
Everyone in pork industry is urged to follow strict biosecurity
The best bet now, say the veterinary officials, is controlled exposure of sows to the live virus to build immunity to PEDV in the herd. Also, strict biosecurity measures need to be put in place and traffic onto each farm and into each barn needs to be controlled.
~~~PAGE_BREAK_HERE~~~
Vilsack said producers will be required to report to state, local or federal veterinarians when their herds are affected and develop a biosecurity management plan to "monitor, trace and control the situation on the farm." This reporting requirement is for PEDV and also for a new, similar disease called porcine deltacoronavirus. USDA announced in April that it would seek a reporting requirement.
Vilsack told the Expo audience that "this requirement does not involve a restriction in movement; it doesn't involve a quarantine." The rules specifying how the reporting plan will be carried out are still being determined by USDA. Vilsack told producers it is very important to take aggressive action against PEDV in terms of the need for reporting, monitoring and a biosecurity management plan on each hog farm. NPPC has released the following information summing up the USDA Secretary's announcement.
Vilsack announces PEDV reporting plan, funding at Pork Expo
While speaking to pork producers at World Pork Expo on June 5, U.S. Secretary of Agriculture Tom Vilsack announced a federal order making reporting of the Porcine Endemic Diarrhea Virus (PEDV) mandatory. Along with mandatory reporting of the disease, Vilsack announced $26.2 million in funds to address the following:
$3.9 million to be used by USDA's Agricultural Research Service to support the development of vaccines.
$2.4 million for cooperative agreement funding for states to support management and control activities.
$500,000 for herd veterinarians to help with development and monitoring of herd management plans and sample collection.
$11.1 million in cost-share funding for producers of infected herds to support biosecurity practices.
$2.4 million for diagnostic testing.
$1.5 million to National Animal Health Laboratory Network diagnostic laboratories for genomic sequencing for newly positive herds.
PEDV has affected hog operations in 30 states, killing an estimated 8 million animals, mostly pre-weaned piglets. Since PEDV first was identified in the United States more than a year ago, NPPC, along with the National Pork Board, has been encouraging pork producers who have had outbreaks of the virus on their farms to voluntarily report to their state veterinarians.
~~~PAGE_BREAK_HERE~~~
Representatives from NPPC, the National Pork Board and the American Association of Swine Veterinarians met with Vilsack prior to his speech to NPPC members to discuss PEDV concerns. They urged the secretary to make research, testing and biosecurity the focus of the new plan.
Final thought: Is there a China connection? Some people wonder if PEDV virus somehow found its way to North America from China. "We can only speculate about this," said NPPC chief veterinarian Wagstrom. "However, we do know the genetic makeup of the PEDV virus is of Chinese origin. There is so much traffic from China nowadays with all the trade the U.S. does with that country, it is easy to see how it could happen."
Subscribe to receive top agriculture news
Be informed daily with these free e-newsletters
You May Also Like
---