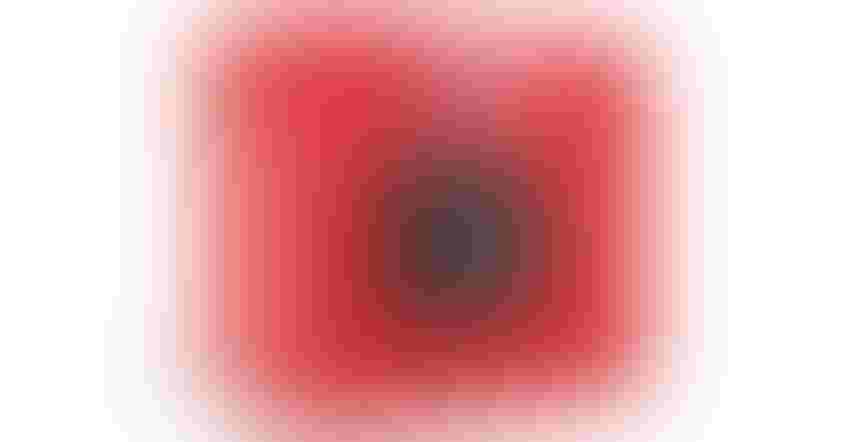 VARIABLE-RATE HEATER: AP's new product is all stainless steel, and servicing can be done with a quarter-inch nut driver.
Several new agricultural products have been introduced recently, and below is a summary of the products and their features.
Improve control of pork environments
Automated Production Systems (AP) featured new technologies at the 2017 Minnesota Pork Congress show to help producers more efficiently manage their pork production environments.
Among AP's new products was the VariFlame variable-rate heater. According to AP, VariFlame is the industry's first modulating heater that can work with any control system. It synchronizes and adjusts with the temperature curves set in the controller to maintain desired room temperature.
Brian Rieck, AP product manager, said when VariFlame is connected to AP's Edge controller, it also provides remote access, giving producers control of their heaters and many other inputs from a single system. Producers can access diagnostics and adjust barn settings remotely from any web-enabled device, he added.
Other features of VariFlame connected to Edge include:
• LED temperature probes, which provide flexibility to not only operate the heater, but also control curtains, fans and other equipment
• stir-fan mode, which allows producers to continue circulating air through the heater without turning on the burner as the animals grow and the heater is no longer needed
• exercise mode, which allows Edge to automatically turn on the heater at scheduled times to ensure it fires up correctly and remains in good working order
Other features available on all VariFlame models support improved performance, durability and ease of use. For example, Rieck noted that most variable-rate heaters range from 65,000 to 250,000 BTUs. "VariFlame has an extended range, from 50,000 to 250,000 BTUs, which not only allows the heater to run longer, but also provides improved heat distribution and humidity control," he said. "Even while operating at lower BTUs, the burner maintains consistent ignition reliability and flame stability."
The VariFlame heater is stainless-steel and features a single, easy-to-remove door that allows producers to easily access all serviceable parts from a single location. In addition, all servicing can be done with a ¼-inch nut driver.
AP also recently introduced a positive-pressure ventilation system to help keep viruses out of a barn. Air is pushed into a building — instead of pulling it out, which is the case with negative pressure ventilation systems. The benefit of positive pressure is that barns don't have to be completely sealed for the highest level of protection against viruses. This ventilation style slightly pressurizes the building, forcing inside air out through any crack or joint.
For more information, producers can contact their local AP dealer or visit automatedproduction.com.
 New diagnostic kit for Johne's
USDA has issued Thermo Fisher Scientific a veterinary biological product license for its Applied Biosystems VetMax-Gold MAP (Mycobacterium avium subsp. paratuberculosis) Detection Kit, a real-time polymerase chain reaction (PCR)-based solution designed to detect the bacterium that causes Johne's disease. The debilitating condition costs the dairy and beef cattle industries up to $350 million each year in the United States alone.
Approval of the VetMax Gold MAP Detection Kit is based on the successful completion of the USDA's review process to ensure safety and effectiveness of the test, and evaluation of production and quality systems compliance at the manufacturing site. With the addition of this recent license, Thermo Fisher now offers six USDA-licensed molecular diagnostic tests for customers.
For more information about VetMax-Gold MAP Detection Kit, visit  thermofisher.com/animalhealth.
Thunder Seed adds Roundup Ready 2 Xtend line
Thunder Seed, a farmer-owned company in Dilworth, has expanded its line of Roundup Ready 2 Xtend Crop System products with the addition of XtendiMax herbicide with VaporGrip technology. It is U.S. EPA-registered for in-crop use with Roundup Ready 2 Xtend soybeans.
"We are a farmer-first seed company always looking to provide the best-quality seed and seed products for our customers," said Larry Mueller, executive sales director for Thunder Seed. "Our Roundup Ready 2 Xtend brand of seed already offers strong yields, and the addition of the XtendiMax herbicide further strengthens our commitment to helping farmers fight weeds."
XtendiMax herbicide technology produces superior yield performance backed by Roundup Ready 2 Xtend soybean genetics. The low-volatility herbicide formulations control 270 broadleaves with as much as 14 days' residual.
Thunder Seed offers a large selection of Roundup Ready 2 Xtend soybeans varieties available through the Thunder Seed dealer network in both the U.S. and Canada.
"The 2017 growing season is nearly underway, and the approval of this herbicide comes at just the right time for growers to choose their seed," Mueller said. "Planning for the season starts now, and we know farmers will be excited about this new brand of herbicide for their soybeans."
Thunder Seed is offering customers an incentive to get to know their seed dealers and get their orders in soon. For every 200 units of Roundup Ready 2 Xtend soybean seed purchased, an entry will be placed in a drawing to win a Polaris Ranger. The drawing will take place in August. For more information about the promotion, visit thunderseed/win.
Thunder Seed, of Dilworth, is a regional seed company founded in 1995 by threeindependent Red River Valley farms — Adams Seeds, Petermann Seeds and Tobolt Seeds. For more information visit thunderseed.com, call 888-6THUNDER (888-684-8633) or email  [email protected].
Subscribe to receive top agriculture news
Be informed daily with these free e-newsletters
You May Also Like
---