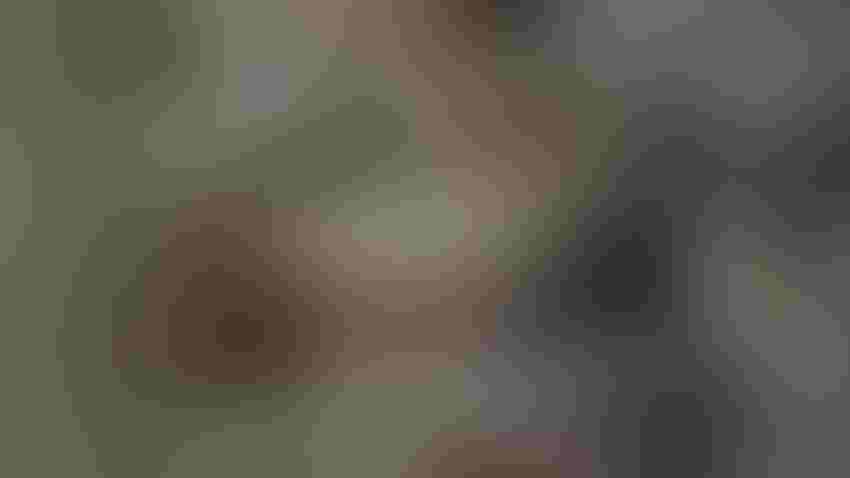 FOCUS ON HEALTH: U.S. pig farmers face a lot of issues, from sow housing to foreign animal diseases to a new farm bill, and all of the above tie in to promoting and protecting herd health.
Courtesy of National Pork Board
Pork producers' plates are full, from the work taking place within the farm gate to the issues facing the U.S. swine industry as a whole.
A new farm bill, biosecurity, foreign animal diseases and commerce are just some of the issues Terry Wolters highlighted shortly before turning over his presidency of the National Pork Producers Council to Scott Hayes.
Wolters, immediate past president and a hog producer from Pipestone, Minn., shared his thoughts on the hot issues during the Minnesota Pork Congress in February.
"We are really encouraging Congress to become bipartisan, work together, to get this farm bill completed," he said, "We don't even like to talk about the word extension."
Wolters says pork producers are looking for continued support for diagnostic laboratories and the foot-and-mouth vaccine bank.
Additionally, Wolters says of importance is to have the new farm bill address the threat of foreign animal diseases. "An additional ask that we're trying to craft is because the threat of foreign animal disease being higher than it's ever been before," he said. "We're looking for some catastrophic-type insurance program that producers could take advantage of, and ultimately have a better predictor as to how it might impact their business."
The foreign animal disease landscape has greatly altered since the current farm bill was crafted, specifically with the spread of African swine fever across Asia and Europe, and even reaching the Western Hemisphere in the Dominican Republic for the first time in 40 years.
Crucial to development of any legislation is educating legislators to the needs and wants of an industry, and Wolters said that's more important today than ever as a majority of the 535 members of Congress in Washington have never been through the process of writing a farm bill.
"There's a lot of energy that's being put in by NPPC today to educate those legislators and get them prepared for what we think is a very vital vote for the farm bill," he said.
Prop 12
Also on producers' minds is California's Proposition 12, which is currently in the hands of the U.S. Supreme Court. Prop 12, which was approved by California voters in 2018, if allowed to be enacted would ban the sale of pork within the state unless gestating sows or gilts are allowed at least 24 square feet of space, and the ability to stand up and turn around in their pens. That restricted sale of pork within California would reach beyond state lines to wherever the pigs originated.
A Supreme Court ruling is expected soon, and Wolters is optimistic.
"We feel we're in good position with a favorable ruling," he said. "We might end up with a ruling that sends us back to the lower court to retry the case. We've pursued that on a Dormant Commerce Clause from the very beginning. It's not just about pork, it's about pork today — but ultimately, it's about how states govern trade among states."
He's all for consumer choice, if they prefer their product raised in a certain manner: "I'm all for that consumer choice, but don't regulate it. … let the consumer decide with their dollars. I don't think the state of California has any jurisdiction to regulate pork production in Minnesota."
Traceability and SHIP
Herd health is paramount, both on individual farms as well as the entire U.S. hog industry, and Wolters encouraged producers to participate in the U.S. Swine Health Improvement Program (SHIP), as well as a traceability program to map the movement of pigs.
"Ultimately, we want to be able to establish a recording system that is universal among states, and it becomes a tool that we can use to map where animals have gone," he said. "It's about getting the animals identified and the traffic identified."
This is most important if a foreign animal disease is detected in the U.S.; there would be a 72-hour stop hold placed on all hogs and foreign trade partners would stop trade. "Until we can figure out what foreign animal disease we have and where it happened and get it eliminated, we're not going to open any export markets. That could be a one-year or two-year process, but if we can keep control of that, we're in better shape," Wolters said.
Biosecurity throughout the entire hog production chain is paramount to maintaining herd health and preventing FAD introductions, Wolters said.
New NPPC officers
NPPC installed new officers at the Pork Industry Forum in early March. Scott Hays of Monroe City, Mo., replaces Wolters as president. Lori Stevermer of Easton, Minn., becomes NPPC president-elect.
Subscribe to receive top agriculture news
Be informed daily with these free e-newsletters
You May Also Like
---