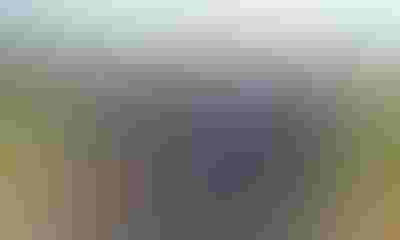 While the roar of power tools filling the air over a hog farm is not an uncommon noise, the busy hands at work were atypical. A group of pig farmers gathered with their production partner on a warm August day to lend a helping hand for a fellow pork producer.

HELPING HAND: A group of pig farmers and The Maschhoffs employees chipped in to lend a helping hand to a fellow pig farmer. Back row (from left): Nick Barnes, Cory Fleming, Doug Hyle, Paul Peak, Daniel Troesser, Phil Peak and Charles Horter. Front row (from left): Emma Barnes, Debbie Barnes and Steve Toohill.
Since Alan's passing, they have been asking how they can help the Barnes family, explains Steve Toohill, The Maschhoffs senior production manager. So, when he arranged the work day they did not hesitate to travel the miles, donate supplies and contribute sweat equity to keep a family in the pig business. Toohill says, "It is a great opportunity for the production partners in Missouri and The Maschhoffs to pitch in, get some things cleaned up and help the family save some money on maintenance."
Alan Barnes dedicated his life to raising hogs and children with his wife, Debbie, on a farm near Vandalia. "Alan was great," Toohill says."Probably the most willing production partner on a new contract to just jump in and do whatever you asked him to do."
On June 1, Debbie and their three children's – Makenzie, Nick and Emma – lives changed forever when they were forced to say goodbye to their beloved husband and dad at the early age of 48.
Continuing on
Nick probably never imagined that he would spend the summer after graduating from high school supervising the family's 13,000-unit feeder-to-finish hog operation. However, after his father's death, he did not think twice and stepped up to the challenge. He learned quickly all the tasks his dad juggled in a day. Yet, those weeks did not discourage him from his plan to follow his father's footsteps after finishing four years of college.
Bravely, Debbie is continuing Alan's real pig farming journey and is committed to keeping the family hog farm operational to fulfill her son's dream to return to the farm. Although she is an accountant by trade, Debbie, as a fifth generation farmer knows how important it is to support family members' dreams and the rewards of farming.
With that same ethos, the group gathered on her farm to assist with repairs shares with her.
Company compassion
Being production partners with The Maschhoffs connects these individuals with the Alan Barnes family, but the bond is deeper than a professional working relationship. As the senior production manager for Missouri, Toohill says he intentionally gets the production partners in the state together many times a year. It is a good chance for networking and sharing information but it also naturally fosters a supportive environment and powerful friendships.
He further explains these pig farmers have each other's backs. They talk to each other daily along with himself and another production manager at The Maschhoffs. "It is awesome how they are just helping each other," says Josh Flint, The Maschhoffs communications manager. "It is nothing special. Just passionate about pigs and doing the right thing."
Still, Debbie and Nick will not be moving forward alone. As illustrated on the farm that day, the family will have many individuals to lean on in the future. Her parents, whom also raise hogs just a half mile away, are lending a hand at every turn. She jokes, "It keeps my dad busy. They have been instrumental and my rock."
Since Debbie worked off the farm as the Missouri Cancer Associates executive director, she was never involved in the daily operations of the hog farm but understood the financial side. She says it is a big challenge to get a handle on managing pigs and balancing it with work and family. "I am just relying on the good graces of everyone to keep it together. This definitely would not happen without Maschhoffs," notes Debbie.
Debbie and Alan started contract growing pigs with Maschhoffs last October, but the couple has always raised hogs. A large advantage to any production partnership is the automatic support system equipped with experts. However, speaking with production partners and Debbie, it is evident "family" is the core of the Maschhoffs' partnership.
"We spent some extra time here but nothing we would not do for anyone in this situation," says Toohill.
For the future
For now, two employees run the Barnes' hog farm. They will focus on caring for the pigs while Nick balances schoolwork, playing college basketball and traveling back to the farm to learn the ropes from Toohill and others.
"God bless, we can keep this going and have something Nick can return to," says Debbie.
Day is the editor of National Hog Farmer, a sister publication to Missouri Ruralist.
Subscribe to receive top agriculture news
Be informed daily with these free e-newsletters
You May Also Like
---