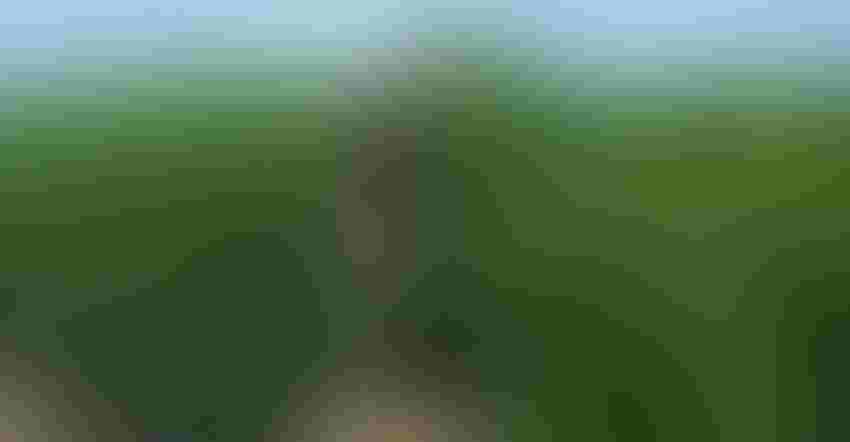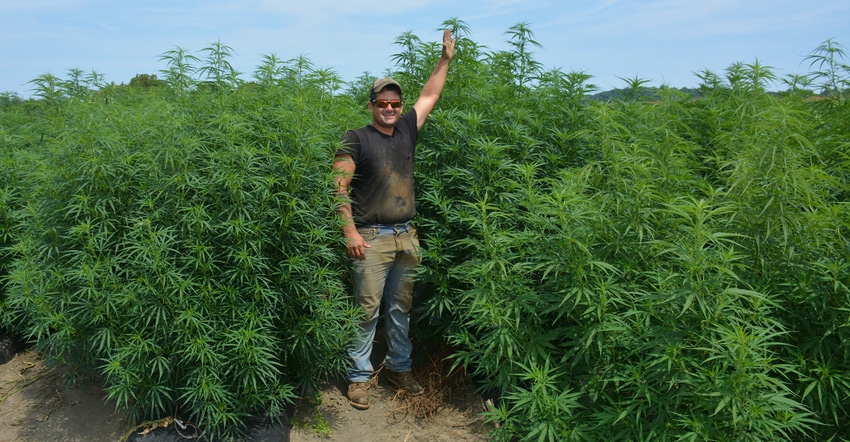 TOWERING PLANTS: Bryan Harnish expected some growth, but not 7-foot-tall hemp crops in the beginning of August.
Chris Torres
It's testing time for Bryan Harnish. Now that his hemp crop has taken off — 7 feet tall in some places — he's adjusting his nutrient and water levels for the rest of the growing season.
This season is an experiment for Harnish. He's trying hemp for the first time on his 600-acre grain and specialty crop farm in Pequea, Pa.
His success, or lack thereof, will help determine whether hemp is a good fit for the future. American Agriculturist is following him all summer in his quest to grow a successful crop.
He's growing hemp for cannabidiol, or CBD, production, and is trying three varieties: Youngsim 10, Stormy Daniels and Cherry Blossom.
Testing time
Plant samples were taken July 12 by Waypoint Analytical. They tested levels of nitrogen, potassium, phosphorus and several other micronutrients.
Harnish got his test results back and so far, he's happy with what he's seen.
"At this point we're going to continue running nitrogen and potassium through the drip," he says, but he plans on taking another sample soon. "If the micronutrients become deficient, I'm thinking of putting them through the drip or at least doing a foliar application, probably do it closer to harvest.
"We're at the point where we're just starting to set buds. We want to be really careful about getting any chemicals on there."
Nitrogen, phosphorus and potassium are the most important nutrients he's looking at, but he also looks at the ratios of nitrogen to sulfur, nitrogen to potash and others to make sure his nutrients are balanced.
"If they get out of balance then the plants are not taking up the correct nutrients at the right time," he says.
Watching THC
With buds starting to develop, Harnish will be keeping a close eye on his plants' THC levels to make sure they're not getting "too hot." If THC levels are higher than 0.3%, the plants must be destroyed.
The first THC test will be done soon, he says. Weekly tests will be done after that.  
Good fit, for now
The hemp plots are a sensory experience for the nose. You can smell the plants from a few feet away.
They're also really tall — 7 feet tall on average, with some plants reaching up to 8 feet.
"It's like walking through a jungle in here," he says.
One of his plots has male and female plants — you want just feminized plants for CBD — so he and his employees have been pulling out males and hand-weeding.
MAKING ADJUSTMENTS: Some of the leaves are yellowing, likely a result of a nutrient deficiency or maybe even disease. Harnish is adjusting his nutrient management as harvest is approaching.
Harnish has lots of other things to do on the farm, from harvesting watermelons to topping off tobacco. Overall, though, it's a slower time on the farm, so hemp fits right in.
"If we have a couple of hours we can weed or adjust what's in the drip," he says. "The real question is … at harvest when we're bringing in grains and pumpkins."
Impressive growth
The plants are starting to tower over Harnish's near 6-foot frame.
"I didn't know what to expect, but I didn't think they'd take off quite like this," he says.
This is where good management comes into play. He's been topping off his tallest plants to make sure they don't get too big as they can easily be blown over during a wind storm. He uses clippers to top them off.
"It will give it more of an upright growth habit, which is important," he says.
While he's impressed with the growth, he regrets not planting them further apart.
In the unfeminized plots, the plants are 2 feet apart. Branches are starting to grow everywhere, making it hard to not only walk through the plot, but tell apart which branches go to what plant.
Every other plant, a male, is being pulled out.
If he does this next year, Harnish thinks he'll plant every 4 or 5 feet.
With this impressive growth he'll be pumping more water to keep up with the vegetative growth, likely a half-inch of water every day or every other day.
Some of the plants are showing damage from insects while some lower leaves are yellowing, likely due to nutrient deficiency.
Overall, though, Harnish says he's seen very little disease or insect pressure thus far. The occasional aphid or stink bug are seen, but nothing in big numbers.
Planning for harvest
It's hard to believe, but harvest is right around the corner.
Harnish says he has a buyer who can pick up the plants "green" out of the field. He's also looking at the dry bud market for some of his crop. For this market they would harvest the plants, dry them and trim them on the farm.
Originally, he was thinking of using his existing grain bins to dry some of the crop, but he'll likely need the space for his bumper corn crop, as it will likely be harvested at the same time as the hemp.
GOOD RESULTS: Nutrient tests were done in mid-July, testing for nitrogen, phosphorus, potassium and micronutrients. Harnish says he's pleased with his results, but he's making some adjustments to ensure he has a good nutrient balance for the rest of the season.
One idea he has is hanging the plants in a room with a dehumidifier.
He says he's talking with three buyers right now, but nothing is set in stone.
Still, he's confident he'll have a market once the plants are ready.
"I think the main thing is just keeping the residues off. We're not spraying any pesticides so that's important," he says.
As far as the varieties themselves, he says he's impressed with Stormy Daniels
"We're happy for the first year," he says.
Subscribe to receive top agriculture news
Be informed daily with these free e-newsletters
You May Also Like
---