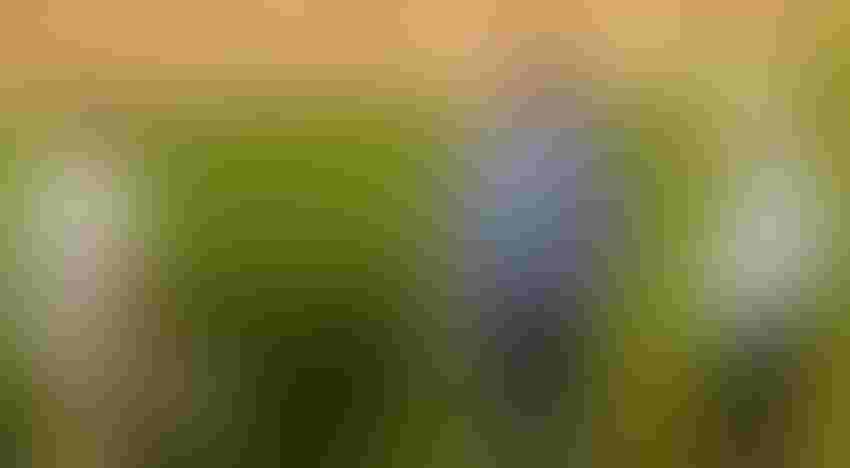 The University of Arizona is studying hemp for its fiber and seed production at two locations in Yuma. The locations were chosen for their differing soil conditions. Industrial hemp will need to fit with the produce crop rotation within the low desert growing region, says Extension Agronomist Robert Masson.
Todd Fitchette
Could hemp be the next leafy green grown in winter vegetable rotations?
At least one University of Arizona scientist sees the value of hemp in desert systems not in the CBD it can produce for oil, but in fiber, seed, and the possibility of a leafy green version that can be consumed by humans.
Robert Masson, a research agronomist with the University of Arizona Cooperative Extension in Yuma, is studying hemp varieties to see if they can grow and produce well under Arizona conditions. In Yuma that means extreme summer heat and humidity and total reliance upon irrigation. Mason has two trial locations in Yuma to test varieties in different soil conditions.
Studies are in their infancy right now. Some plants show promise and one of the sites is showing much better results than the other.
Masson says the crop needs to fit with the Yuma region's produce rotation. "This is a vegetable town," he said. "If I'm not working on vegetables, I need to justify that."
One of the projects Masson is working on includes developing baby leaf hemp, a leafy green edible for human consumption. Confidentiality agreements prevent him from sharing more on this work with more than one private company.
"There are a couple of companies I'm working with, but they do not want to send samples to their customers before it becomes legal because they want them to try it and be able to deliver it the next day," he said.
A continued issue with industrial hemp is the low THC content mandated for these products. Where recreational cannabis wants a THC content above 20%, U.S. law sets the standard for industrial hemp at 0.3% THC. Anything above that threshold must be destroyed.
Masson is also studying water use and daylight requirements for the crop. He is also discussing the possibility of seed certification with the State of Arizona.
Masson said the reason to study industrial hemp for its fiber and seed production was borne largely out of reports that there was an oversupply of hemp for CBD. Growers at an Extension meeting on industrial hemp early last year in Yuma reported that their CBD processors refused to pay buy their crops after contracting with them to grow the product.
Subscribe to receive top agriculture news
Be informed daily with these free e-newsletters
You May Also Like
---