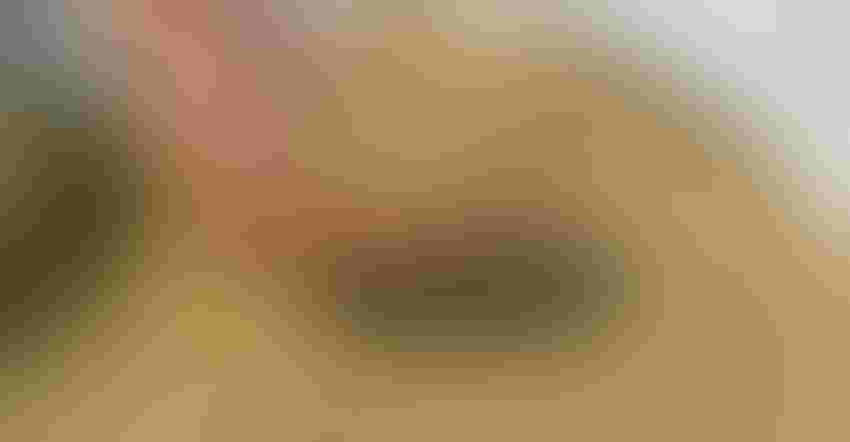 BUT FIRST: Growers are excited about the opportunity industrial hemp provides, but the crop hasn't been grown in years. So, it's time to slow down and understand the basics of raising hemp.
Getty Images
Editor's note: This is the first article in a three-part series on industrial hemp production in Missouri. It is meant to offer farmers insights on preparation, planting and harvesting this crop in 2020. This article focuses on field preparation.
This will be a learning year for hemp production in Missouri. It is the first time many growers will experience raising this alternative crop, and they have a few management questions.
Greg Luce, University of Missouri Extension agronomist, says that while the crop is not "new" to the state as Missouri once was a leading producer of industrial hemp, it is one farmers have not grown in decades.
So, he, along with representatives from the University of Missouri and Missouri Department of Agriculture, traveled the state this winter providing information on industrial hemp to help growers get off on the right foot. And as with any crop, it all starts with preparation.
Know what you grow
All hemp is of the same genus species, regardless of whether you are raising it for CBD, grain, fiber or marijuana, Luce explains. Of course, Missouri growers are only interested in those plants that contain below 0.3% THC, which is considered industrial hemp and used for fiber, seed and CBD.
Hemp is a summer annual plant, not a perennial. So when it comes to cultivating it in fields, farmers can treat it like corn or soybeans, but it leans more toward a short-day plant such as a soybean.
It's a mostly dioecious plant, generally with both male and female plants. The male plants flower sooner than the female plants. "So, if you plant it late in the season," Luce says, "it's going to flower very early before it gets a lot of vegetative growth." That is what he and other researchers saw last year with hemp seed planted for grain or fiber.
Legislators approved a pilot program allowing universities to plant industrial hemp well into the growing season. Plots were planted either in late June or early July. Luce saw flowering triggered quickly, resulting in very short plants flowering, which can make it difficult to harvest in fall and reduce fiber tonnage.
Your target market determines the type of plant — male or female — to choose, and it comes down to performance issues.
For CBD, producers want all female plants in their fields or greenhouses, whether they are clones or seedlings grown from feminized seed. Production from a male plant is extremely low, and if it pollinates a female plant, the CBD production goes down significantly.
For fiber or grain, male plants work just fine, Luce says. It is harvested for its seeds and fiber, not its cannabinoid and terpene-rich flower.
Prepare the soil
There's a lot of variety out there for hemp seed, and producers need to understand their growing environment.
Nutrition requirements are similar to wheat. "We're looking at ideal pH in the range of 6 to 6.5," Luce says, "but if your pH goes on up higher, and some soils in Missouri have pH levels toward 7 or 7.5, it can perform well."
Luce says growers should be aware that the University of Missouri uses a salt pH when testing. Test labs in other states use a water pH. "So, if you get your test through the MU lab and have a 6.5, it is roughly equivalent to a pH of 7 from other labs," he adds.
Hemp plants do not respond well in wet soils. "Farmers need to plant in well-drained areas," Luce says. "Hemp doesn't like wet feet."
It's also important to plant into clean fields with little weed pressure. Since there are not federally labeled herbicides to use, Luce says getting rid of weeds before planting will require tillage. Growers in other states tried no-till, but it has not been very successful.
Soil fertility as far as nitrogen requirement has a wide range from 50 to 150 pounds, depending on the type of production. Where growing hemp for grain, nitrogen will be on the higher end of the range, not much different than for wheat.
If farmers are raising it for fiber, nitrogen can be as low as 50 pounds to 80 pounds per acre, but not much over 100 pounds. "Like other crops, it depends on the payout at the end of the growing season," Luce adds.
Farmers will need to add phosphorus and potassium for those producing fiber. Recommendation for P and K are similar to other crops. Just like harvesting corn silage or alfalfa hay, hemp for grain or fiber removes potassium from the field.
However, there is a difference in that fiber hemp is allowed to lay in the field for weeks after harvest, beginning the microbial breakdown process. This returns potassium to the soil. Farmers should consider a soil test to know exact recommendations.
The university offered these guidelines during winter meetings — consider adding 60 to 100 pounds of potassium, for fiber add 250 to 350 pounds.
Luce says more research will help fine-tuning of these recommendations in the future.
A fertility plan also should include phosphorus. If growing for grain or fiber, add 40 to 70 pounds.
Knowing seed and soil properties is only the first step to getting your 2020 industrial hemp crop off to a good start. It takes understanding planting and harvest to get it from seed to sold.
About the Author(s) Editor, Missouri Ruralist
Mindy resides on a small farm just outside of Holstein, Mo, about 80 miles southwest of St. Louis.
After graduating from the University of Missouri-Columbia with a bachelor's degree in agricultural journalism, she worked briefly at a public relations firm in Kansas City. Her husband's career led the couple north to Minnesota.
There, she reported on large-scale production of corn, soybeans, sugar beets, and dairy, as well as, biofuels for The Land. After 10 years, the couple returned to Missouri and she began covering agriculture in the Show-Me State.
"In all my 15 years of writing about agriculture, I have found some of the most progressive thinkers are farmers," she says. "They are constantly searching for ways to do more with less, improve their land and leave their legacy to the next generation."
Mindy and her husband, Stacy, together with their daughters, Elisa and Cassidy, operate Showtime Farms in southern Warren County. The family spends a great deal of time caring for and showing Dorset, Oxford and crossbred sheep.
Subscribe to receive top agriculture news
Be informed daily with these free e-newsletters
You May Also Like
---