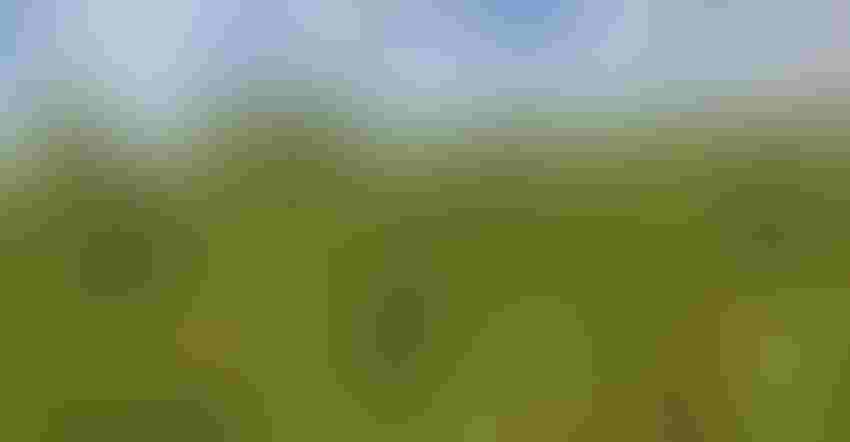 NOT IN IOWA: This is a hemp grain crop growing in Wisconsin, a state where it is legal to grow hemp. Farmers can't legally grow hemp in Iowa until USDA approves the state's regulatory plan.
Passage of the 2018 Farm Bill in December legalized growing industrial hemp in the United States. What does this mean for Iowa? Several things must happen in order for it to be legal to grow hemp in the state.
First, USDA must develop and approve rules pertaining to growing industrial hemp in the U.S. That process is evolving, as USDA is holding fast to its promise to release the rules yet this year. Once this happens, the state of Iowa will submit a state plan to USDA for approval.
A state plan must include how states will implement licensing programs, including background checks, testing and inspection procedures, disposal procedures, a violations schedule, and other parameters.
The Iowa Department of Agriculture and Land Stewardship will be the regulatory agency in Iowa for hemp permitting. IDALS is required to post a notice in the biweekly Iowa Administrative Bulletin, stating that the state plan has been accepted and licensing can begin.
Hemp is defined in the 2018 Farm Bill as "the plant Cannabis sativa L. and any part of that plant, including the seeds thereof and all derivatives, extracts, cannabinoids, isomers, acids, salts, and salts of isomers, whether growing or not, with a delta-9 tetrahydrocannabinol (THC) concentration of not more than 0.3% on a dry weight basis"  Hemp can be grown for seed, grain, fiber, and cannabidiol, or CBD. 
It is reported that hemp can be used in more than 25,000 different products, including hempcrete, automotive parts, hemp oil, food, personal care products, fabrics and textiles. In addition to an extensive list of possible uses, many farmers look at hemp as a potential third crop in a rotation and an alternative crop for corn and soybean production when commodity prices are low. 
Know before you grow
Educate yourself and understand how practices in other states may or may not work within the scope of the Iowa climate and soils. First, determine the ultimate end use of the crop you want to grow. Do you want to grow for seed, grain, fiber or CBD? Each "product" requires different planting, management, growing and harvest practices.
If you want to grow hemp on contract for some company, whether it be for seed, fiber or CBD, know what the company's needs are for the commodity. This can vary vastly by the end-use. In fact, it is highly suggested you secure a contract in advance and consider getting some percentage of payment in escrow to ensure you do come away with some payment for your efforts. There is case after case of people not being paid for their crop. 
Other questions to ask
Ask yourself, "Do I have the appropriate equipment to plant and harvest a hemp crop?' Again, this will depend on what you are growing it for. Yes, you can use a corn planter, but you may need a drill. For CBD production, growers often plant clones, or small plants, instead of seed. Do you have the appropriate soil conditions? Much like corn and soybeans, hemp does better on highly productive, well-drained soils.
What is your plan for weed, insect and pathogen control? There are no pesticides labeled for hemp. If you are growing for grain or fiber, adequate field preparation is necessary for weed control. If you are growing for CBD, you will be hand-weeding this crop as well as hand-rogueing the male plants as you do not want male plants in CBD production.

HEMP BALES: Hemp grows tall. The tops can be harvested for seed production, and the stalk is used for a number of industrial purposes.
Do you have the appropriate grain storage and handling equipment? Spoilage of seed or grain can happen relatively quickly after harvest, within 4 to 6 hours, so grain needs to be dried in aeration bins or at a very low temperature. Harvest of fiber may require retting or curing in the field. Reports say this can take two to five weeks. How does this fit into your existing fall tillage or manure application plans?
Currently, Iowa State University does not have any research on hemp because it is still illegal to grow hemp in Iowa. Agronomists like myself rely on information coming from other states like Minnesota and Wisconsin. 
We have a lot to learn about growing hemp in Iowa. Caution is urged as many current industry leaders will tell you this is not the crop to bet the farm on. Not understanding this crop can land you in trouble if the THC concentration spikes. The current availability of markets and processing is lacking. CBD is not legal at the federal level, and thus CBD extraction is not legal in Iowa. Do your homework, read industry articles and research materials from other states.
For more information on the current status of Iowa's regulations on hemp, see IDALS at iowaagriculture.gov/hemp.
Rieck-Hinz is the ISU Extension field agronomist for north-central Iowa.
Subscribe to receive top agriculture news
Be informed daily with these free e-newsletters
You May Also Like
---