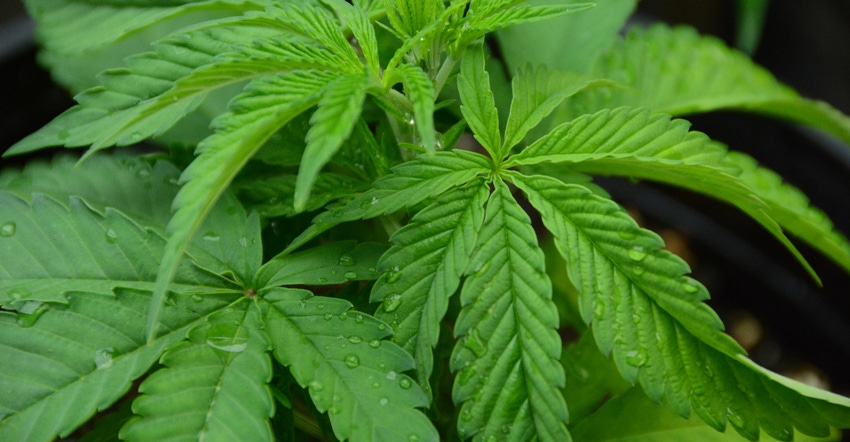 CLEARING AWAY CONFUSION: The Legislature helped clear up one piece of the hemp puzzle in Indiana by legalizing transportation of smokable hemp.
Austin Keating
The Indiana Legislature passed a law in 2019 legalizing industrial hemp in Indiana so farmers could grow it. That law put Indiana in compliance with federal legalization of industrial hemp through the 2018 Farm Bill. However, the Legislature included a ban against smokable hemp in the law. Later, that led to a court case, and more recently to legislation to help resolve part of the issue in the 2020 Indiana General Assembly.
Katrina Hall, director of public policy for Indiana Farm Bureau, notes that many farmers have expressed an interest in growing industrial hemp to help augment their farm income. That's why INFB monitors hemp legislation and provides input to legislators about hemp matters.  
Jeff Cummins, Indiana Farm Bureau's associate director for policy engagement, helps provide clarity on what led up to the 2020 legislation, and what may come next.
"The Legislature passed the law in 2019 so that state regulatory officials could seek approval from USDA for farmers to legally grow industrial hemp in Indiana without a research license," Cummins says. "Until USDA grants approval, farmers can only grow [industrial hemp] under a research license granted through Purdue University. That's how farmers are growing it in 2020."
Law enforcement concerns
State law enforcement officials expressed concern that they can't tell the difference between smokable hemp from industrial hemp and marijuana. "They look and smell the same," Cummins says. "The difference is in THC levels. Anything with THC levels above 0.3% is considered marijuana and is illegal in Indiana. But you can't tell just by looking."
Based on those concerns, the Legislature included a ban of smokable hemp in the 2019 legislation. However, the smokable form is a preferred source of cannabidiol (CBD) oil versus ingestion for many people who use it for medicinal purposes. It is also a cheaper source.
Several groups joined together to sue the state of Indiana. In September, a federal judge struck down the provision against smokable hemp, issuing an injunction. The state has appealed, but a ruling had not been issued by press time. Until it is, technically, smokable hemp is legal in Indiana, Cummins says.
What new law does
One objection raised by the court in its ruling relates to interstate commerce of industrial hemp products. The court noted that Indiana's ban on smokable hemp interfered with moving it through Indiana from other states.
"We urged legislators to address that part of the issue so that Indiana would be in compliance with interstate commerce regulations related to industrial hemp," Cummins says. "A provision allowing transportation of smokable hemp legally through Indiana passed as part of a criminal law bill, and Gov. [Eric] Holcomb signed it. It now will become law."
USDA did not approve Indiana's application for licensing in 2019. Most of the reasons were technical and related to documentation. Those can be fixed before Indiana applies again in 2020 for 2021, Cummins notes.
While USDA didn't specifically cite the interstate commerce issue, Cummins believes it would have come up, if not pointed out by the court.
"Hopefully, the Legislature's action will help clear up this part of it," Cummins says. Indiana is expected to submit another application to USDA for hemp licensing for farmers sometime this year.
About the Author(s)
Subscribe to receive top agriculture news
Be informed daily with these free e-newsletters
You May Also Like
---