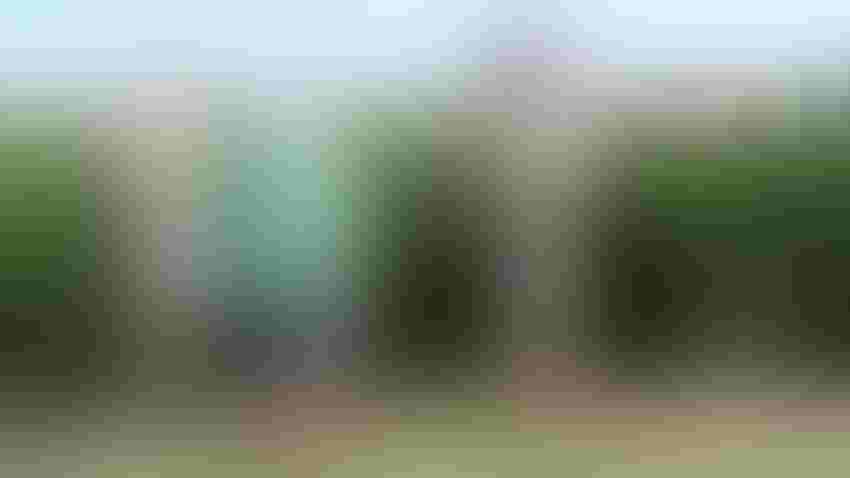 Extension soybean specialist, Justin Calhoun presents on the progress of the soybean planting date study to attendees at the FD-REEC field day.
Whitney Haigwood
At a Glance
Planting date studies in southeast Missouri confirm that an earlier planted rice crop results in improved yield potential.

An entomology study confirms the effectiveness of diamide seed treatments to control early and mid-season pests in row rice.

Results from a March 15 planted soybean trial suggest it is feasible to plant some soybean acres before corn in the Bootheel.
Late last spring, Farm Press highlighted a few of the 2023 research projects conducted by specialists at the Fisher Delta Research, Extension and Education Center (FD-REEC) in Portageville, Mo. Now that harvest is mostly complete, data is rolling in with key takeaways from the season. 
From on-farm variety trials to a planting date study with a wide range of dates, results determined the top performing rice varieties and optimum planting window for the highest yield potential. 
An entomology study in row rice confirmed the effectiveness of a diamide seed treatment – even in a year with little billbug activity; and results from a soybean trial planted mid-March indicated good potential for southeast Missouri farmers to start the planting season with a few acres of soybean before plating their corn crop. 
Rice varieties and planting dates 
The Missouri rice crop had an outstanding year with an estimated state average of 178 bushels per acre according to the September USDA production forecast.  
Extension rice specialist, Justin Chlapecka noted that while milling yields are lower in 2023, the count weight estimated yield is second only to the state record of 179 bushels of rice per acre in 2021. 
This year, four on-farm studies were placed across the rice growing region of the bootheel to test cultivars and hybrid performance on both flood-irrigated and furrow-irrigated fields. Additionally, two other locations at the FD-REEC and the Missouri Rice Council's research farm evaluated the yield impact of five planting dates ranging from mid-March through mid-June. 
Chlapecka commented on the top performers and results that stood out this year. 
"In looking at Clearfield varieties, CLL18 looks to be the leader of the pack and is coming in to replace CLL16," he said. 
CLL18 comes from the rice breeding program at the Arkansas Agricultural Experiment Station at the University of Arkansas System Division of Agriculture. The variety, available through Horizon Ag is touted to have good tolerance to sheath blight and moderate susceptibility to rice blast. 
Another noteworthy conventional long-grain variety is Ozark, also from the rice breeding program at the Arkansas Agricultural Experiment Station. In flood-irrigated research trials in Missouri this year, Ozark yielded from 215 to 176 bushels per acre, planted on March 15 and April 20 respectively. 
Chlapecka said Ozark is slowly filtering into the market and is expected to replace the variety Diamond within a few years. 
For farmers in search of a conventional hybrid with no added herbicide technology, Chlapecka recommended RiceTec 7302.  
He said, "RiceTec 7302 has outperformed RiceTec XP753 – known as the hybrid standard – for the last two years in pretty well all of our state trials." 
When it comes to planting dates, Chlapecka said the earlier, the better. Of the evaluated dates, the highest yielding rice crops were planted March 15 through April 20. 
He noted that rice planted later in mid-May and mid-June made it through harvest with good weather; however, yields dropped significantly by 20 to 40 bushels per acre depending on the cultivar or hybrid.
Extension rice specialist, Justin Chlapecka discusses progress of the planting date study on Aug. 31 at the FD-REEC field day. Photo by: Whitney Haigwood
Few billbugs in 2023  
Billbug control was of little concern this year in furrow-irrigated rice. That is great news for farmers dealing with infestations; however, it gives Extension entomologists like Chase Floyd little to work with in terms of research. 
Floyd suspects that billbug numbers were down in row rice due to a cold snap that slowed the rice crop early in the season and delayed flooding. Floyd said, "Billbugs had a wider area to feed and ended up getting trapped in the paddy rice fields post flood, keeping them out of the row rice crop." 
Regardless, Floyd noted the biggest takeaway was the effectiveness of diamide seed treatments. Even without billbug activity, diamide treated seed proved to be extremely beneficial in controlling other early and mid-season pests in the furrow-irrigated rice crop. 
"Despite us knowing that the diamide is doing most of the leg work, we see the most success when having a diamide in conjunction with a neonicotinoid. Ingestion of the two different chemistries is most likely the cause of successful suppression," Floyd said.  
Farmers saw the additional cost pay for itself this year, and Floyd said many are already looking at diamide seed treatment options for 2024.  
"They had better plant vigor and stronger residual pest control with that preemptive seed treatment on the front end. That residual of a diamide lasts significantly longer, providing protection once the neonic runs out of steam. It provides the best billbug control while also providing additional control of other insects and relieves the rice of potential stresses," Floyd added. 
Soybean planting studies 
Extension soybean specialist Justin Calhoun investigated planting dates this year in soybean trials at the FD-REEC. In general, he said, April 15 looked to be the best planting date for 4.2 and 4.8 maturity group soybeans averaging 96 to 98 bushels per acre, respectively. 
"We planted soybeans every 10 days from mid-April through mid-June," Calhoun said. "For the second year in a row we noticed an aggressive yield decrease in beans planted later in the season. Those soybeans planted after April 15 suffered a yield decrease of about 10-bushels per acre for each three-week window after that." 
This puts the optimum soybean planting window at early April, according to his research. 
Calhoun also evaluated an early soybean crop with a 1.5 maturity group planted on March 15. The goal was two-fold. 
"We were investigating whether double cropping was possible in southeast Missouri. We were also looking at the feasibility of planting an early soybean crop ahead of the corn planting window," Calhoun noted. 
Just after the March 15 planting date, Calhoun said an arctic blast moved into the region. Even with low 30-degree Fahrenheit soil temperatures, the plants emerged. Yet it took a long 21 days for emergence. 
"Soybean fields planted two weeks later were emerging around the same time as this early planted field," Calhoun said. "Regardless, we got a stand at around 85% germination." 
The early planted crop was harvested on July 31 yielding 35 bushels of soybean per acre. Another crop of soybean was planted immediately behind the first harvest. 
At the time of the interview, Calhoun was awaiting the harvest of the second soybean crop. Judging by the weather forecast, he expected an unfavorable impact from the cold November temperatures moving into the Delta. 
One of the biggest takeaways from this early planted study was the importance of seedbed preparation. Calhoun said the March planting date left little time for field prep, and the crop was planted on single-row 38-inch stale beds. 
"We planted on stale seedbeds because of time constraints," Calhoun explained. "However, we learned that if you are going to plant early, you really need a solid bed. Anywhere that planter walked across the bed, the stand was reduced significantly." 
Calhoun plans to repeat this study next year, with better seedbed prep and drilling the soybean crop as opposed to using a planter.  
Regardless, Calhoun confirmed that early planting is possible, and it is likely feasible to plant soybeans ahead of the corn planting window. 
"Here we plant corn from the end of March to May 1," Calhoun said. "Results from this study suggest that we could plant soybeans ahead of that window, then shift our focus to planting corn before returning our focus to planting soybeans to finish out the planting season." 
Calhoun noted that much of this soybean research is funded by the Missouri soybean Merchandising Council. 
Subscribe to receive top agriculture news
Be informed daily with these free e-newsletters
You May Also Like
---