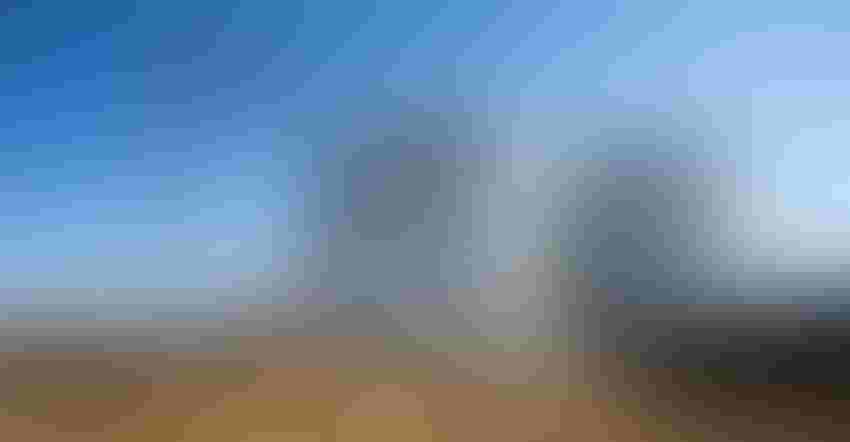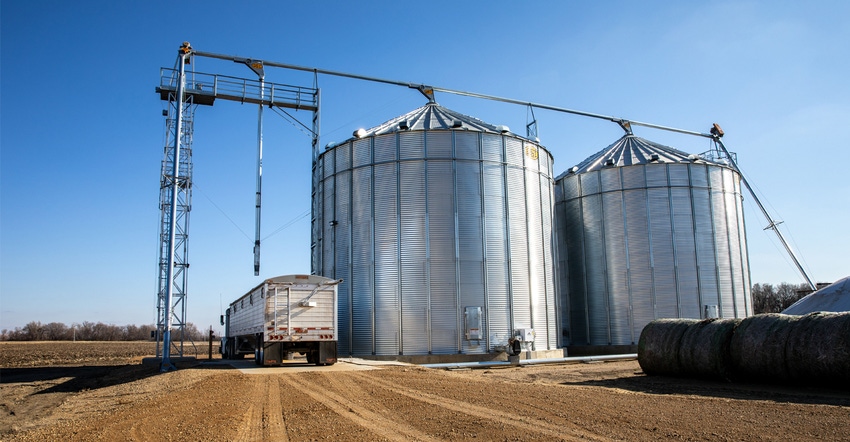 EFFICIENCY AND SAVINGS: Steve Sinning of Lennox, S.D., says his new grain system has already saved his farm time and labor, and expects it to continue to deliver in the coming years.
Courtesy of Summit Contracting
With many producers working through a shortage of on-farm labor, making the switch to updated systems can make harvest easier for all. Steve Sinning of Lennox, S.D., is one of these farmers who made the decision to upgrade an older facility.
"The bins and storage were one of the main reasons we wanted to upgrade," Sinning  says. "The bins were from the '70s and '80s, and just didn't meet our needs for what we need now. We wanted to put a couple bins up and, while we were at it, thought we'd put in a grain-handling system along with it."
 A new grain system, which was completed on Sept. 1, better meets the Sinnings' farm needs. GSI Grain Systems and Summit Contracting of South Dakota collaborated on the design and installation of the system. Two 48-foot-diameter bins, a 10-ring bin with a 60,000-bushel capacity and a chain-loop conveyor system were added to the Sinnings' farm.
The Sinning farm grows corn and soybeans, which was another reason for the new system to be created. "We started the process back in January, talking about what we wanted and needed, and finalized the deal in March," Sinning says. "These guys were fantastic and were here with the cement crew at the end of April. They kept going right on through until it was completed. It took a while, but those guys did a really nice job."
Sinning says he was very happy working with GSI and Summit. "They always kept us in the loop, telling us when something was going to be done and what was going on and when we'd expect them to be there," he says.
New system, new benefits
As they were replacing an old system, Sinning took the chance to make harvest easier on himself, son Alex and employee Nathan Smit by building the system in a new location. "We moved it out in the open with a driveway around it, so we can just drive in and pull around, so it's a lot easier to access," Sinning says.
Alex agrees on the system's ease, saying, "During harvest we weren't having to sit at the elevator waiting in line. We could just take the grain home and through the system, and then get back out into the field."
The farm also saved travel time and hauling costs to the elevator during the height of harvest. "If you have to drive in and drive back 50 miles during harvest, it can make a big difference to cut that out," Alex says.
Another benefit to this system is the increased market opportunities for Sinning. "It's going to make a big different because now that we had these corn bins open up, we can store beans too and market the product all year long instead of just at harvest time," he says.
Visit GSI and Summit Contracting to see more about other grain storage projects or how to get your own system upgraded.
About the Author(s)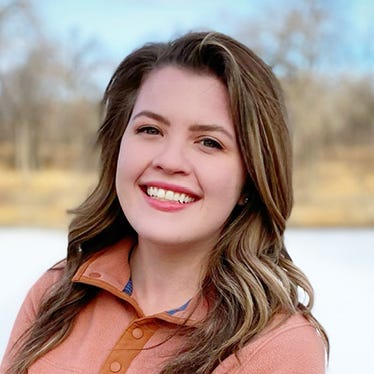 Editor, Dakota Farmer, Farm Progress
Sarah McNaughton is a graduate of North Dakota State University, with a bachelor's degree in agriculture communications, along with minors in animal science and Extension education. She is working on completing her master's degree in Extension education and youth development, also at NDSU. In her undergraduate program, she discovered a love for the agriculture industry and the people who work in it through her courses and involvement in professional and student organizations.
After graduating college, Sarah worked at KFGO Radio out of Fargo, N.D., as a farm and ranch reporter. She covered agriculture and agribusiness news for North Dakota, South Dakota and Minnesota. Most recently she was a 4-H Extension agent in Cass County, N.D., teaching, coordinating and facilitating youth programming in various project areas.
She is involved in agriculture in both her professional and personal life, serving on the executive board for North Dakota Agri-Women, and as a member in American Agri-Women, Sigma Alpha Professional Agriculture Sorority Alumni and Professional Women in Agri-business. As a life-long 4-H'er, she is a regular volunteer for North Dakota 4-H programs and events.
In her free time, she is an avid backpacker and hiker, enjoys running with her cattle dog Ripley, and can be found most summer weekends at rodeos around the Midwest.
Sarah is originally from Grand Forks, N.D., and currently resides in Fargo.
Subscribe to receive top agriculture news
Be informed daily with these free e-newsletters
You May Also Like
---