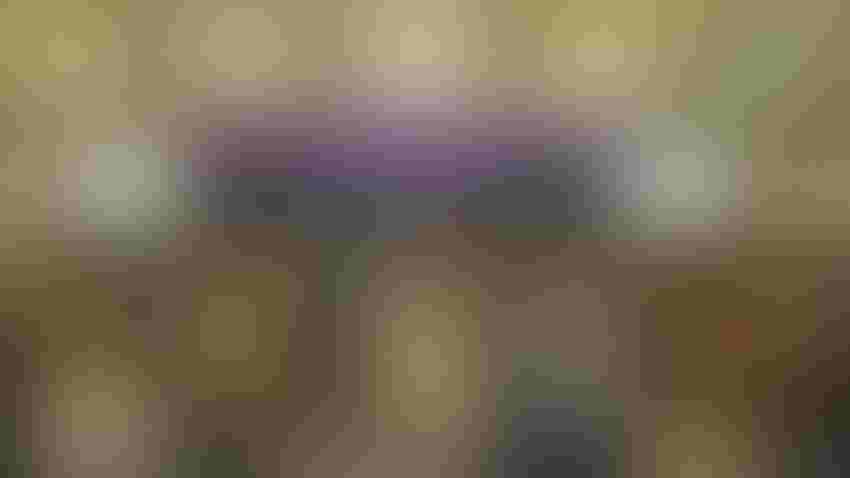 Wine industry experts, including those seen here addressing the Unified Wine and Grape Symposium, say a top priority should be re-engaging with younger consumers.
Tim Hearden
Somewhat akin to Don Quixote and his adversarial windmill confrontations, Four Takes on Twenty Three highlighted the recent Wine Industry Network's annual leadership conference. The creative conference title was indicative of four experts tackling Bold Prediction Insights for a Successful Wine Business in 2023.
"The wine industry has always been both challenging and competitive and that won't change in 2023," said WIN President George Christie. "Bold Predictions was created to address some of those challenges head-on by tapping into the experience of proven professionals offering their best advice."
Those four professionals were represented by Wine Market Council President Dale Stratton; Rabobank analyst Bourcard Nesin; Sonoma State University Chair of Wine Business Damien Wilson, and Philana Bouvier, President of Demeine Estates. The quartet's mission was to share insights, challenges, opportunities, and predictions on emerging trends and how wineries will be facing the year ahead. Each panelist brought one prediction or important trend observation that they think will be essential for wineries to successfully tackle 2023.
For Stratton, his message was the necessity of addressing a looming wine demand problem. "This is the year we do it," he said, while Bouvier added, "It's not a one-size-fits-all market."
Their contentions were backed up by a Forbes Business article citing the latest Silicon Valley Bank State of the U.S. Wine Industry Report quoting SVB wine expert Rob McMillan about the young drinker problem where the wine industry is failing to capture the Millennial and Gen Z market group.
"The lack of engagement and participation in the wine category by younger consumers in their prime spending years is the greatest issue of concern for the wine business today. Whatever we are doing to promote brands to a younger consumer, I argue we should stop right now because it's not helping."
There's a lot at stake here. According to the Statista webpage, "The U.S. consumes the largest volume of wine of any country." During the last recorded year (2021), wine production amounted to 773 million gallons.
Still overplanted
Jeff Bitter, head of Allied Grape Growers, wasn't a speaker on the WIN panel, but he brings perspective from another recent event, the Unified Wine and Grape Symposium's State-of-the-Industry gathering.
Representing a 500-member statewide grape growers cooperative marketing association that markets over $100 million worth of grapes annually, Bitter — who in 2020 shocked that group when he said that growers needed to pull out 30,000 acres of vines in order for the industry to be healthy again — told this year's gathering, "We didn't pull out that acreage we needed to, but because we've had three short crops in a row, that has masked the reality that those acres are still there."
USDA's Pacific Region Grape Crush Report Summary (Preliminary) predicted the 2022 crush would total out at 3,620,595 tons with red wine varieties accounting for the largest share of all grapes crushed. Although that figure would be down 6.7% from the 2021 crush and represents the smallest winegrape crop harvested since 2011, the good news for growers is that the average price of all varieties was up 5.7% from last year (with the average price of red wine grapes jumping up 7.2%).
But numbers don't mean a thing unless all sectors of the market contribute to them and right now it's only the older generation that continues to purchase product with regularity.
The Ciatti Company, the world's largest bulk wine and grape brokerage firm out of Novato, has crunched the numbers and broker Glenn Proctor says, "Demand is an issue as we first say 'a stabilization' and now 'a decline' in demand over the last few years.
"To some degree, the thing that has saved us is relatively short crops in 2020, 2021, and now 2022 – so we have backed into a somewhat balanced supply- demand situation and the bulk and grape market now are relatively quiet.
"Does that mean demand going to increase because people heard the crop was smaller than they thought or is it a more worrisome sign that crop is down more than expected and we're not seeing strong market activity? It will be interesting to see how activity levels move forward over the months ahead."
Subscribe to receive top agriculture news
Be informed daily with these free e-newsletters
You May Also Like
---