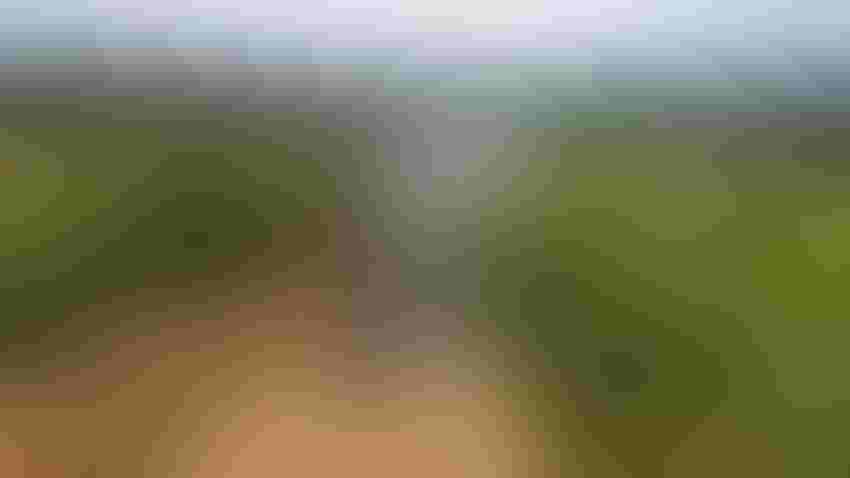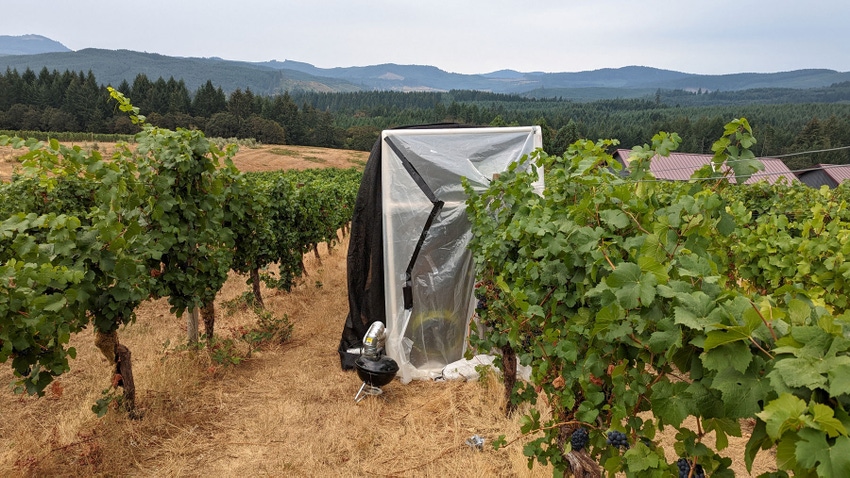 Smoke taint testing takes place at Oregon State University's Woodhall vineyard. OSU is collaborating on a research project with Washington State University and the University of California, Davis.
Sean Nealon/Oregon State University
It's like déjà vu all over again, similar to reports last summer on a new discovery involving smoke taint in wine grapes.
This time, according to Oregon State University researchers, it's the formal and official announcement that researchers at OSU, Washington State, and University of California, Davis all have collaborative data to help understand and prevent wildfire smoke taint in grapes, according to enology professor Elizabeth Tomasino.
"These findings will help provide tools for the grape and wine industries to quickly make decisions about whether or not to harvest grapes or make wine following a smoke event. Persistent exposure to wildfire smoke compromises quality and value of wine grapes and adversely affects wines," she told attendees at the American Society for Enology and Viticulture's national conference in San Diego. "Using smoke-tainted grapes for wine can affect the aroma and flavor of the wine."
Predictors of such changes, called volatile phenols, were not effective enough in making accurate assumptions until more recent testing discovered a new class of predictor compounds, thiophenols.
Cole Cerrato led the experiments at OSU's Woodhall vineyard, where a mobile greenhouse structure was placed over a row of grapes and the fruit was exposed to smoke, harvested, and made into wine.
"The discovery of thiophenols provided a new chemical marker for smoke taint that provides a reliable way to identify it and ways to potentially eliminate it during the winemaking process," said Tomasino.
"We now have peer-reviewed data, a complete package, showing the evidence of linking the action and reaction," added Cerrato. "The experiments and results at Woodhill --- applying a high concentration of smoke in a very small amount of time and tracking that smoke as it went into the grapes --- were multi-faceted. We wanted to ensure there was zero guesswork when it came to the chemistry of what was going on."
Easy to understand
Although the process is scientific, the explanation is readily understandable. "We've always had certain chemicals we've looked at, but they've not always equated to smokey tasting or smelling wine," he said. "In this discovery, we found a new class of similar chemical compounds that, when combined with the old class of compounds, we could replicate that smokey experience in wine as the cause for the smokey/ashy/rubbery flavor in smoke-impacted wine."
Cerrato likens it to somewhat like treating a disease. "In that case, you want to be as focused as possible that you're not impacting other parts of the system biology. We want to ensure we're targeting for the chemicals we don't want and leave winemakers with a product they want to sell.
"There are techniques that can improve wine flavor, but they can often strip out the good flavors with the bad. The fact that we now have a more applicable target gives us the opportunity to start developing methods to remove just that class of bad compounds without impacting the good qualities people enjoy about wine. We're hoping to develop that technology further."
Although this new discovery is not yet at the field-testing stage, growers and winemakers can send samples for testing, Cerrato said. "That data allows winemakers to make better informed decisions about what to do with those grapes because not all varietals are the same when it comes to smoke exposure and some handle it better than others," he said. "We won't be advising what to do with grapes upon smoke exposure, but we can give needed information to help make better informed decisions.
"Hopefully over the next couple of years, we'll have more techniques that will push back a bit on this problem so grape growers and winemakers will have more decision-making options at their disposal."
Subscribe to receive top agriculture news
Be informed daily with these free e-newsletters
You May Also Like
---